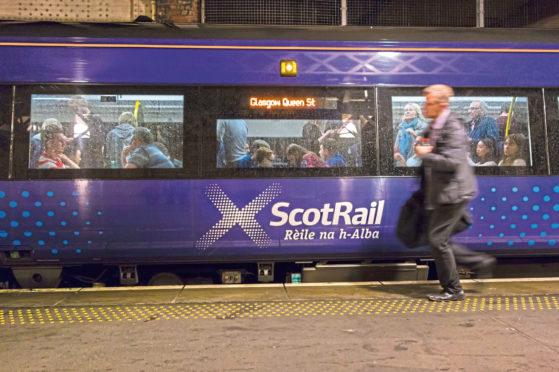 The number of delay-hit ScotRail passengers seeking compensation has soared over the last three years.
A Freedom of Information request uncovered the number of disgruntled travellers applying for a "delay, repay" voucher has risen by 206%.
There were 23,816 claims across Scotland in 2015-16, nearly doubling to 43,354 the following year.
That had rocketed to 72,984 in 2017-18.
ScotRail offers compensation if passengers are delayed for 30 minutes or more.
If someone misses a connection because of that delay they can claim for that too.
The news comes as ScotRail bosses have come under increasing fire from fed up passengers.
Mid Scotland and Fife Conservative MSP Murdo Fraser said the surge in compensation claims being filed underlined "how bad things have got on our railways".
He added travellers deserved far better than what was currently being offered up.
More than 60 trains cancelled due to staff shortages as ScotRail 'normal timetable' resumes
"Delayed or cancelled trains cause huge disruption for travellers and it is only right that they are fully compensated for a service that does not get to the destination on time.
"People need to get to work and Scotland's economy needs a transport system that's fit for purpose.
"The SNP has failed to keep ScotRail on track and provide an efficient service for the travelling public," he said.
He added Abellio must improve the situation before the ScotRail franchise goes up for renewal in 2020 and Scottish Ministers had to do more to hold the firm to account.
A ScotRail spokesperson said: "We're sorry to customers for the disruption to services in recent weeks.
"We know the impact this has on your day, and are working flat out to get things back to normal.
"Providing the best possible service for customers is at the heart of the work we do, and our delay repay guarantee is an important part of that.
"We know how much of an inconvenience it is to customers when things don't go to plan and it is only right that they are compensated when that happens."
A spokeswoman for Transport Scotland added that ScotRail had accepted its performance had not been good enough recently.
"And in meetings with the company ministers have made clear the need for immediate improvement," she added.
"Underlying reasons, such as late delivery of rolling stock impacting on staff training and the now resolved industrial action, are already well-documented.
"While some are resolved and staff recruitment is ongoing, it is clear further action is required to address this immediately."
She added many delays were due to infrastructure issues which are the responsibility of Network Rail, which comes under the remit of the UK Government.
"Devolution of Network Rail's activities to Scotland would allow us to take further action to improve services."