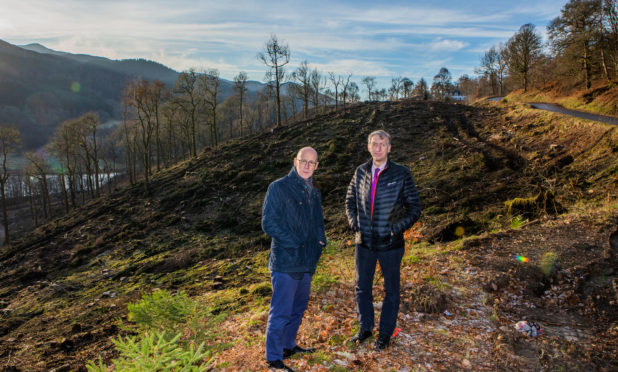 A road safety plan has been drawn up for a world famous Perthshire beauty spot.
The new strategy for Queen's View, near Loch Tummel, follows fears that a recent tree felling operation had made the site more dangerous for motorists.
Perthshire North MSP John Swinney said in December that the clearing of woodland between the B8019 and the banks of the loch, meant there was nothing to stop drivers who slid off the road from tumbling down a steep embankment.
Perth and Kinross Council has now confirmed it is planning measures, including a new crash barrier, to make the route safer before the end of the year.
Mr Swinney welcomed the announcement. "I am pleased that the council has heeded the calls of both the SNP and concerned local residents to take proactive steps to address the very real dangers presented by the B8019," he said.
"I am hopeful that the new crash barrier will be installed before the worst of the winter weather, and I am confident that the actions being taken to address the very legitimate concerns of drivers will provide re-assurance."
Local SNP councillor Mike Williamson added: "The B8019 is a dangerous road for even the most experienced local driver.
"With more people visiting Highland Perthshire, the number of tourists driving this road has steadily increased, raising the risk of tragedy even further."
The work has also been welcomed by local Conservative councillor John Duff, who said the measures would be similar to a scheme installed on the B846, north of Coshieville.
"There are some steep drops in these areas, and while the barriers are necessary for road safety purposes, it is vital that all drivers take care and drive at speeds and in a manner befitting the road conditions," he said.
Thousands of people stop at the Queen's View every year to enjoy dramatic views across the loch.
A council spokeswoman confirmed work to install a 300 metre railing was scheduled to begin on October 31 and is due to last for two weeks.
The road will be shut throughout the work, with diversions in place via the B8019, B8079 and B847.