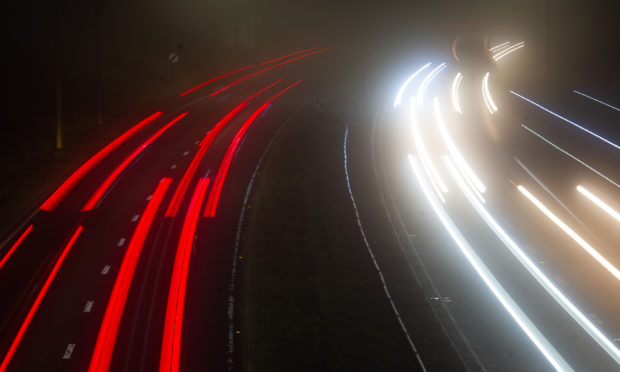 Angus Council is set to formally press Transport Scotland for an A90 speed reduction around a blackspot Forfar bypass junction.
Local councillors say they have won the backing of authority officials to push for a 50 miles per hour zone to be put in place at the Lochlands turn-off after heightened concerns following a series of accidents there.
Critics say drivers regularly dice with danger crossing the southbound dual carriageway to take the A932 into Forfar.
Safety measures have been installed around the turn-off and the accident rate on the trunk route has been reduced since the installation of Dundee to Stonehaven average speed cameras.
Local councillors now want to see a 50mph buffer installed around the junction – similar to that in place further north at Laurencekirk.
The decision was made in a meeting of councillors and officials to discuss safety improvements at the southern gateway to the town.
Ruling administration councillors have been vocal in support of introducing a speed limit reduction.
Angus communities convener and Montrose Independent councillor Mark Salmond said: "We are committed to reviewing speed limits across Angus, and my department is undergoing a review to do just that.
"It's time we brought down speeds."
Forfar Conservative councillor Braden Davy said: "This junction is a known danger spot – if you had the option to build the A90 again you wouldn't build this junction.
"It is dangerous, and often leads to accidents particularly amongst newer and inexperienced drivers who may not be used to the short slip road, or crossing oncoming traffic.
"I know the dangers myself after a car almost barrelled into the back of me while I was waiting on to cross the junction."
He added: "We have heard from some who say close the junction, but that would cause a huge problem itself.
"Reducing the speed around the Lochlands junction is the easiest, cheapest and simplest way to improve safety.
"I hope Transport Scotland agree with councillors to introduce these new safety measures and I hope they work."
Independent Forfar councillor Ian McLaren said: "I have very strong concerns regarding the safety of this turn off.
"Furthermore, it is a very busy junction and northbound traffic can, on occasion at peak times, often queue into the fast lane as the slip lane is full.
"However, crossing into Forfar is my main concern as the southbound traffic could be travelling at speeds of 70mph.
"Introducing a 50mph speed limit at this crossing could reduce accidents and improve road safety."
Safety calls were reignited following a July accident which saw several people – including two young children – hospitalised after a two-vehicle crash.
Transport Scotland said at the time road safety remains a key priority and, where appropriate, further investigations and mitigation measures are carried out to bring down casualty rates, but could make no further comment on the Forfar junction in light of a police investigation which led to a man being charged with traffic offences.