Dundee United hero Louis Appere has revealed he and his teammates were told to go out and "batter" Dundee in the derby.
The 20-year-old frontman, who scored the goal of the game in the Tangerines' 6-2 romp on Friday night, revealed the club's ruthless streak as he recalled manager Robbie Neilson's pre-match instructions.
The players followed their orders to the letter, leaving the Dark Blues floundering in their wake on the night and seven points adrift in the Championship table.
Appere made it 2-1 after Dundee's Kane Hemmings has levelled Calum Butcher's opener for the hosts and United were merciless with their finishing thereafter.
He said: "Even before the game the gaffer was saying that we know how good we are and that we could go and batter them if we play the way we know we can.
"It was something along those lines.
"To go out there and be ruthless – that was the aim.
"He was also saying at half-time: 'Let's keep going. Let's get a really good result and make a statement.'
"I think we certainly did that.
"It is a great result and we are really happy with it."
In an action-packed clash that was a great advert for the city, Appere lifted the roofs off the three stands housing home fans when he smacked his strike in off the bar on 33 minutes after a knock-on by Lawrence Shankland.
He recalled: "I just remember the ball coming into the box from what was another setpiece. A lot of our goals came from setpieces.
"I think Shanks just nodded it towards me and I took it on my chest.
"It was all a bit of a blur but I took my time, composed myself and just volleyed it in."
It was so much of a blur that Appere forgot to execute his planned goal celebration.
The Perth-born youngster joked: "It felt brilliant to score in front of a big crowd like that.
"I was asked before the game if I had my goal celebration ready and I said yes but when it happened I don't know what came over me.
"I need to work on it for next time!
"We scored another couple of goals pretty quickly after that.
"We kicked on from there."
It was a major bonus for United to have players other than goal machine Shankland chipping in, albeit the former Ayr United did get one from the penalty spot.
Appere revealed that Shankland was overjoyed for his young colleague.
He said: "He was just delighted for me because he had been saying to me that a goal was coming for me.
"He is a great goalscorer and a great asset to the team so it's terrific to play alongside him.
"It was nice for some of the other lads to get goals against Dundee and not just Shanks but he still scored and I thought he played brilliantly. The rest of the lads did, too, and it was just a great result."
United fans can expect good news soon regarding Appere, with an deal to extend his contract "close" to being finalised.
He confirmed: "Yeah, we are in talks.
"A lot of the younger boys are in talks about new deals so we'll see. We are pretty close."
Appere admitted he had to pinch himself on Friday after coming from the junior ranks with Broughty Athletic to the Dundee derby in just a few short months.
"This time last year I would have been training with the reserves at United and then I went on loan to Broughty Athletic
"I played in the Signature Digns Cup final for them at Tannadice and got man of the match. We won 3-0 against North End.
"I came back from Broughty and did well in pre-season and the gaffer has given me a chance.
"Now here I am scoring in a Dundee derby. It's amazing."
What is also amazing is United's perfect start to the league season, with four wins out of four, 14 goals scored and only four conceded.
They host Arbroath in the Tunnock's Caramel Wafer Cup on Saturday then comes another big Championship clash against second-placed Ayr United down at Somerset Park – Shankland's return to his old club.
It will be a fascinating fixture against the Honest Men but Appere stressed how little of the season has been played so far.
"It is just four games so we need to keep working hard," he said.
"There was big motivation for us to win the game and go seven points ahead of them (Dundee) so we are all delighted.
"You have to consider the confidence we have now and we know how good we are. We have to keep it going though."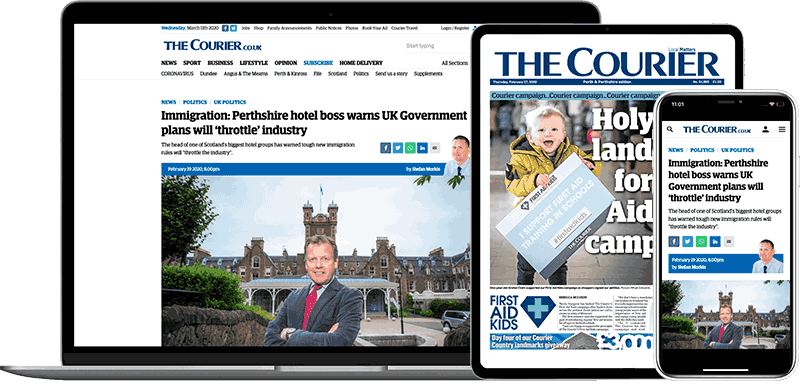 Help support quality local journalism … become a digital subscriber to The Courier
For as little as £5.99 a month you can access all of our content, including Premium articles.
Subscribe