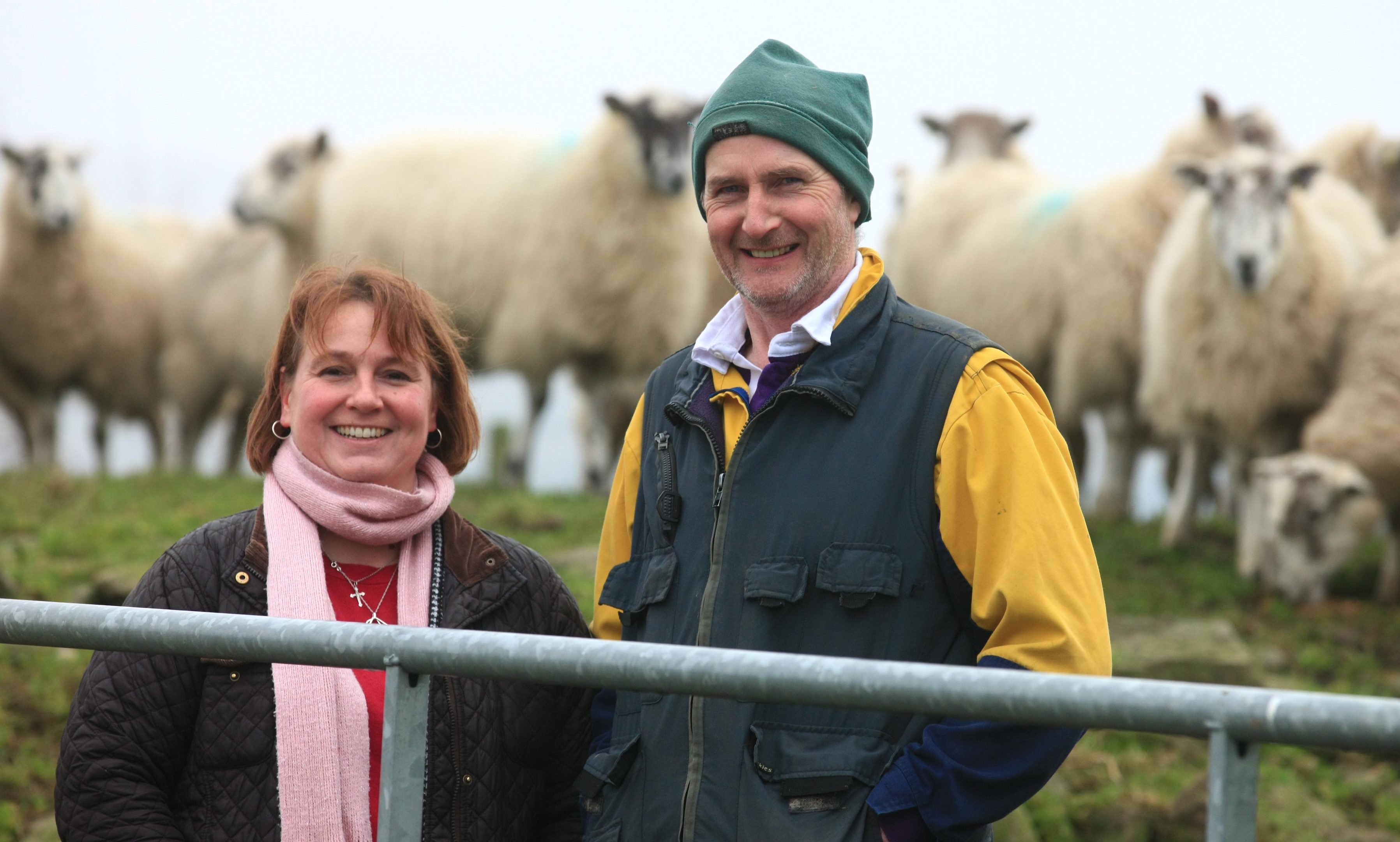 The age-old question of how to generate a larger margin from wool has long challenged farmers across the country.
It is also a question that Julie Hermitage asked herself many a time before taking the plunge to launch a diversified, yet very much home-grown, farm business from the Angus Glens.
The story of Uan Wool actually goes back to the harsh extreme weather spells of 2012.
"It was winter here for almost six months of the year," said Julie, who farms at Wester Coul Farm, Glenisla, alongside her partner Andrew and children Kirsty, 11, and Alistair, 8.
With treacherous conditions and deep snow to contend with it was not the kindest of years for the Scott family, their farm or their livestock.
"It really brought home the need to put ourselves, our animals and our business first," Julie said.
The family run a 600-ewe flock over 650 acres – split between a 200-strong hill flock of Blackies and Swales as well as 400 Scottish Mules – and breed their own replacements.
They also keep a herd of 50 Angus and Limousin suckler cows on their lower ground.
"Often when times get tough, as many farmers do, we looked at the economics and efficiencies of the farm business and after the cost of shearing, our fleeces were going to the Wool Board or Texacloth but ultimately not covering the shearing cost," said Julie.
In terms of commercial farming, there has been much consideration into exactly how to add value to wool.
Now Julie believes her business Uan Wool has the answer, effectively processing all the fleeces shorn from all the sheep at Wester Coul.
The true inspiration for the product came after Julie's son Alistair was diagnosed with asthma.
"He was only around four years old at the time as he'd just started at school, but he was always tired because he just wasn't able to get a good sleep at night," Julie said.
A friend suggested she try sleeping Alistair under a wool blanket, as it would be both hypoallergenic and would regulate his temperature – much as it would for sheep, keeping them warm when it is cold and cool when it is hot.
"I have to admit that I was pretty sceptical to begin with, but it absolutely worked and right from the first time Alistair slept right through the night and has since significantly reduced his use of inhalers," Julie added.
Wool fibre, it seemed, with its unique qualities – which also include an ability to absorb and desorb moisture whenever necessary, inhibiting bacteria, fungus and dust mites – provided the answer.
And with an abundance of wool on her doorstep, Julie grabbed the chance to create an innovative farm-based business, creating products with the scope to benefit a huge number of children and adults.
"Despite having a life immersed in agriculture, I've actually spent a lot of my working life off the farm," Julie said.
Indeed, during a spell in her career, Julie was seconded to the Scottish Executive, where her work involved encouraging farming families to explore various methods and routes of diversification, and she also has experience of working for Business Gateway.
"As a result, the evolution of Uan Wool really presented a natural progression for me."
Julie attended a Design in Action two-day residential Chiasma workshop, where the cogs for the business really began turning and, as a result, she was awarded funding from the Arts and Humanities Research Council's (AHRC) knowledge exchange hub to prototype her ideas for a full product range – from pillows to duvets and cushions.
Further funding from an Interface Innovation Voucher also helped Julie investigate the unique properties of the main Scottish wool types and gain access to specialised machines at Heriot Watt University.
"Different breeds of sheep produce very different types of wool," she said.
"Larger micron wool produces a soft to medium compression, while smaller micron wool is considerably denser to the touch for pillows.
"But fundamentally, it was important to me to make sure we understood the technical processes used in the Scottish wool industry. I wanted the pillows to be honest and fit for purpose, being the best I could achieve for my children and others," she said.
Julie has taken great care to ensure her products have been investigated fully from a consumer need requirement perspective, so she knows she is offering something customers both truly want and need.
Since Uan Wool's official product launch at the Royal Highland Show, Julie has been building upon the manufacture stage and focusing upon sales at a local level and through trade stands at events such as the Angus Farmers Market in Forfar.
"It's a genuine farm business. At present we want to ensure the venture grows steadily and I'd like it to inspire other farming families to consider diversifying too," she added.
"More farmers need to think outside of the box.
"There's a generation that believes diversification is only for failed farmers but that's absolutely not the case.
"It's for innovators to become successful leaders of rural enterprises.
"It's hugely rewarding to see the business grow."