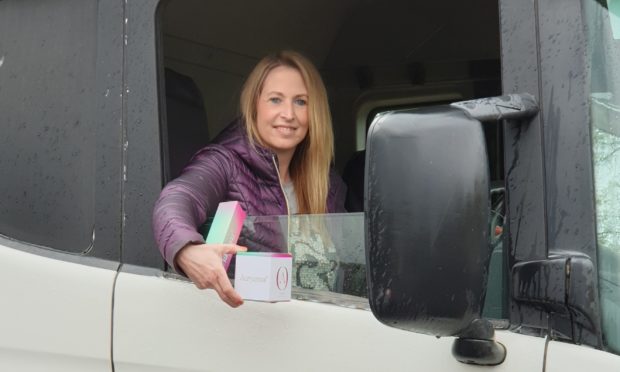 Wilma Collier tells how she left the haulage industry to launch Auryanna Organics Skincare, and the impact that featuring on national TV had on her business.
How and why did you start in business?
I had been in the family haulage business for 22 years.
Being a haulier meant that I was always on the go, either at the quarry or on the road and it left me very little time to look after my skin and my personal wellbeing. That's really what inspired me to learn more about skincare
How did you get where you are today?
I embarked on courses in making skincare and herbal courses but also taking beauty courses.
Who has helped you along the way?
My friends have been a huge support.
I was also given the opportunity to be on the Perth Elevator course.
I have had mentors who have inspired me and opened my mind to so many new tools, making me a well rounded person.
Your biggest mistake?
I have had ups and downs along the way and many tears, but I have found you need to make mistakes to learn. There have been good days and bad days where I wanted to give up but I have found an inner strength and have plodded on.
What is your greatest achievement to date?
Being featured on the BBC 1 programme, The Customer is Always Right and winning the trophy.
It gave me a clear view of what consumers think and feel about my products, from the packaging on arrival to how they look, feel and smell when used.
For a young brand like mine, it was a great experience and I'm delighted to be one of the first winners on the new show.
Hopes for the future?
To build an honest and transparent brand while learning and developing along the way.
I also want to develop new products that are palm free, vegan and sustainable.and I would like to deliver skincare and makeup workshop classes within the UK.
Do you want to recruit in the future?
I would like to create jobs within the countryside of Perthshire.
It is important to me to build the brand and a team of people and bring employment to the area.
What is the hardest thing about running your own business?
I have found it to be a very lonely place, and sometimes it is hard for people to understand what you are trying to achieve.
Advice to wannabe entrepreneurs?
Just do it and don't overthink things.
You can only learn by doing and you need to have tough times, highs and lows to develop.
Take feedback good or bad as a positive and learn from it.
How do you relax?
Being in the countryside is very important to me.
I have horses and dogs and although it is hard work it is therapeutic being with animals.
I love to get out and event with my horses as it is always good to challenge yourself.