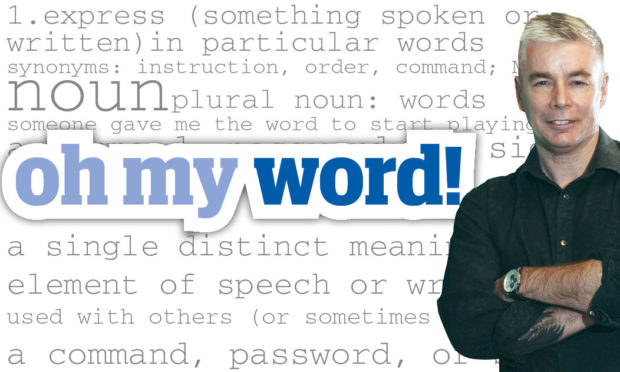 What does the word "hijack" mean? It isn't as easy a question as you might think.
Last week I moaned about the word epicentre erroneously used to mean the centre of the centre. This prompted Terry from Blairgowrie to email with his views on the word hijack.
I do enjoy emails from readers. They provide reassurance that I'm not the last person on earth who cares about the English language.
Terry asserted that hijack means to rob a criminal while he (or she) is in transit. It appears in 1920s American slang, describing bootleggers preying upon each other. Crucially, it was the contents of a vehicle that were stolen, not the truck.
Then, in the 1960s, a new meaning flew in with a new crime. It became the word that meant seizing control of a plane and directing it to another destination.
Then it widened to mean the seizure of any vehicle, vessel, or craft, on a road, at sea or in the air, though the driver, pilot or helmsman often remained in place.
Still later, the word described the taking of an already occupied car, with the original occupant ousted. But that's just theft, isn't it?
And now conversations can be hijacked, your daily agenda can be hijacked. Your soap opera viewing can be hijacked by a better TV show.
So what does hijack mean to you?
In Blairgowrie, Terry remains annoyed by any usage other than reference to a robber robbed whilst in transit. And I have great sympathy with his point of view. I like definitions to remain consistent.
Your opinion on a word will depend upon where and when you learned it. Dictionaries lean whichever way the wind is blowing, so are of little help. But if you grew up in the 1960s, reading news reports of plane hijacks, you will probably accept that meaning.
And language does change. It always has. "Nice" used to mean stupid. Young people say that "bad" means good, and "sick" means outstanding.
Perhaps we need more words.
Carjacking sounds like slang to me. But I'd have to concede that it does get a meaning across that is distinct to Terry's pure definition of hijack.
Taking the argument to its logical conclusion, though, I'm painting myself into an uncomfortable corner where I'd have to accept shipjack, conversationjack, agendajack and soap operajack as words.
I think I've wordjacked my own column.
---
Word of the week
Actuate (verb)
To move to action. EG: "The word epicentre served actuated Terry to write to me about hijack."
---
Read the latest Oh my word! every Saturday in The Courier. Contact me at sfinan@dctmedia.co.uk