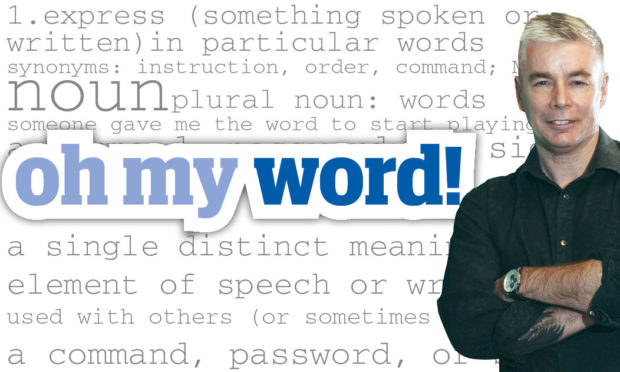 This week, I'm going to be controversial. I might be sacked. If this space is filled with an advert next week, I wish to say a hearty thank you to all who ever read this column. It was nice talking to you.
Right, here we go. I sometimes worry that language is the wrecking ball that will eventually demolish our world. It is becoming rare to criticise anyone or any thing. We have come, as a culture, almost to the point where we celebrate failure. Though we don't call it failure, we say everyone is different.
We find words to discourage competition. We don't have winners or losers. A mother telling her child to fight to be the best is seen as a bad parent. But if no one ever battles to achieve, one day society will burn.
In my school days, failure was called failure. If you failed you weren't cuddled and told it was OK. I was once given two of the belt for spelling "aerial" incorrectly.
If you came last in the egg-and-spoon race you knew you weren't as good as the kid who streaked away, egg held high, to accept the plaudits due a champion. If you wanted glory next sports day, you understood you had to try harder.
Over the years I've developed (I like to think) a work ethic, and a drive to always do my best. If I'm useless at something I need to be good at, I put in the hard graft to get better. Perhaps I was born that way. Perhaps I learned to fight to do the best I possibly could.
Here's the controversial bit, though really it is but a tiny nuance of language.
The Health Secretary wants us each to shed five pounds to stave off Covid-19. He used terms like "obesity", "overweight" and talked of "poor dietary choices". There was a word he didn't use. He didn't say we were "fat" because that is a swear-word when applied to humans nowadays.
I'm fat. Not very fat, but definitely fat. If I were accused of poor dietary choices I'd not be much moved. There's no salted cut. But if someone looked me up and down and shouted: "Steve, you're fat", I think I'd be more likely to strive to lose weight.
But no one talks like that any more. We think it is better to let people die than hurt their feelings.
---
Word of the week
Leggiadrous (adjective)
Graceful, elegant. EG: "I might be fat, but when I dance the pasodoble I am a leggiadrous delight".
---
Read the latest Oh my word! every Saturday in The Courier. Contact me at sfinan@dctmedia.co.uk