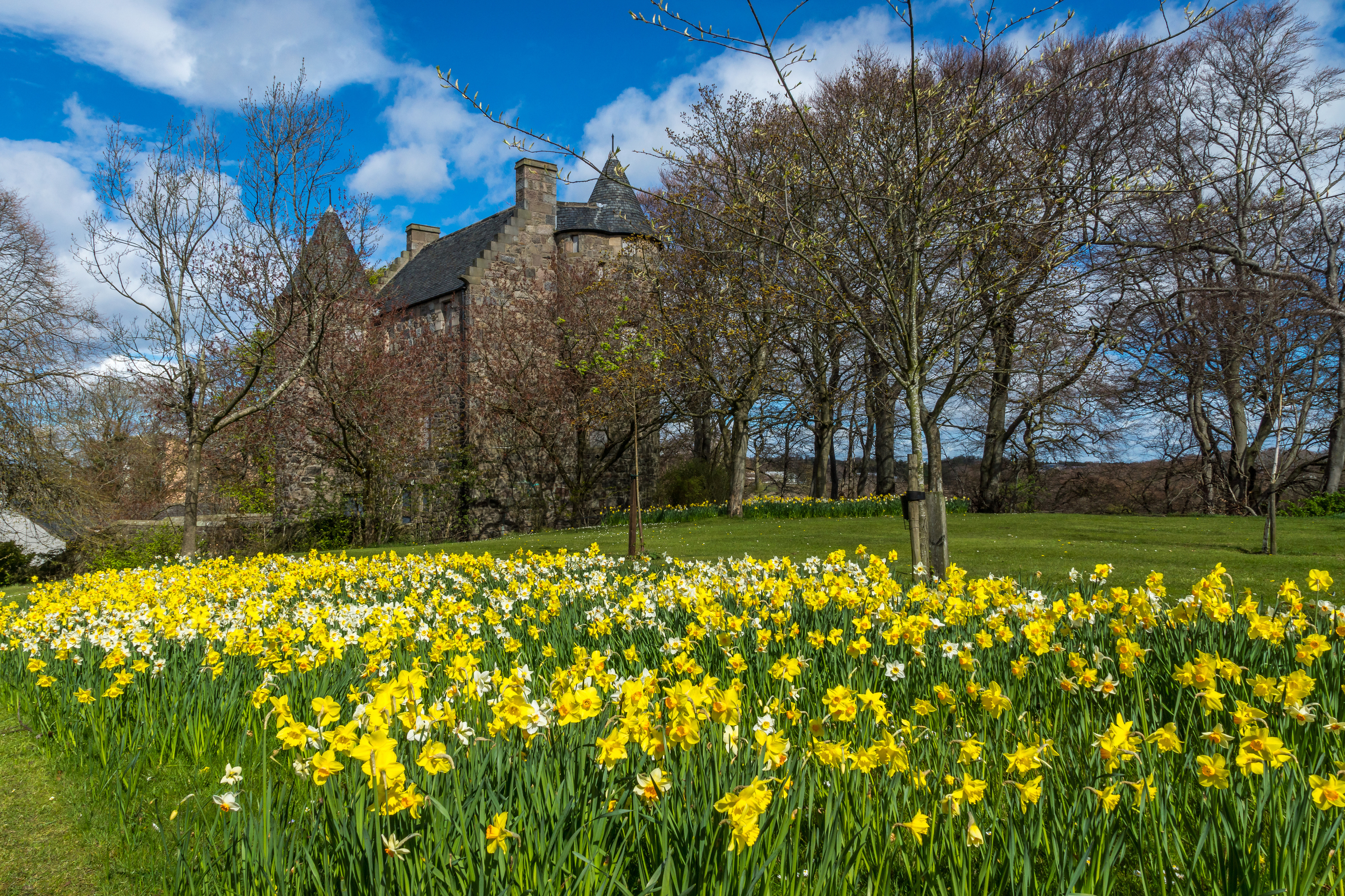 Happy days. This last weekend proves to be the mildest of the year. The sun shines. Drifts of snowdrops bob in the breeze. The trees are budding and the daffies are almost out.
It seems awfully early for the arrival of these cheery yellow blooms. And it makes me fear for a local daffodil tea planned for the end of April. At this rate we will have to call it a tulip tea…
No matter, a splash of spring is a spur to don wellies. The chief oils the chain-saw and I sharpen secateurs. Everywhere you look things large and small need pruning. On the plus side, bothersome brambles are easier to spot when bushes are bare.
All this human effort is doggie heaven. The Norfolk Terrier pootles in and out of the undergrowth. The Cocker Spaniel digs in the wooded area and returns looking like the lead actor from the TV series, Voodoo. You know the man I mean; the handsome one with the greying mud-caked five o'clock shadow.
The MacNaughties love it when we spend the day in the garden. And it gets the humans out of lazy winter armchairs.
We enjoy the exercise, but the truth is the MacGregor garden will never win a medal. Unlike other floral places like Aberdeen, Coupar Angus and Kilconquhar. These have all been praised by the 'Beautiful Scotland in Bloom' group and this week I visit another community hoping to join their ranks.
A former mining community in Upper Nithsdale, Sanquhar, (pronounced Sanker) is being brightened up. Hanging baskets are being filled and folk are growing flowers in greenhouses and polytunnels. Not that the place needs too much more colour to its story.
Robert Burns stopped at local hostelries on his way from Dumfries to Alloway. And Sanquhar boasts what is thought to be the oldest post office in the world; a tiny high street business that has been operating continuously since 1712.
Sanquhar is famous for its knitting and in times past every lassie in the locality could fashion the distinctive black and white patterned socks and gloves.
Sanquhar is also home to a legendary figure known as the 'Admirable Crichton'. In the 16th Century young James Crichton travelled from in the south of Scotland to the Kingdom of Fife. He would become one of the University of St Andrews more memorable students. This child prodigy would have two degrees by the time he was fourteen.
Crichton could speak at least twelve languages. He was a skilled horseman, a practiced fencer, a good singer and musician and debater. Irritatingly this Scottish genius was also handsome and charming.
Which was all very admirable. Until the brilliant young man was killed in a fight in Italy, aged just twenty-one.
A plaque in Sanquhar's church remembers a gifted son. Which, this year, will no doubt be decorated with flowers this year. It encourages us to smarten up our own patch of green. I just hope the MacNaughties can manage to stay out of the borders…