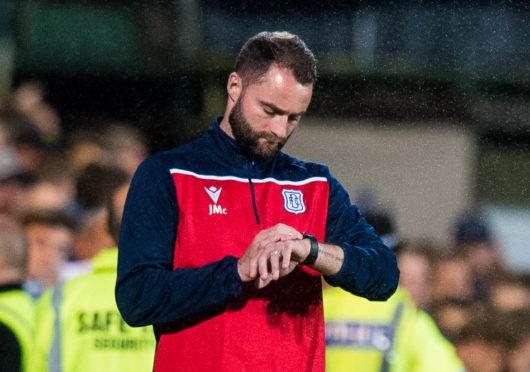 Title races are marathons not sprints but points in the bag at an early stage can leave the back-markers struggling to close the gap on runaway leaders.
Dundee United, with full Championship points, are in pole position to stretch away from the rest of the field, while Dundee, seven adrift of their neighbours, need to find their stride soon or be left trailing in the pack.
United today face a tough trip to face Ayr United.
A win for the Tannadice men would open up a six-point lead over Ayr who I think will be contenders for much of the season until lack of squad depth catches up with them.
United, with 14 goals scored and just four conceded, are the Championship's form outfit early on and brimming with confident vitality.
Dundee meantime must beat visitors Alloa and get their first league win under their belts. That will help with confidence which is always pretty fragile when things aren't going well, but which builds gradually when form turns for the better.
United, with the deadly former Ayr talisman Lawrence Shankland leading the attack, can garner an enormous boost to their already burgeoning confidence with a win on the road.
Dundee need to stay in contention and find the creative defence-splitting service to provide ammunition for their leading men.
James McPake has three good strikers to choose from in Hemmings, Johnson, and Nelson, but they require material to work with.
Dominant possession will be almost guaranteed against the visitors to Dens, who will probably look to hit on the counter attack with a packed back line.
Having lots of the ball though, doesn't guarantee the quality of pass which will break that type of opposition down.
With only five goals scored and having lost two of their opening four games, Dundee must find a way to the net with increased frequency.
Defensively the Dens picture is rather skewed, with the six goals conceded in the derby match making their total of eight against look worse than it actually is: although fragility exists and must be ironed out.
These are early days for both clubs but damage done early can be hard to rectify.
United are off to a flier, Dundee must quickly find their feet and stay in the race with them.
* In the top league St Johnstone are bottom of the pile, and with an away trip to Aberdeen today followed by Rangers next Sunday, could be stuck on two points after six outings.
Tommy Wright has finally been able to strengthen with Stevie May at long last back home, and two good signings in Jason Holt and Anthony Ralston adding quality to his midfield and full-back areas.
As with Dundee a bad start isn't fatal, but can be deeply wounding for season-long ambitions.
Tommy Wright knows the game inside out and has dealt with adversity before.
However, he's had to assemble his squad later than he would have liked, and finds his men in an uncharacteristic position propping up the table.
A prompt return to St Johnstone's more usual form is urgently required.