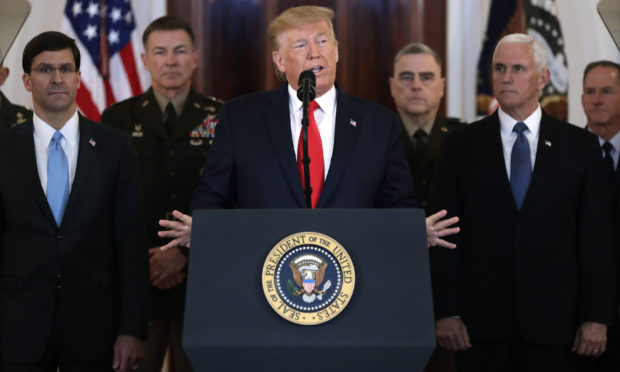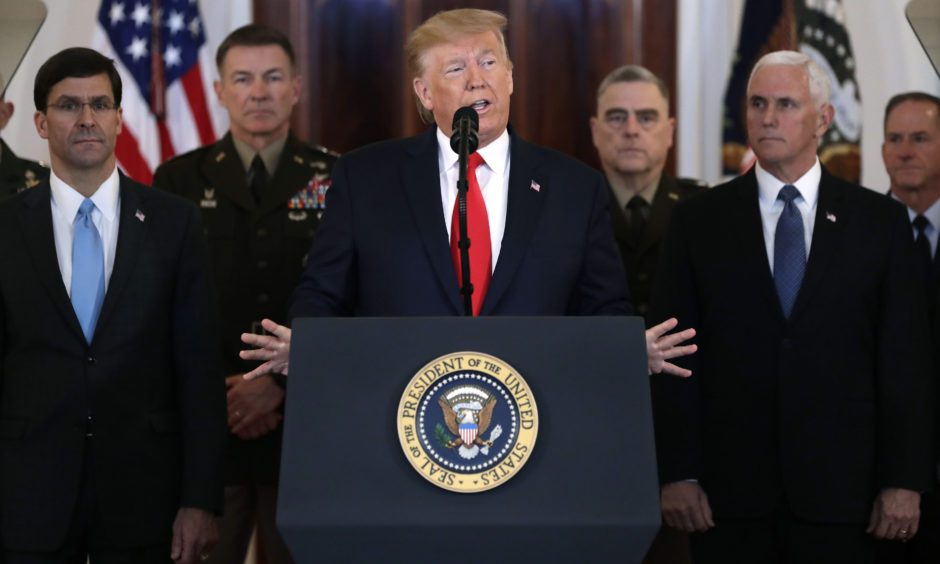 The decision of US President Donald Trump to authorise the assassination of Iranian Major General Soleimani in Baghdad last week was likely motivated by a determination to "unravel" former US President Barack Obama's legacy and to appear like a "tough guy" ahead of this year's American presidential elections, a Fife-based expert has claimed.
Siavush Randjbar-Daemi, a lecturer in Modern Middle Eastern History at St Andrews University, who is of Iranian origin, told The Courier that Major General Soleimani had been in the "crosshairs of the Americans" for years.
However, there was still no clear explanation as to why the Trump presidency had decided to take him out in a drone strike when they did – other than the possible influence of American domestic concerns.
"The attack last week marks a crescendo between the Trump administration and Iran," said Mr Randjbar-Daemi, who wrote a book on Iranian presidents and whose core research interests lie in the evolution of the state in modern and contemporary Iran.
"Part of it is motivated I'm sure by Trump's still rather strong desire to unravel and destroy Obama's legacy.
"You will remember Obama reached a nuclear agreement with this very same Iranian establishment.
"Trump seems very intent on unravelling that legacy completely.
"The first stage obviously was bringing the sanctions, re-imposing the sanctions. Now we have this military confrontation."
Mr Randjbar-Daemi said the Americans keep claiming that Soleimani was "up to something against American targets in Iraq."
But he said  that sort of rationale has been "thinning quite a bit in recent days" with little information forthcoming about what the imminent threat by Soleimani actually was.
"The reason for this could very well be Trump's tendency to improvise on major policy decisions and also the fact that he might see this as being potentially beneficial to the upcoming electoral cycle: to be seen as the 'tough guy' to the American public," he added.
Mr Randjbar-Daemi said that as far as Tuesday night's missile attacks by the Iranians on targets in Iraq were concerned, these were deliberately orchestrated to "build on the momentum" of the complex Soleimani funeral arrangements which tragically led to 59 people being killed in a stampede.
"There was probably both desire and pressure to do something – to bring this funeral cycle to an end with some form of manifestation of this will to exact revenge," said Mr Randjbar-Daemi.
"It was, however, a rather soft move, I would say, by the Iranians for a number of reasons.
"We've had the Iraqi prime minister say that there was some form of advance warning.
"Also the type of missiles that were used in this case probably gave the Americans and the Allied forces the chance to go for cover before they hit the ground.
"But it was really more an issue of letting off steam and implying that Iran is capable of this sort of operation rather I think than an operation that had at present the aim of causing a high number of casualties.
"One could assume that Iran's intent was one of launching a warning attack rather than a full on retaliatory attack."
Asked what he thought was likely to happen next, Mr Randjbar-Daemi described the tensions as "like ping pong" or a "chess game".
"It's really a case of one side making one move and waiting for the other side to make theirs," he said.
"The Americans I think have no real reason at the moment to re-engage and strike back if the outcome of this attack is as we know it now.
"Trump will probably make an address in which he will be verbally rather aggressive and warn Iran not to go any further.
"But what is important here is some form of mediation. Somebody stepping in and mediating the two sides.
"That is really the weak point in this whole thing at the moment because you struggle to find a party that could really play a proper and significant mediating role.
"The EU seems to be completely out – completely wrong footed. Europe as a whole actually. Not just the EU. They never really seem to be able to influence what's going on.
"When you look at the Middle East the one country that has mediated between Iran and the US is Oman. Whether they are able to step in again and act as the go-between between Iran and the US is yet to be seen. What happens next depends on whether we have a mediating party step in. So far we haven't really seen that."