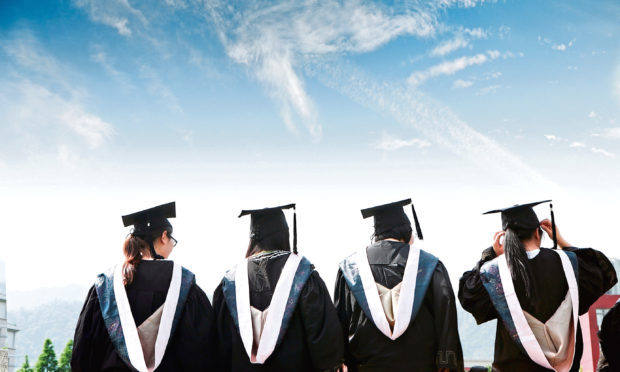 Sir, – It would appear that the attacks on free tuition for Scottish students have stepped up a gear.
According to Jenny Hjul, (Courier, June 27) "It is time the SNP put the future of young Scots from all backgrounds before its short-term political ambitions."
I must say, I believed Jenny Hjul to be more realistic than to suggest that free tuition hinders people from poorer backgrounds getting into university.
Of course, the richest would have no problem paying for tuition. What happens, though, to those young people who would find it impossible to pay for university?
I will be going to university in September, something I would be unable to do if universities here charged exorbitant rates, as they do in the rest of the UK.
Those opposed to free tuition should look at the alternative – students saddled with massive debts, and people getting into university based on their wallets, not their qualifications.
If Jenny Hjul wishes to tell myself, and thousands of other Scottish students, why paying £9,000 a year for university is a good thing, my address is below – write to me.
Now we must ask ourselves – what is it about free tuition that so bothers people? Is it because people like me can go to university? No – it's because it's SNP policy.
Those in opposition to the SNP must look past their petty hatred of everything the party does and accept that free tuition is one of the greatest achievements of devolution.
Instead of pushing an anti-SNP narrative, perhaps they should talk to young people who are going to university because of its progressive policy.
The SNP has done the right thing for students across the country by allowing them to go into higher education without the worry of running up crippling student debts.
Before criticising yet another successful SNP policy, take off the blue-tinted glasses and see just how much our students can achieve.
Lloyd Melville.
East Garden Cottage,
Duntrune.
Raising a glass to a new era
Sir, – You may have heard that Edrington, which owns Glenturret Distillery, announced last week it had initiated the process of selling the distillery and visitor attraction in Crieff.
This is the start of an exciting new chapter in Glenturret's 240-year history and one through which I am very privileged to lead.
We have an excellent team here who are absolutely passionate about the future potential of the Glenturret as Scotland's only remaining hand-crafted whisky, and in keeping the history of our beautiful distillery alive for many generations to come.
While we'll be very sad to bid farewell to the Famous Grouse brand and our colleagues at Edrington once the distillery transfers to a new owner, the Glenturret Distillery will continue to be an integral part of the Crieff and Perthshire community, as it has been throughout its 240 year history.
We know that Glenturret welcomed more than one million visitors before it eventually opened as the Famous Grouse Experience in 2002, and its status as one of Scotland's oldest distilleries makes it a significant draw for tourists from all over the world.
My team are now gearing up for what we expect will be our busiest summer yet. Footfall to the distillery increased by 4% last year and industry trends forecast a marked increase in demand for whisky-related visitor attractions with ASVA's (Association of Scottish Visitor Attractions) latest figures showing a jump of 16.2%.
For almost 40 years Glenturret has been one of Scotland's favourite whisky visitor attractions and this is expected to continue under new ownership.
Adding to this the exciting growth in the hand-crafted movement in the UK has fuelled a growing increase in demand for authentically produced drinks of which the Glenturret is by far the most established in the whisky market, with some 240 years of heritage to its name.
I'd like to extend this invitation to our neighbours and friends to join us this summer in raising a dram to both Scotland's favourite blend and Scotland's oldest malt before we start Glenturret's next exciting chapter.
John Laurie.
General Manager,
Glenturret Distillery.
Fair play for Fair City bikers
Sir, – The recent gridlock around Perth has caused some frustration and anger to some drivers but please don't get angry with motorbikes filtering up the middle of the two lanes or the right side of the single lane of slow or stationary vehicles.
This is not illegal, as long as it's safe and your way is not obstructed.
It's in the highway code and some drivers are needing to do bit of revision.
David Sprintman.
Montieth Street,
Crieff.
Rutted roads all part of charm
Sir, – I don't know why people are worried by the tourist industry being affected by visitors being put off by our pot-holed roads.
Surely this is all part of the fake tartans, indecipherable Gaelic road signs, lackadaisical service and other faux Scottishness which make our country appear so quaint and old-fashioned to outsiders.
George Dobbie.
Airlie Street,
Alyth.
Lives of quality, not quantity
Sir, – The cost to the National Health Service of an average person is strongly age-dependent.
After the first year of life, health care costs rise very slowly but increase exponentially after the age of 60. In the last six months of life around 90% of our life-time cost to the NHS is created by "heroic" procedures and costly drugs – most of which will have no meaningful impact.
Not only is the cost of dying vastly increased, the patient's quality of life is trashed. They need to be moved sooner out of proactive hospital wards and into palliative care.
Incidentally those dying in extremis already find it hard to access adequate doses of painkillers and the fallout from the Gosport farrago will make things much worse. At some stage we must have a meaningful discussion about quality of life, not just its length.
Of course there are moral and uncertainty issues involved but the hysteria generated by religious leaders and sects over assisted dying is deeply unhelpful.
The irony is that Margo MacDonald's most ardent supporters were often the parish clergy.
Rev Dr John Cameron.
10 Howard Place,
St Andrews.
In for a rude awakening
Sir, – As a fellow Scot, I can understand Jim Crumley's extreme, emotionally expressed longing for a free, proud Scotland, unencumbered by the UK link with those down south, though without resenting "expatriate" Scots down there.
However, since money does not grow on our trees and our pavements are not covered in gold, whence would the money needed by an independent Scotland come?
When heavy industries were booming and the North Sea's riches, fish and then oil at peak, we could probably have made a fair bid at financial independence. But now we depend, in part, on remits from down south for maintenance of the Scottish Government's social security, defence and "green" spending, along with attempts to generate enough electricity from renewables and develop more efficient power from the tides.
In realistic political life, only the SNP can now fight for our leaving the UK, but their policy calls for that independence to be confused by maintained membership of the EU, a relatively incomplete, costly form of freedom.
Therefore, in practical political and financial terms, reality rather dictates that Jim Crumley's yearning has to remain just his idealistic pipe dream for now.
Dr Charles Wardrop.
Viewlands Road West,
Perth.
EU have got to be kidding
Sir, – I have heard a lot of criticism of the EU, some of it justified, some not, but to take them to task, as Derek Farmer does, for retaliating against the US imposing tariffs on EU exports to America (Letters, June 27) seems a bit unfair.
How were they supposed to respond: "thanks Donald, the cheque's in the post"?
Les Mackay.
Carmichael Gardens,
Dundee.