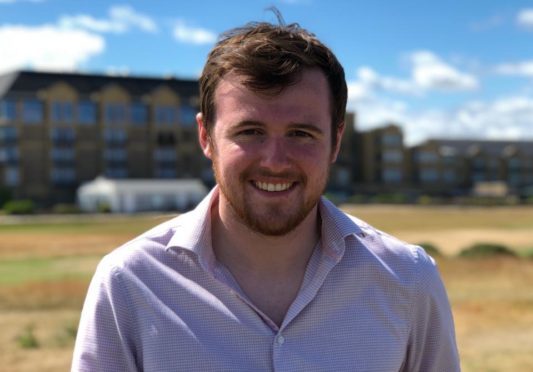 The chairman of the Scottish Conservatives' youth wing has been accused of anti-Semitism after using a phrase developed by the Nazis.
James Bundy, an economics student at St Andrews University, posted on social media at the weekend about a BBC package about gender stereotypes and children that the corporation was using "his taxpayers money….to promote cultural Marxism" – sparking a backlash from some quarters.
The tweet was removed after The Courier asked the Tories about it, but Scottish Green MSP Ross Greer said it was "utterly unacceptable" for a leading figure within a mainstream political party to "use and normalise" a term which has such anti-Semitic underpinnings.

Cultural Marxism was a conspiracy theory developed in Nazi Germany to demonise Jews, and is a term consistently used by far-right groups such as the BNP.
Norwegian far-right mass murderer Anders Breivik also used the term over a hundred times in his "manifesto" before committing the Utoya Island massacre and Oslo bombing in July 2011.
"The Scottish Tory leadership urgently needs to have a word with the head of their youth wing," Mr Greer said.
"To accuse the BBC of promoting 'cultural Marxism', a conspiracy theory quite literally created by the Nazis to demonise Jews as the enemy within, is just unacceptable."
Mr Greer has written to Scottish Tory leader Ruth Davidson asking her to treat the issue with the seriousness it deserves, although he acknowledged that Mr Bundy simply may not have understood what the term meant.
Mr Bundy has been approached for comment, but a spokesman for the Scottish Conservatives said: "The tweet has been deleted."
Meanwhile, a senior director of an influential think-tank appeared to defend a Fife Labour councillor accused of anti-Semitism and backed her claim the Israeli secret service is involved in a campaign to prevent Jeremy Corbyn becoming prime minister.
Willie Sullivan, of the Electoral Reform Society which aims to change the way voting takes place at elections in the UK, spoke after The Courier revealed Mary Lockhart's suggested Mossad was trying to prevent Jeremy Corybn becoming Prime Minister.
Writing on Facebook, Mr Sullivan, said: "What! You seriously don't believe that the state of Israel and its security services are willing to intervene to prevent a pro-Palestine P.M."
A spokesperson for the ERS told the Jewish Chronicle they were investigating the comments.
Mr Sullivan said:"I want to be clear that conflation between the actions of the state of Israel and the Jewish people is wrong and deeply misleading.
"My comments were solely about the actions of the state of Israel. I can understand that in the context this may have been unclear. If this has caused any office or hurt then I apologise wholeheartedly."