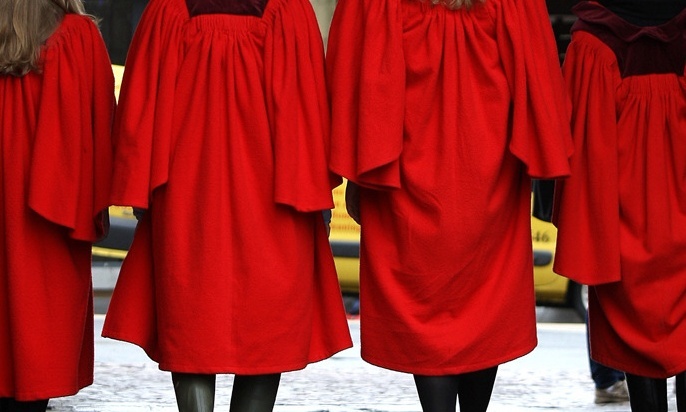 St Andrews University's iconic red gown is at the centre of a legal battle.
A private company is selling the robes for £60 less than their price at the university's shop.
An action has been raised at the Court of Session by St Andrews University.
It claims Churchill Gowns' products were advertised in a way which suggested they were endorsed by or associated with 600-year-old Fife institution.
Churchill Gowns says its £99 undergraduate robes are made to university specification but its website stresses it is "not affiliated with and does not represent this institution in any way".
Students at most universities wear gowns only on graduation day but the red robes of St Andrews are worn to formal events and the traditional Sunday pier walks.
Gowns from the university shop cost £159, although they can also be bought second hand, raising funds for student support services.
A university spokesperson said: "Discussions with the company failed to reach agreement therefore the action is necessary to protect the integrity of the official St Andrews gown, the university brand and the principle that gown sales help student support services.
---
>> Keep up to date with the latest news with The Courier newsletter
---
"We believe in responsible enterprise, and that students should expect the purchase of a red gown to be a decision based on clear and consistent information.
"In our view it is not sufficient that a company states it is not affiliated with the university, while it also claims gowns are made to university specifications.
"This is a false endorsement, which we believe constitutes mis-selling of gowns to students who believe they will be of equivalent quality to the official university gown.
"We know student representatives are understandably concerned that students are being led unwittingly to purchase gowns that are different from official gowns, which do not support the student association or teaching and research within the university as official gowns do, and that a unique student tradition is being diminished by this confusion."
Churchill has been asked not sell gowns or good with the trademarks of University of St Andrews or St Andrews but has insisted it will continue to advertise and sell its gowns to St Andrews students.
Oliver Adkins, its UK managing director, said: "We believe participation in these ancient traditions should not be reserved for those who can afford to pay a premium, and instead should be open to all.
"It's a shame that the University of St Andrews are seeking to deny students this choice and have gone to such extreme lengths to protect the profits they make."