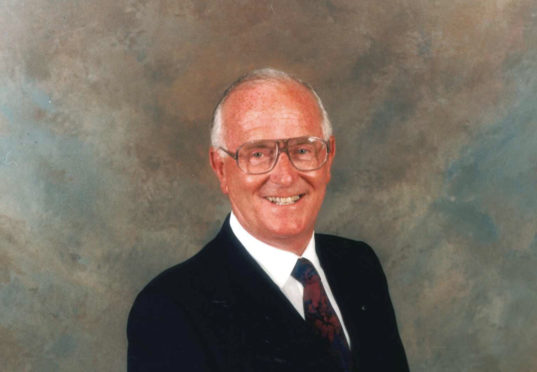 Tributes have been paid to a respected Tayside solicitor who served in Hong Kong during his Army days.
David Tweedie, 84, was a well known and popular figure on the Dundee legal scene for many years.
The retired solicitor's health had deteriorated since he suffered a stroke in 2017. He died peacefully at Strachan House Care Home, in Edinburgh, on Monday, April 15, with his family present.
Peter Tweedie, his son, said: "He is remembered as a gentleman lawyer always making time for colleagues, fellow professionals and of course, his clients."
Mr Tweedie was born on June 7, 1934, and was educated at Dundee High School and Dundee University, graduating a Bachelor of Law in 1955.
He was conscripted into the Army Legal Corps in 1956 and was sent to Hong Kong and Singapore via Karachi and Calcutta.
There he made good use of his training to help his fellow soldiers with any legal problems that they encountered.
After his discharge from military service, he returned to Dundee and joined the family firm of DJ & A Tweedie, based in the Murraygate.
In September 1958 he celebrated a personal milestone when he married his long standing partner Avril Donaldson.
The firm of DJ & A Tweedie merged with Shield and Kyd, then of Dundee City House, in 1971. Mr Tweedie was a managing partner until his retirement in 1996. The company later merged with Lindsays in 2012.
During the 1980s and 1990s he took up a post lecturing company law to students at Dundee University.
He held the position of President of Dundee Round Table and between 1986-87 he was president of Dundee Rotary Club.
Between 1978-94 Mr Tweedie was clerk to the Bonnet Maker Craft of the Nine Incorporated Trades.
He was a long-standing member of Dundee Angling Club and an elder and treasurer of Longforgan Parish Church.
Avril Tweedie died in February 2017 and later the same year Mr Tweedie had his stroke.
David is survived by son Peter and his wife Carole and his grandsons James and William.
The funeral is at Longforgan Parish Church at 1.30pm on Thursday April 25.