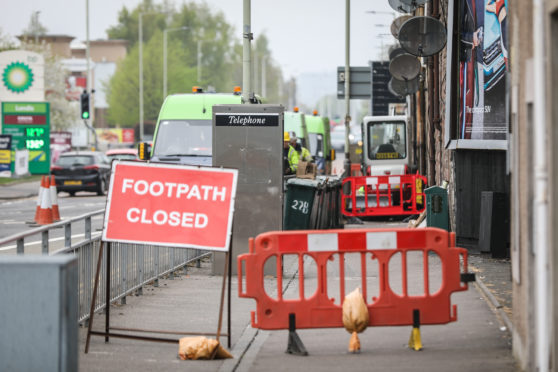 Calls have been made to permanently turn off traffic lights at a busy Perth junction after a power cut barely affected the area yesterday.
Police had warned motorists to expect problems when the signals at the junction of Barrack Street and Atholl Street were plunged into darkness shortly before 6am.
However, road users took to social media in their droves to comment on the ease with which the traffic coped with the unexpected outage.
Many suggested the lights should be turned off permanently, claiming the traffic had flowed better when the junction was controlled by a roundabout until nearly 20 years ago.
The junction is frequently choked with traffic under normal circumstances and Atholl Street has been named as one of the most polluted in Scotland as a result.
Perth city centre councillor Chris Ahern was one of those to benefit from the free-flowing traffic. He said: "I drove through the lights this morning and will only comment that I had no problems and got to work ahead of time."
On social media Jamie Neave wrote: "I just drove through it. No queues whatsoever and I got through first time without stopping for the first time in my life. Switch them off.
"The traffic lights at the bridge in Blairgowrie failed a couple of years ago guess what? No queuing traffic. It worked so well they got rid of them.
"Most drivers are self aware and have common sense. Don't panic."
Elle Ay added: "Got to work a whole ten minutes earlier today, Atholl Street completely clear – don't rush to get them fixed!", while Jon Kidd added: "Bet it was almost as good as when there was a roundabout there instead of lights."
Scottish and Southern Electricity Networks attended to locate and repair the fault.
A spokeswoman said: "When our network experiences faults of this nature, we put temporary traffic management systems in place to minimise disruption to the local community and ensure safety as our engineers work to restore power.
"We are pleased to hear the traffic management system has served its purpose and helped traffic flow smoothly through the city today."
Last year Atholl Street featured in a league table of the most polluted streets in Scotland.
Dundee's Seagate and Lochee Road also had the "shameful accolade" of appearing in the Friends of the Earth (FoE) league table, which listed the 10 routes in the country that are the biggest threat to public health.
The roundabout which previously controlled traffic entering the Fair City from the Dunkeld Road direction was replaced with the current traffic light system in 2001.