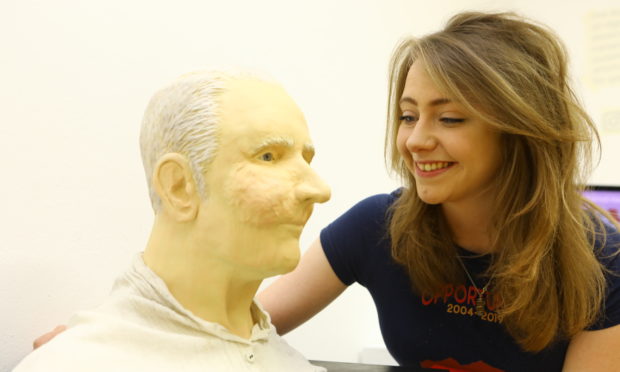 Normally, the only wax to be found on a dinner table comes from  candlelight.
But one family has been sharing mealtimes lately with a not-so-romantic waxen head.
It's the careful recreation of the face of a 19th Century Dunfermline man known as "Daft Archie".
He's not a great conversationalist, but Archie has been embraced by Dundee University student Rachel McGarvey's nearest and dearest, mum and dad Claire and Jamie, brother Gordon and her boyfriend Steven Buntin.
He even joined the family round the table to celebrate Claire's birthday this week.
"They've all quite taken to him, he's definitely become part of the family," said Rachel, 24, who comes from Glasgow.
Archie's been in the metaphorical spotlight – you don't want wax to get too hot – as the MSc Forensic Art student puts the finishing touches to her exhibit for the uni's Masters Show 2019.
Rachel, a student at the university's Duncan of Jordanstone College of Art and Design,  has brought back to life the face of Archie Flockhart, putting "flesh on the bones" of his skull in a painstakingly intricate archaeological facial reconstruction.
"I knew I wanted to do a facial reconstruction for my final project, and I wanted it to be Scottish," she said.
Finding men's faces more intriguing, she was delighted to receive Archie's skull.
It was part of the phrenology collection of Dr Spurzheim, who studied in Edinburgh.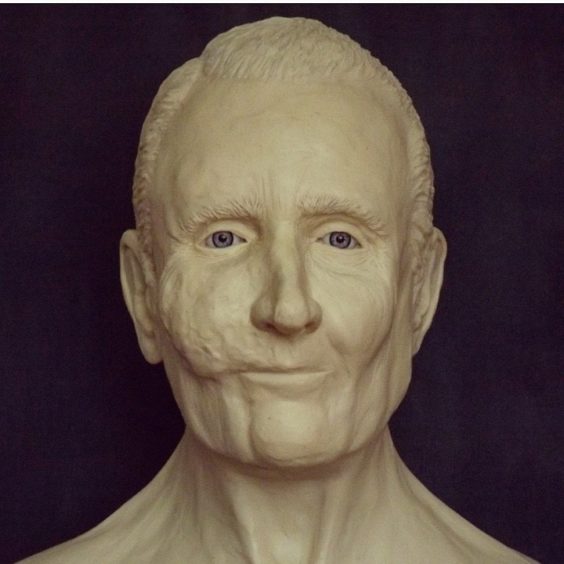 Phrenology considers bumps on the skull to be linked to different mental traits.
Archie had a sizeable growth on his right jaw, which could be the reason his skull was preserved by the medical community of the day.
He was also thought to have certain developmental disabilities.
Combined, that could be the reason his skull was preserved by the medical community of the day when he died, aged 75 in 1877.
His inclusion in the book Reminiscences of Dunfermline from 1889 brought the man, described as a "half-witted creature" into focus, said Rachel.
"That brought him to life for me," she said.
"I first thought of him as quite little and perhaps meek.
"But I find out he was quite bolshie and did not take any nonsense.
"He had a big grin as well.
"It was nice to find out all this about him and then make him – I wanted him to look like you could almost talk to him.
"It was interesting to see the face come out the skull."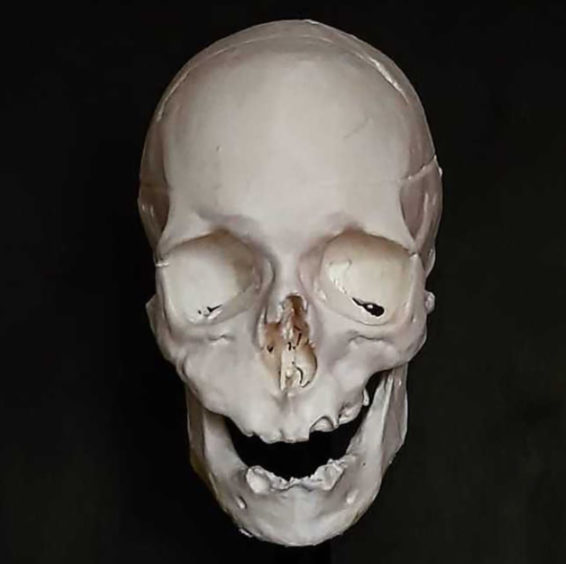 As well as Archie, Rachel's exhibit will include an anthropology section, which will show some of the forensic anthropology methods carried out on the original skull.
The Masters Show opens to the public on August 16 and runs until August 25.