VIDEO: Courier Country magician teaches us a trick. Can you work out how he did it?
Jim Campbell, aka Jim the Magician, performs wow-factor tricks. He treats Gayle to a one-to-one lesson before encouraging her to perform to a (small) audience…
Dressed in a funky tie bedecked with playing cards and a floral waistcoat, Jim Campbell looks every bit the professional magician.
He specialises in sleight-of-hand magic but also performs magic with everyday objects, transporting rings, biscuits and other paraphernalia into seemingly impossible locations.
Edinburgh-based Jim, 47, wows audiences across the UK with his tricks and illusions, and he's a regular in Courier Country, with gigs (mainly private bookings) lined up across Dundee, Angus and Fife over the festive period.
He also performs with his dog in a show called The Amazing Honey and Jim, with his fox red Labrador acting as magician's helper. She's the dog version of Debbie McGee, if you will.
I'm lucky enough to be getting a one-to-one magic lesson with Jim in and around the RRS Discovery ship.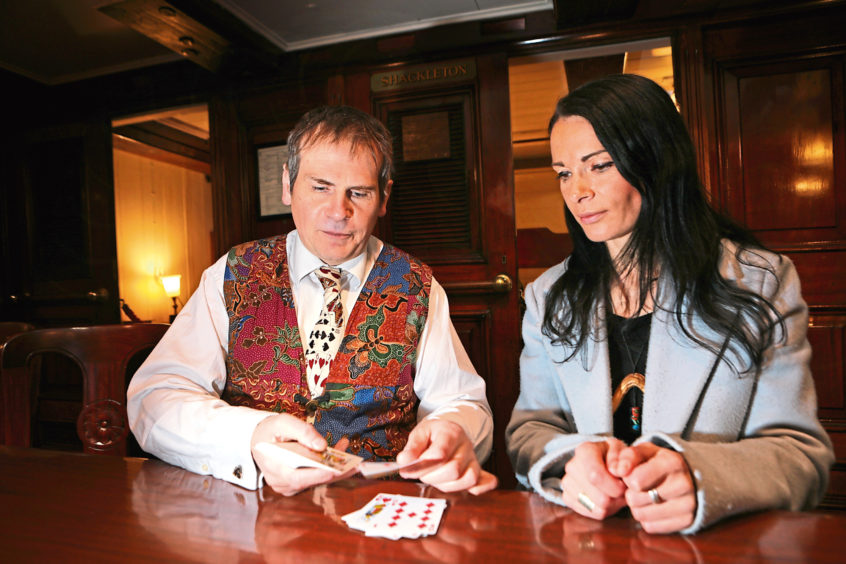 Sitting round a table – the same table at which Captain Scott and his officers dined during the 1901 to 1904 British Antarctic Expedition – we start off with what Jim describes as "simple" card tricks, including the "magic riffle" and "impossible matching cards".
In the magic riffle, he allows me to shuffle (so I see the cards aren't in any order and that they're a "normal" pack), and then begins placing them down on the table, deciding he will take out three cards, in this case, the fives.
Next, he appears to mix these fives back into the pack, performs his magic riffle and gives the cards a magical gesture, "the Jim tap".
When he removes the top three cards, amazingly, the fives appear back together again. "That's magic!" he proclaims, as my jaw drops.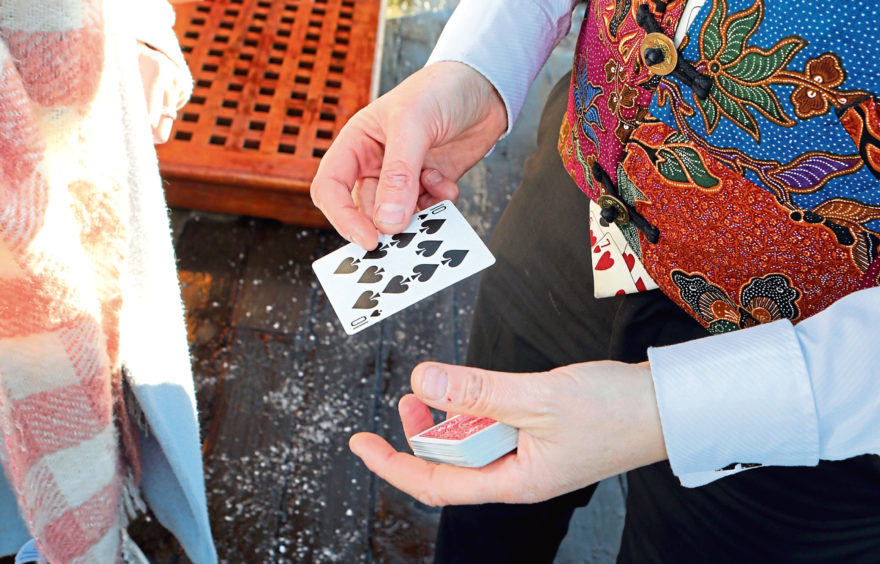 In the "impossible matching card trick", again, I shuffle, and Jim chucks me a card – the ace of hearts.
Wendy Gammie, RRS Discovery's conference and events operations manager, joins in and Jim gives her the ten of hearts.
While he deals the cards, face down, he tells us to focus on our cards, and when we get a "sense" to tell him to stop, we do so. When he stops, we mark the spot with our cards, face up.
Riffling through the entire pack, he then picks out our two "special" cards and the cards adjacent, where we had instructed him to stop.
"The chances of these cards being related is slim," he says, eyebrows raised. But in fact, once Jim has performed a "magic" click of his fingers, the two cards that appear are indeed related – the ace of diamonds with the ace of hearts and the ten of diamonds with the ten of hearts. Weird.
"How did that happen?" I query, and Jim's answer is: "It's just magic!" Of course.
"If you know the sequence of a trick and the secret, the magic happens on its own. The tricks tell a story so language is very important. You create a new reality for the audience."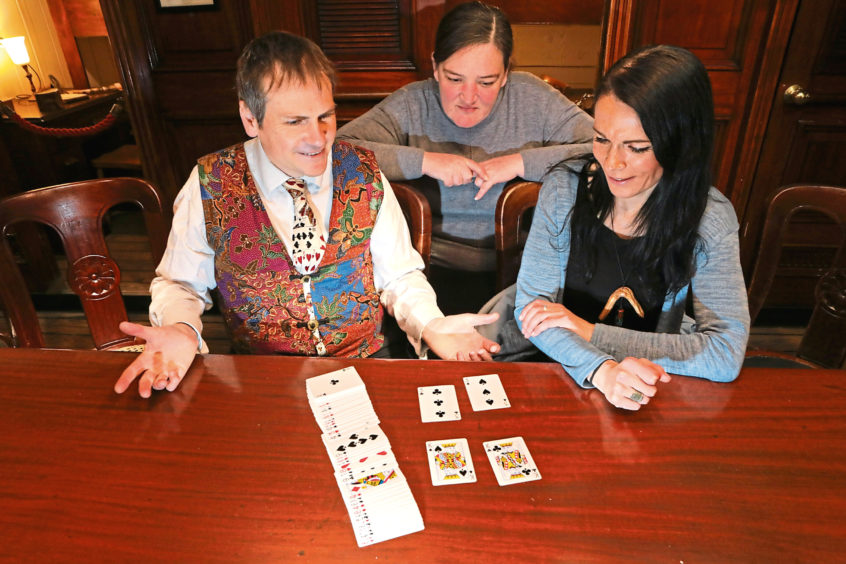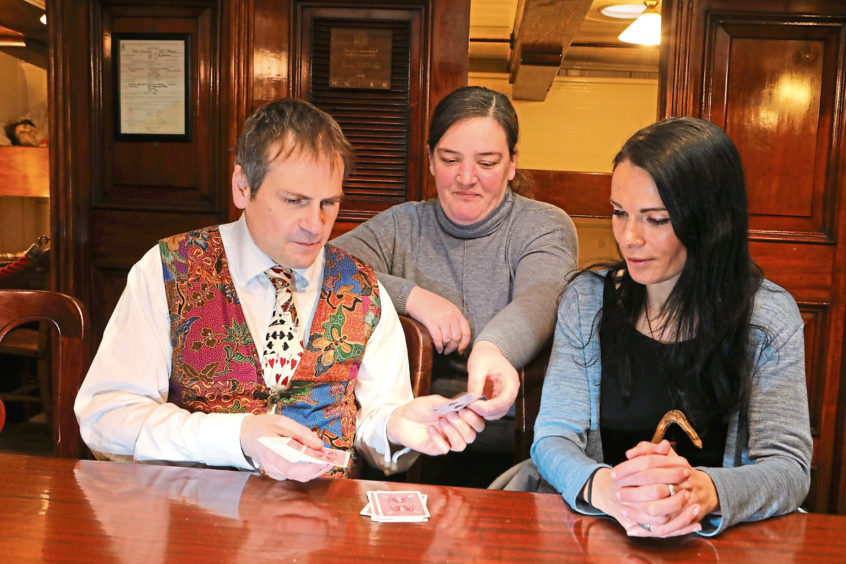 I'm blown away when Jim shows one of his finest tricks, his tour de force – the ring trick.
Basically, he takes one of my rings, closes his hand, and it disappears, leaving me slack-jawed. Then he brings out a keyring from his back pocket, and lo and behold, as if by magic, there's my ring! But there's more!
He performs the trick again, but this time, my ring is not on his keyring.
This sometimes brings on a panic if someone gives me a family heirloom!" chuckles Jim.
Not to worry, though, because I find it in the most impossible of places – tucked into a sealed envelope within a zipped compartment of Jim's wallet.
There's no way Jim's going to teach me this trick and just as well, because it took him three years to perfect.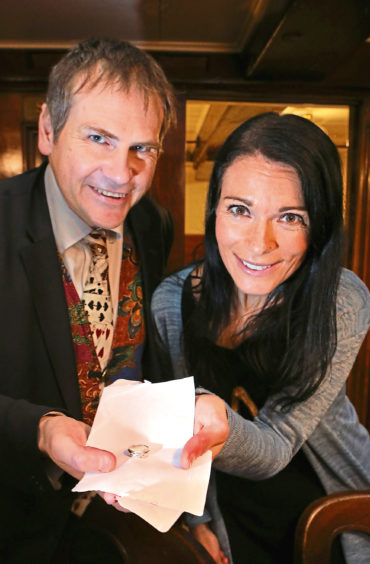 Having run me through the steps of the "magic riffle", Jim is keen for me to demonstrate my skills to an audience consisting of DC Thomson photographer Gareth Jennings and two media students he grabs.
With Jim's support, I make a fairly shoddy attempt at performing the trick, but everyone smiles so it can't have been that bad. And as Jim reassures me, it can take a lot of practice.
"After performing a trick maybe 100 times, it should come to you naturally," he says.
One thing Jim avoids is "pickpocket" magic, regarding it an invasion of personal space. And he never puts his hands behind his back, in case people think he's cheating.
Rather, he prefers his tricks be "clean", "transparent" and simple so people can "buy" into what's happening.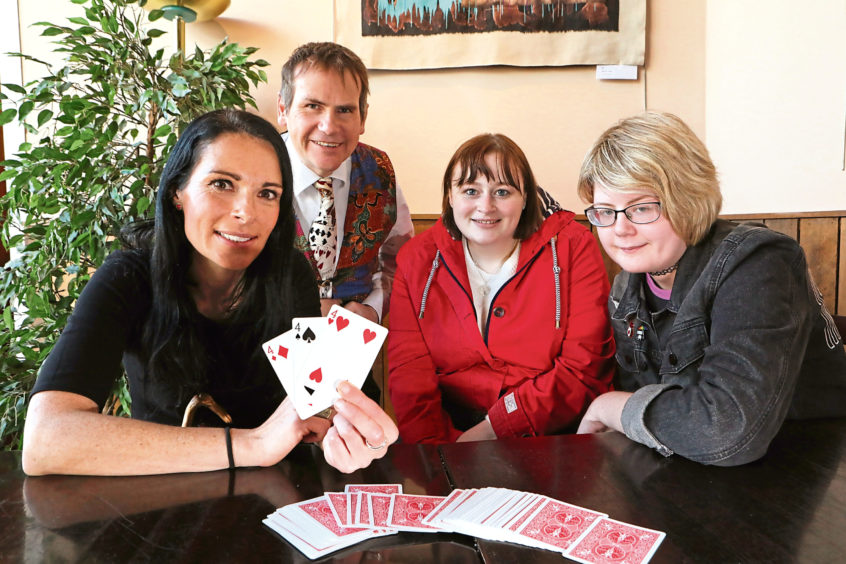 Jim's been mad about magic for as long as he can remember. His dad was in the Magic Circle, as he is now, and he started off performing "prop magic" at the student union.
Inspired by a guy who did sleight-of-hand, he decided he wanted to specialise in that type of magic – basically a collection of dexterous hand movements designed to manipulate objects and deceive spectators, typically featuring coin, card and rope tricks.
As Jim says: "The closer you are, the more amazing it is!"
It was massively important that he practise and he found his daily commute across Glasgow the perfect opportunity.
"Over two years of train trips, I learned magic," he says. "I started busking at Edinburgh Fringe and other gigs opened up from there."
Jim became a full-time magician in 2017 and as well as group and individual lessons, shows galore and a residency at the Pleasance Courtyard, he's been headhunted to audition for a popular TV show, although he's reluctant to reveal any details.
Before becoming a pro magician, Jim studied psychology at Dundee University and then worked for more than 20 years in healthcare and education, including as a mental health nurse, trainer and consultant.
"I've had addiction problems in the past," he says. "Instead of recognising this as negative, I've channelled my addictive nature through learning magic."
I'm honoured to be gifted with a badge which bears the statement: "I love Jim the magician" and a deck of playing cards.
And it's a relief that he hasn't attempted to cut me in half with a chainsaw.
info
Jim runs group magic classes, corporate workshops, and one-to-one magic lessons, from beginners to intermediate level. He's a member of the Edinburgh Magic Circle and hopes to join the London one. He's available for Christmas parties, weddings, Burns suppers, stag and hens dos, at nursing and care homes, charity events, birthday parties and corporate events. For more details and to book him, see beyondbeliefmagic.co.uk
Jim also has a magic and mental health lecture magic show, called Madness – Reality or Illusion?