As St Andrews-raised musician Steve Mason's solo UK tour brings him to Dundee, he speaks to Michael Alexander about the rise and fall of The Beta Band, his struggles with mental health – and becoming a dad.
After years of acclaim as the creative force behind cult 1990's psychedelic outfit The Beta Band followed by years of debt, depression and isolation while living back in Fife, St Andrews-raised musician Steve Mason's historic struggles with mental health issues have been well documented.
In a notorious 1999 NME interview, he left his bandmates "open mouthed" by stating that The Beta Band's top 20 debut album was a "crock of s***" – later blaming his mood swings for wrecking the band which, by the time of their split in 2004, were £1.2 million in debt to EMI, with Steve facing a £30,000 tax bill.
Two years later, as he prepared to go on tour with his then new musical foray King Biscuit Time, he suddenly vanished from his East Neuk home – simply leaving a cryptic message on his MySpace page which said: "I've had enough. Over and out".
Citing the breakdown of an eight-year relationship and disillusionment with the music industry for "squandering" his work, he later revealed: "I'd been driving around Fife marking out trees that would be good to crash into at high speed. I thought, 'For ***'s sake! I'd have probably ended up with a dented bumper and had to walk home."
Today, 13 years on, Steve's life could hardly be more different. Living in Brighton, he is dad to an "amazing" two-year-old girl and loving life as a solo musician.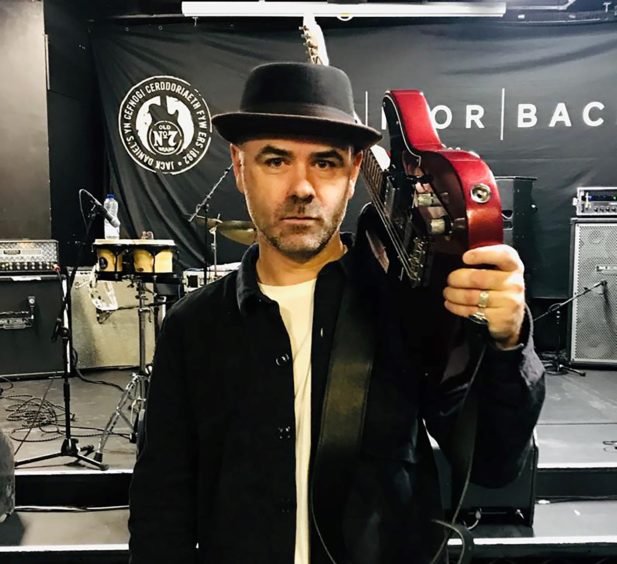 The dramatic change in circumstance came about after he came back off tour around 2012/13.
"I had a little cottage in Fife and I just walked in and thought 'hang on a minute, what the hell are you doing here?" said the now 48-year-old.
"In a blink you are going to be 50 and you are going to be living in the woods on your own like a little weirdo!
"So I just basically packed up a transit van and got the hell out of there and moved to Brighton. I've got a lot of friends in Brighton – it's always been a place that I've loved."
But despite a reluctance to go back over the roots of his past problems which are now like "talking about someone else", he is as forthright as ever when he talks about the need for men in particular to be more open about mental health.
"I've been absolutely fine for a long time now," he said.
"I've been off the anti-depressants for about five or six years. It's just not really part of my life anymore.
"But mental health issues are something that will never go away.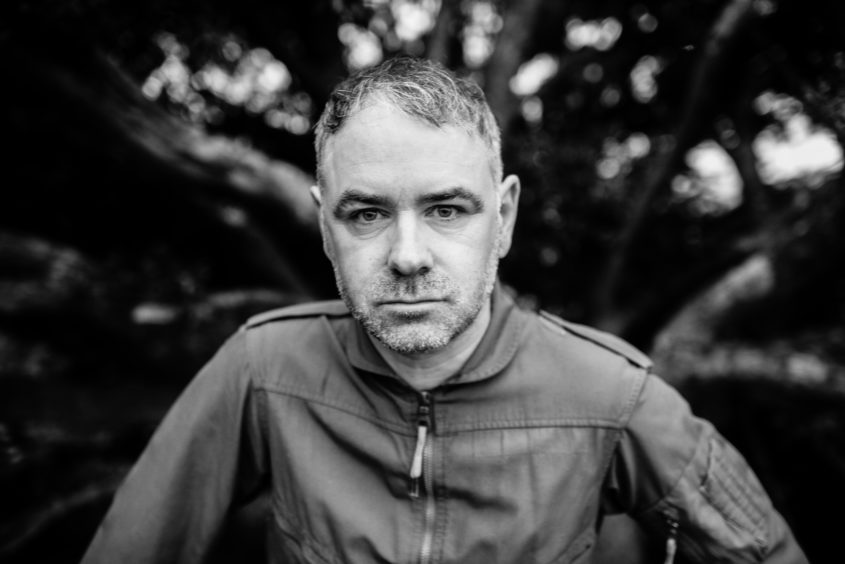 "From what I can see there seems to be a hell of a lot of less stigma talking about it now than there was 10, 20 years ago which is great.
"People have to talk about these things – especially working class people. Working class men in particular – they just have this thing where they can't talk about it. That whole bollocks thing about keep calm and carry on and all that f***ing nonsense.
"F*** that. Let's sit down and talk about what's f***ing bothering you and sort it out and then we can actually improve everyone's lives."
When Steve plays Fat Sams in Dundee on November 24 supported by Pictish Trail, he's promising a "lot off the new album and then bits and bobs from the last 10 years".
But it's also an opportunity to reflect on his roots growing up in North East Fife and his early obsession with music.
Born in Kirkcaldy, Steve moved to St Andrews when he was about four where he attended Canongate Primary, Greyfriars Primary then Madras College.
The first two records he bought when he was about eight or nine were an Adam and the Ants single and an X-Ray Spex single.
He became "totally obsessed" with music thereafter and has fond memories of the record sections in St Andrews' Woolworths and John Menzies stores as a teenager in the mid-late 1980s.
But it was trips over to Groucho's record store in Dundee that, like so many folk of his generation in the area, proved to be his musical lifeline.
"That's where everybody used to go," said Steve.
"Certainly me and a guy called James Wright (now better known as Cellardyke-based musician James Yorkston) – we used to go through every Saturday with our pocket money or our paper round money or whatever it was.
"I'd just go through everything – whatever we were into at the time whether it was punk or soul or whatever it was.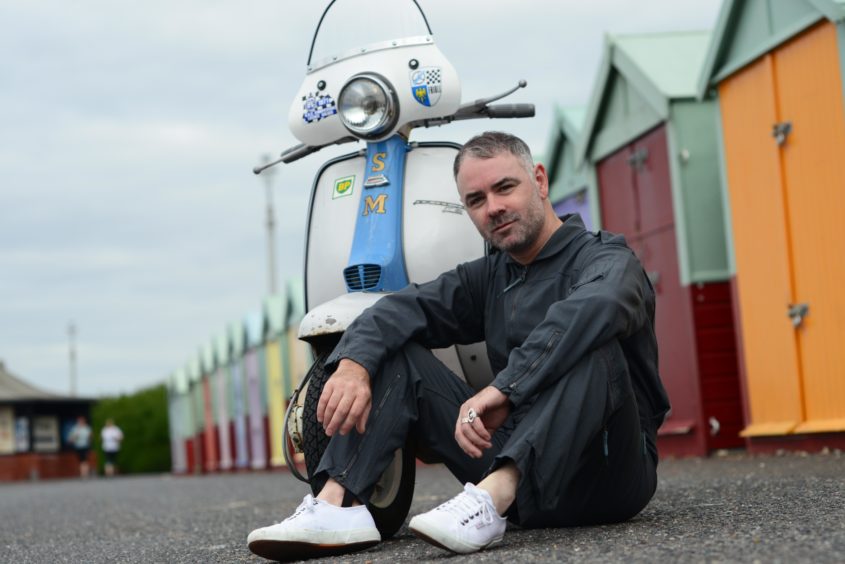 "It was like every Saturday, that's what you did – you got on the 95 Leven to Dundee bus at St Andrews. That record shop was really important."
Steve recalls that there was a real buzz around St Andrews at that time with the students' union putting on a lot of bands.
St Andrews was part of the gig circuit back then, and while he was too young to go to any of those gigs, their presence "filtered into the kids" that were older than him and they formed bands.
"We realised there were people in the town who were actually in bands," he said. "That makes you think 'maybe we could do that?'"
While in more recent years it's the Fence Collective founded by local musician Kenny Anderson that became the stuff of cult music legend in Scotland's back catalogue, before Fence even existed, it was Steve's friendship with Kenny's younger brother Gordon – who was a year below him at school – that led to the formation of The Beta Band.
"What happened was me and Gordon were running about St Andrews trying to get something going," Steve recalled.
"Everyone was either too old and not that interested in what we wanted to do or they were just a load of crap!
"I had a girlfriend at the time in Glasgow who was moving to London. I thought I'm going to move to London because there's just nothing happening here and see what happens."
Steve and Gordon started working with Gordon's old friend John Maclean from Tayport who had got into the Royal College of Art in London and they added Robin Jones on drums. Not long after the band signed to Regal/Parlophone, Gordon became ill and went back home.
With Englishman Richard Greentree added to play bass, however, they solidified their line-up – going on to receive critical acclaim for their so-called 'folktronica' style – a blend of folk, Scottish, electronic, rock and trip hop.
The band's music reached a whole new audience when it was featured in a scene in the 2000 film High Fidelity (based on the Nick Hornby novel of the same name).
In the film, a record store owner played by John Cusack mentions the band by name when he said: "I will now sell five copies of The Three E.P.'s by The Beta Band!"
Steve recalls now that he had a "lot of ambition and confidence" in what he wanted from the band which played Glastonbury and went on to produce albums including Hot Shots II and Heroes to Zeros.
"I wanted to show that music doesn't have to be a lot of f**ing lager louts bobbing down the street talking about the Beatles," he said.
"For me Oasis – that's when the worm started eating itself again – that's when rock music began consuming itself again. It wasn't fresh anymore. That was kind of the end of it for me. You can't just sit around complaining about the end of it – you've got to find an alternative."
After becoming a "gigantic psychedelic jet plane that soared across the sky and blew everyone out the water", however, Steve can now laugh when he added: "Unfortunately we then crashed into a mountain and that was the end of that!"
Reflecting on his journey so far, Steve feels "very lucky" to still be making a living from music.
Having written down his "real thoughts" about the world in his 2013 pro-anarchist concept album Monkey Minds in the Devil's Time, the way he tries to live his life now is to "be beautiful, be kind and be compassionate to everybody that you meet".
But having always been forthright with his political views, he admits that becoming a dad has also honed his perspective about the prospects for future generations.
"It just feels like the establishment is in real dire straits," he said, suggesting that society has "generational amnesia" about history and describing capitalism as "the greatest form of control that any psychopath has ever come up with".
"My opinion of it is when the Far Right is pumped up, that's always a sign that the establishment is in trouble.
"I was watching Have I Got News for You the other day – which is not really a programme I watch anymore – and I sort of realised you can't actually laugh anymore. It's not actually funny now.
"The times that we live in have destroyed satire because it's just not f***ing funny. It's really f***ing serious.
"And you've got this 'lunatic' in the White House who's genuinely an out of control fascist and really dangerous guy. I wouldn't trust that guy to tie my shoelaces let alone a run a country.
"But this is what happens. In this country people have just become more and more disillusioned with democracy and party politics, and that's why something like Brexit happened. It's so ludicrous people didn't think it was going to happen.
"We are just lurching from one quite unbelievable spectacle to another.
"It's frightening. But what I would say is just don't be afraid because as a wise man once said, 'fear does lead to the darkside'.
"Don't be afraid of anyone or anything because these people – the politicians – only have power because we give it to them.  We actually have all the power. We've just got to learn how to use it and we need to stay together 100%."
Steve's brand new track, 'Like A Ripple', from his 'Coup d'état' four-track EP is out now.
The EP features three brand new recordings alongside a Tim Goldsworthy remix of America Is Your Boyfriend, taken from his much acclaimed album About The Light, which was released in January of this year.
Like Like A Ripple, the other two new tracks, Against The World and Head Case, produced by Steve Mac and Primal Scream's Martin Duffy respectively, see Steve sonically reconnect with his more eclectic musical corners, closer perhaps to his Black Affair and King Biscuit Time work than the more recent albums under his own name.
*Steve Mason plays Fat Sams, Dundee, on Sunday November 24. For ticket information go to www.stevemasontheartist.com/#