As Simple Minds release their first album in four years, Michael Alexander chatted to lead singer Jim Kerr about the V&A, KT Tunstall -and the band's long time affinity with Dundee.
When rock legends Simple Minds take to the stage at Dundee's Slessor Gardens on September 9, just days before the opening of the V&A Museum of Design, the band's 1983 single Waterfront will take on a whole new relevance as the city celebrates its cultural rebirth.
But as lead singer Jim Kerr, points out, it won't be the first time the band from Glasgow have helped celebrate the transformation of a post-industrial city.
In 1998 they filmed a music video for their track Glitterball in and around the Guggenheim Museum in Bilbau – and just as the so-called 'Guggenheim effect' aimed to make the Spanish city more 'prosperous and cool', Jim is hopeful that they can bring similar "luck" to Dundee.
"There's a nice coincidence here, because I'm obviously  aware that with Dundee and the V&A the yardstick goes back to Bilbau and the Guggenheim and what it's done for the city and all that stuff," says Jim in an interview with The Courier.
"Well, we were the first band to go and do stuff in the Guggenheim. It had only been open about a week.
"Somehow somebody in Bilbau – the mayor or something – was a big fan of Simple Minds.
"The Guggenheim was such an amazing building and there was such an amazing overwhelming feeling in the city as well when it opened.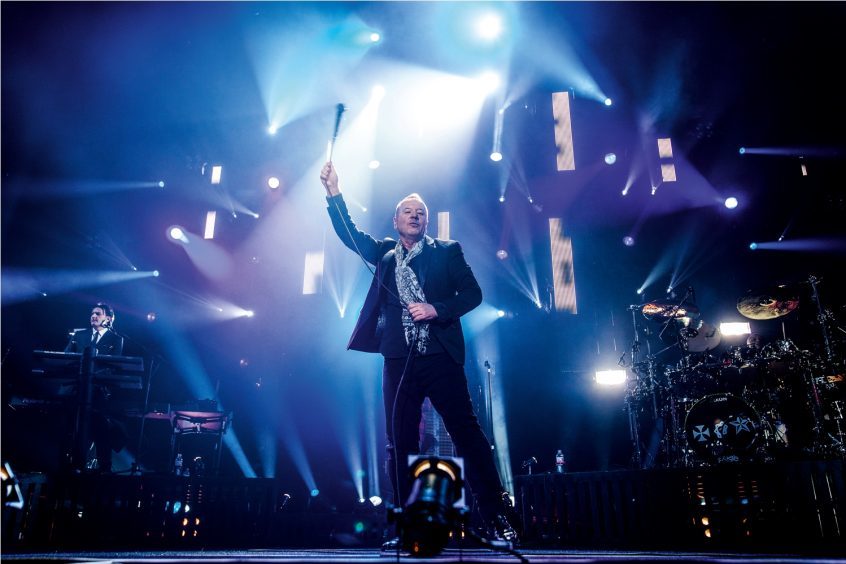 "Those memories are evoked when I think of Dundee and everyone else willing Dundee on.
"Whoever had the vision for the V&A to come to Dundee, it's so great to see it all come to fruition."
Simple Minds don't need much of an introduction. Founded in Glasgow in 1977, they are one of most commercially successful Scottish bands ever, having achieved five UK number one albums during their career and sold over 70 million records worldwide.
Despite various personnel changes, they continue to record and tour.
The band scored a string of hit singles, becoming best known internationally for their 1985 hit Don't You Forget About Me.
Other prominent hits include Alive and Kicking and Belfast Child – and in 2016 they won the British Academy's Ivor Novello Award for Outstanding Song Collection.
Great live, they are undoubtedly a coup for V&A week – and the band had a "wee sneak peak" at the V&A construction site last May when they performed a sell-out acoustic set at the Caird Hall – a venue which Jim "loves".
But Simple Minds' affinity with Dundee goes way back to their early days – and those links have been further tuned with Dundonian musician Ged Grimes – formerly of Danny Wilson – joining the band.
"Dundee was one of the first places that encouraged us," reflects Jim, 58.
"We used to play in the old technical college as it was in those days.
"We opened up for quite a few bands and played Fat Sams and all that.
"Then of course over the past 10 years we've had none other than Ged Grimes – very much a local man and a proud Dundonian!
"He brings a Dundee influence to the band because outside of his talents and stuff he is very much a product of his environment as we are of ours."
Jim has tremendous respect for Dundee's "great history" of fantastic musicians.
But despite their own credentials, Jim admits he remains slightly in awe of Ged.
"It's funny with Ged," he says, "because obviously he had a career with Danny Wilson and lots of others stuff and he worked with Ricky (Ross) and Deacon Blue and all that.
"Ged kind of got us in shape a bit – and I'm not even talking about physically," he laughs, "although he's great at that as well.
"He's a delightful character but he's also stoic – in other words 'you cannae bullsh*t him'. And we are a wee bit bullsh*ty sometimes – not when Ged's about!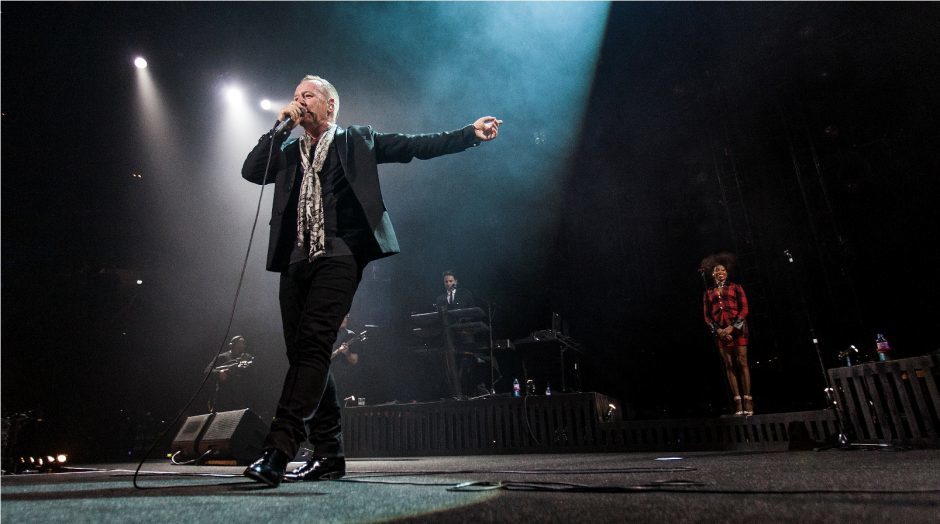 "We kind of look up to Ged as well. You get excited and you get hyped and stuff and you look at him and he'll go 'I dunno – no' yet, it's no' there yet'. So he's a great barometer.
"And as well as that, him and I have been starting to write stuff together. That's about to come over the horizon. It's an honour having Ged about."
Slessor Gardens will also be special as it'll be the last of 13 shows during August and September when Simple Minds share a bill with The Pretenders – the first time they will have performed on the same stage since Live Aid in 1985.
https://www.youtube.com/watch?v=fmjxEUxHy4w
The Pretenders, of course, are fronted by Jim's ex-wife Chryssie Hynde – someone who Jim sees as "family" on the one hand and a rock "icon" on the other.
"We're huge fans first and foremost," says Jim.
"We first toured together in 1984 and what a bill that was:  Australia and New Zealand –  Eurthymics, Talking Heads, The Pretenders, and Simple Minds. And Chryssie and I got on VERY well!" he laughs.
"We are family. We have kids. We have grand kids! We saw her in Glasgow recently. We have the same manager.
"But nevertheless I'm able to stand back from that side of things and see her for what she is – she's one of the true greats. She's an icon."
Jim is also looking forward to touring again with St Andrews-raised singer songwriter KT Tunstall, who will also be on the Dundee bill.
They recorded an acoustic version of 'Promised You a Miracle' together in 2016 and then did around 30 of the Simple Minds acoustic gigs across the UK.
"She was amazing in the studio – this tiny wee thing," he says.
"She just took over and we were happy for her to take over, because every idea she came up with was like 'wow'.
"We then went on the road together and I reckon for about 25 of those gigs we stood at the side of the stage watching her – the crew, the band, everybody – she was just amazing.
"The thing with KT is you think she's good – and then you go 'naw, she's off the scale good' – and she's getting better and better."
Jim is approaching the end of a "hectic" three weeks promoting the new album Walk Between Worlds during this interview and looking forward to three February launch shows in Glasgow, Manchester and London.
It's the first album of new material since 2014's Big Music and with its eight tracks rocketing past in 42 minutes, it's a relatively concise affair.
Jim describes it as an album of two distinct sides – very much the old-school album format that he and Charlie Burchill grew up with as music fans.
Side one tracks such as Summer and The Signal and the Noise revisit the glassy guitars and new wave dance grooves of the post-punk era, whilst the second half explores more cinematic sounds with the title track and Barrowland Star both featuring dramatic orchestrations recorded at Abbey Road.
"The headline on the review I saw last night said 'they are making their best music this century' – so somebody feels we are doing the right thing!" he laughs.
But with opening track Magic reflecting on the desire and hunger of youth and closing track Sense of Discovery centred on the voice of an older narrator passing on wisdom and advice to a younger individual, is there a sense of an older Simple Minds reflecting on the passage of time and even being self-critical of earlier material?
"There's always been that," reflects Jim.
"Sometimes I feel we've been too harsh on ourselves. But at the same time at a certain point you cut yourself some slack. There's a point where you can see these albums as monolithic and then maybe you can see it like a Polaroid photo of school days where you go 'that's the way we were' and you go 'well good on us because that's the energy we had in us, that's the imagination we had'. So you cut yourself some slack."
Rather than stand-alone albums, Jim prefers to see their back catalogue as being products of a journey the band are still on.
And  that net result will be well reflected when they walk on stage in Dundee.
He adds: "You might say 'oh this is the new album or whatever' but that's not really what you are saying – you are saying 'this is what we have done with our lives'.
"And when you say that, it's a great motivation because if that's what you're saying, you don't want to give less than your best account – and I think that's a good philosophy when you are playing night after night.
"When you walk on stage it's about being of service. There's only one thing we have to do – we have to be brilliant every single night.
"A good Simple Minds set ticks all the boxes and we'll be doing that in Dundee. Nobody is going to be disappointed."
*Simple Minds Walk Between Worlds is out now.
*For ticket information go to www.ticketmaster.co.uk , www.lhgtickets.com or www.axs.com