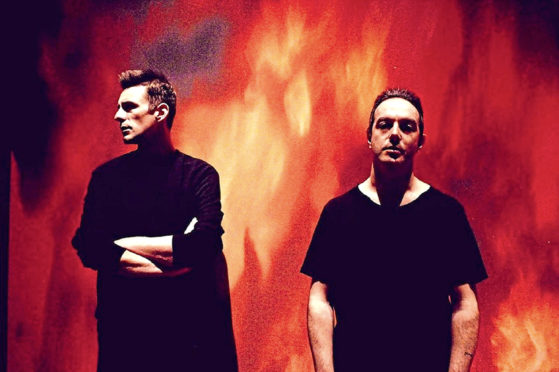 There's an early chance to catch alt-rockers Glasvegas ahead of their upcoming Dunfermline show.
The Daddy's Gone hit-makers are at Stirling's Tolbooth next Friday then PJ Molloys on November 2, with cousins James and Rab Allan performing as an acoustic duo.
It's all part of the build-up to the band's fourth album — their first since 2013's Later…When The TV Turns To Static — with tracks confirmed so far including Godspeed, Dive and My Body Is A Glasshouse, which James says was inspired by a "young lassie" he saw soliciting in Glasgow while he was going home from the studio.
"I guess it's normal for most people to look at that person and feel empathy or to get a fright," the frontman adds. "But maybe it's not normal for everyone to start imagining a glasshouse and going to write that song. That's how I know I'm a natural songwriter — good or bad doesn't matter, that's how you know."
James, 39, reckons the new LP's proving as tricky to classify as previous offerings. "I've never really chosen to go in any musical direction," he declares.
"It's always been that the idea tells me how it wants to be. You might think that stylistically or influence-wise you can maybe add something to the work, but the idea will normally disagree and take you where it wants to go.
"If you're expressing yourself in the moment in a real and true way then I don't think you command that enterprise as much as what you think."
Although more recent sets Euphoric Heartbreak and Later sold far fewer copies than their Mercury-nominated debut — which spawned a 10th anniversary tour last year — James says his outlook's never altered. "I think optimism's always been a part of my life," he explains.
"There's been times where I've had less in certain aspects of my life, then I've gained, then I've lost. There's a certain thing you get used to and then it alters again. Whether it's gaining or losing, both are important.
"Sometimes you fall and it doesn't work out just the way you want. The colour doesn't look the right shade of red or whatever. You need to just make the best of it. Stand up and try again."
With one eye on next week's gig, James says the acoustic format's thrown up a few twists. "Some songs — especially when you've not played them in a while — can surprise you in the way that they just feel so right," he explains.
"You forget and then it hits you. Like when we played Later in the acoustic shows — it just flies. Some songs just light up themselves, it's almost like they're having a good day.
"At the same time, the songs have different elements to them that change in the different environments. Like Lots Sometimes almost becomes two different songs — it's like fireworks at the end of a full band show because of the drums but it's got a different power with the lyrics hitting you when it's an acoustic show."
The band's first gig in Stirling for years is one the songsmith says he'll relish. "It's always special to play in Scotland and visit different towns," adds James. "I think the first time Geraldine ever heard the song Geraldine was in the Fubar in Stirling. I'm not 100% sure, but I think it might have been. Rab would be able to confirm or deny that statement. He's got a good memory."
Tickets £18/£19 via stirlingevents.org
*** Homemade Sin's Warner Hodges makes a quickfire Green Hotel return on Sunday.
The former Jason & The Scorchers guitarist's back in Kinross three weeks after playing there with ex-Georgia Satellites frontman Dan Baird. Nashville-based Hodges has also recorded three albums since 2011 with the pair's side project The Bluefields.
Tickets £19.40 via Ticketweb.
*** Veterans from '70s jazz progsters Colosseum are at Green Hotel on Thursday.
JCM was formed by drummer Jon Hiseman shortly before his death last year. Surviving stalwarts Clem Clempson and Mark Clarke perform music by late cohorts such as Jack Bruce, Allan Holdsworth, Graham Bond and Ollie Halsall.
Tickets £29.90 via Ticketweb.
*** Punk firebrands XSLF hit Beat Generator next Friday.
Led by ex-Stiff Little Fingers duo Henry Cluney and Jim Reilly, the power trio play both classics and recent tracks. Tickets £11.50 via Grouchos / Tickets Scotland.
*** Techno-goths Queequeg's Coffin launch their debut EP at Conroy's Basement tonight with support from Thee Rag N Bone Man, Astrophe and Wildhouse. Tickets £5 online or £7 at the door.
*** Green Hotel hosts AOR homage A Foreigners Journey tomorrow and veteran Welsh progsters Man next Friday. Tickets £21.50 on Ticketweb.
*** Fast-rising Fife troubadours The Moon Kids and LA-based garage rockers Velvet Starlings play Conroy's tomorrow. Tickets £5 online.
*** Cherry Bombz rock Arbroath's Seaton Country Estate tomorrow and Brechin's City Royal on Sunday.
*** Power popsters The Amazons hit Church on Monday. The venue's website has free student tickets.
*** Creation23 signings Shambolics play a sold-out home turf gig at PJ Molloy's tomorrow.
*** Number 57 has weekend sets from Headroom, Itchycoo Park and Mivvies.