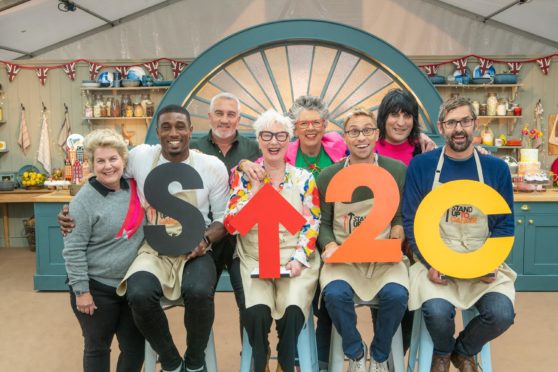 Frida Kahlo, the (ill-advised?) Hollywood handshake and Milli Vanilli (kind of), Bake Off turns the heat up on celebrity chefs
And we are back in the bake off tent, ready for our weekly dose of soggy bottoms, leakages, drama and tears – and that's just from the presenters. This time around, it's celebrities we get to root for, and in some cases pray for, all in the name of Stand Up To Cancer.
Tuesday evening played host to the first episode of the new series and featured the likes of comedian Russell Howard, broadcaster Louis Theroux, basketball player and former Love Island contestant Ovie Soko, and the ironically-named Jenny Eclair.
Normal service resumed for Sandi Toksvig, Noel Fielding and Prue Leith, all of whom looked as though they'd been attacked by a box of crayons on their way into work that morning. Paul Hollywood was also there, ready to give his unwavering opinion and dish out a rare "Hollywood handshake". I sure hope he'd washed his hands.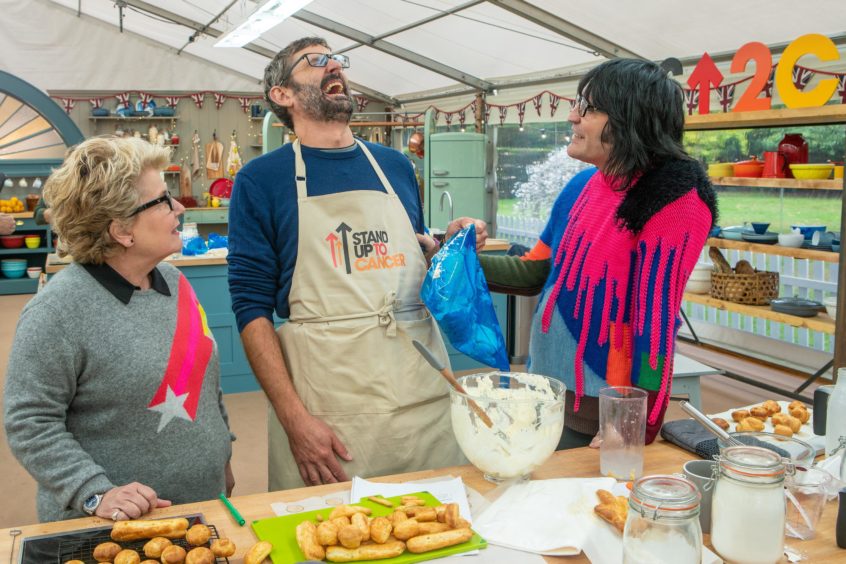 The first task for the celebrity victims was to create a giant biscuit and decorate it in a way that describes them or something they love. If that were me, there would be no biscuit because a word often used to describe me is "hungry" so the biscuit would've been eaten long before judging could begin.
Anyway, I digress. Louis came up with a bizarre concoction that looked like a pizza but was actually a giant cookie in disguise. Russell was making a replica of his dog's face using peanut butter-flavoured batter and a stencil.
On the other side of the tent, Ovie was attempting to make a white chocolate and macadamia nut-flavoured basketball cookie, while Jenny opted for a ginger and orange Frida Kahlo replica.
All impressed with flavour, but not so much with presentation, as Ovie failed to get his ball into shape in time. But the first Hollywood handshake of the series was delivered after the starting hurdle, with Jenny's Frida taking the honours.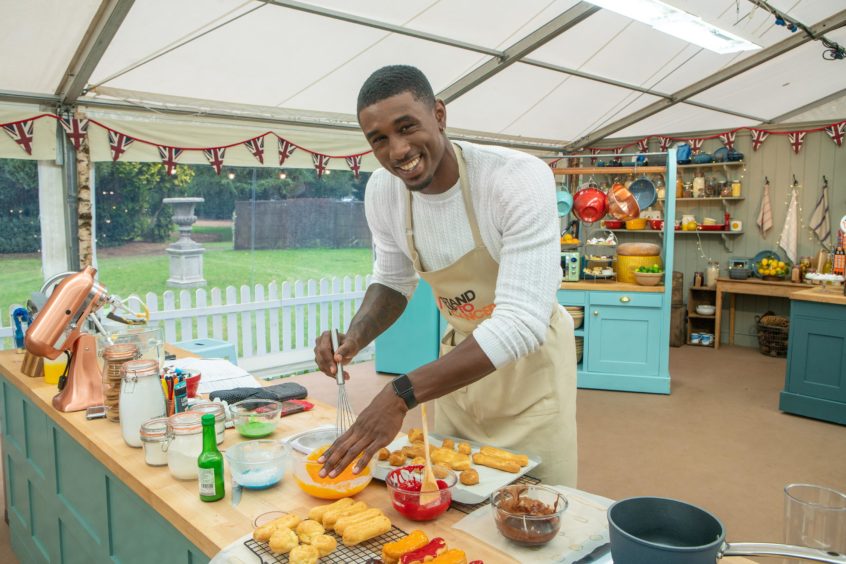 Really, as Jenny said, the programme should've stopped there so that everyone could go home on a high, happy as someone called Larry. But no, a 20-minute bake off is not what we came here for, and so it was with reluctance that the celebs continued in the Battle of Baking 2020.
The technical challenge is something I have no idea how to pronounce or spell, let alone bake, and I broke Google giving it a go. But I think it may be mille foix or mulled foyers or milly filly. Anyway, the contestants had to make four while following Paul's instructions.
Somehow they all pulled it off and the milly fillys looked like they were supposed to, though didn't all taste correct, but can you blame them? The final task was to create a shoe scene, or for the bake-literate, a 3D scene from choux pastry. Three of them opted for a day at the beach, and Russell went for an ideal Sunday on the sofa but judging by the state of his scene, Sundays with the Howards look utterly stressful.
Despite the laughs and the entertainment that Bake Off brings, we can't forget what the purpose of it is – to help fund cancer research, for the sake of an hour of entertainment. A great deal, if you ask me.