Frazzled? Stressed out? Need a break from the daily grind? Gayle discovers a sound bath is the ultimate route to relaxation…
Cocooned in a cosy blanket, my head gently resting on a pillow, I bathed in the sounds and vibrations emanating from seven white bowls placed in the middle of a candle-lit room.
Having heard that sound baths can induce a deep, meditative, trance-like state – and with celebrities like Gwyneth Paltrow, Victoria Beckham and Cara Delevingne extolling their healing and restorative powers – I decided to give one a bash.
I had very little idea of what to expect, but I soon discovered that sound baths do not involve immersion in water, rubber ducks or soap on a rope.
My session at The Space Upstairs in Burntisland was led by the lovely Jo Bechard, a Reiki master and Swedish massage therapist who greeted me with a big smile.
After chatting with fellow sound bathers (there were 16 of us, men and women), and ensuring all mobile phones were switched off (and ideally not even in the room), Jo dimmed the lights and instructed us to pick the spot on the floor that felt "right".
We lay down, some of us sporting eye masks, and snuggled into our blankets.
A few minutes were spent encouraging us to relax our bodies and still our minds.
That's easier said than done when you've got a million deadlines.
After a brief guided breathing meditation, Jo started to play "music" on her bowls, which are all tuned to different notes, using mallets and beaters of various shapes and sizes. Sometimes, she struck the bowls; other times, she made them "sing".
It was a strange but beautiful sensation – you could literally feel the vibrations resonating through your entire body.
At first, I struggled with inane mental chatter.
Did I need to buy dog food? What would I get for my friend's birthday? Had I paid the electricity bill?
As I allowed such thoughts to come and go and focused instead on the sounds, however, I became soothed and deeply relaxed.
Yes, I was vaguely aware that the man next to me was snoring lightly, and that there was a dog barking outside, but I didn't allow these noises to distract me.
I was aware, but not fixated on them.
However, my mind wasn't blank.
The ethereal sounds reminded me of my travels to Asia, and I started to picture myself sitting beside Thai temples and gazing in wonder at the majestic Angkor Wat in Cambodia.
I hadn't been there for a decade and it was a glorious sensation to be transported back in my mind's eye.
There was also a moment during which I felt slightly on edge and even a wee bit emotional.
The sounds had shifted and now seemed to resonate in my belly, which Jo later explained is the solar plexus chakra – pretty much the seat of all emotions.
At other times, I felt radiant, light and full of joy, and beautiful images of the rugged Scottish Highlands appeared in my mind.
I was reluctant to open my eyes as the session drew to a close and Jo slowly brought us back to full awareness.
I felt refreshed, relaxed, joyful and also as if I had been on some kind of journey. It was an experience – almost an out-of-body one – and not like anything I'd ever experienced before.
Jo, like many holistic therapists, believes vibrations from the bowls can unblock your chakras (the seven centres where life energy – Qi – flows through our bodies), promoting healing and releasing tension.
"Sounds made by the bowls resonate with different chakras," she explained.
"Sessions help clear out negative stagnant energy and balance chakras, as well as facilitating healing. It's said that 85% of chronic illness is caused by stress, so if we reduce that stress, we reduce illness."
Jo, a violin player and former dance music DJ, trained in the art of sound therapy in May last year.
"DJing is about invoking emotions and playing to the crowd and, in a similar way, sound baths are about picking up on feeling and emotions and giving people what they need.
"They can evoke certain emotions and feelings, both negative and positive, depending on how you're feeling.
"It's about creating a mindful environment to become more in tune with your body. The body has an innate ability to heal itself, but we've become disconnected."
Ultimately, a sound bath is like a detox, a clearing of negative energy. It's thought that one hour is like having a good six hours' sleep.
"Most people feel calm and relaxed afterwards, but don't be surprised if you feel like crying, develop headaches or feel emotional," Jo explains. "It's an emotional purge!
"It might be that subconscious thoughts surface or you experience a deeper connection or awareness of emotions."
Some people can see colours during the immersive sonic sessions. That's because each chakra corresponds with a colour – and the sounds produced by each of the seven bowls tap into the different chakras.
But even if you have no interest in the spiritual healing side of sound baths, it's worth enjoying one for the simple fact that it's good for you.
"Everyone needs time out to take care of their minds and bodies; you can't pour from a empty cup," said Jo. "Set aside an hour to do this and you'll reap the benefits.
"Allowing yourself time out just to be – to be present and to enjoy being present – is so important."
info
Sound as a Bell sessions cost £11, and Jo has a six-for-the-price-of-five offer. See the Facebook page of Sound as a Bell – Fife and North Edinburgh.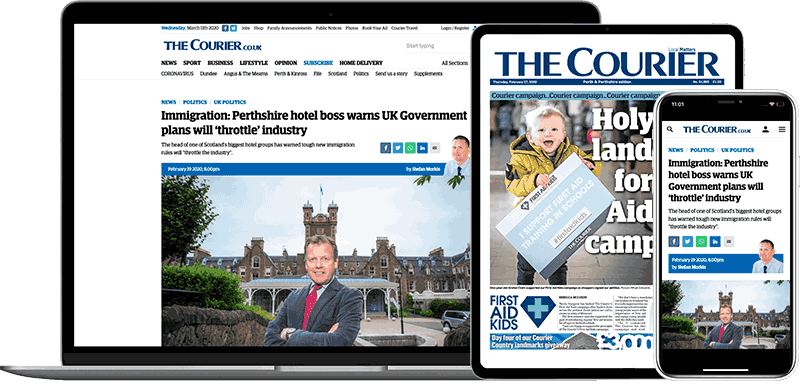 Help support quality local journalism … become a digital subscriber to The Courier
For as little as £5.99 a month you can access all of our content, including Premium articles.
Subscribe