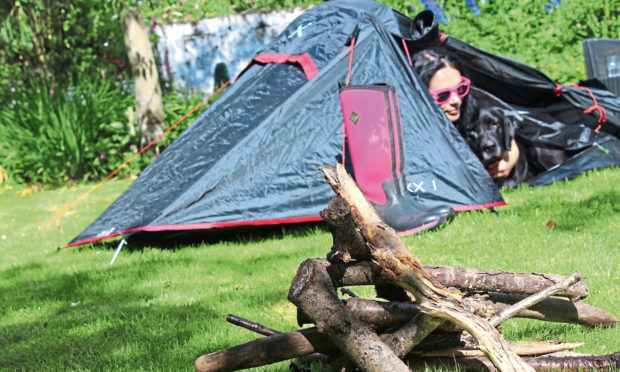 Lockdown hasn't stopped Scouts across Scotland from experiencing adventures and learning new skills. Former Brownie Gayle signs up for one of Scouts Scotland's new 'at home' challenges…
Scouts are masters of adventure – think epic hikes, wilderness expeditions and camping.
It's a great social scene and a way of life for both youngsters and adults who help out as volunteers and leaders.
But, like everything else, members of Scouts Scotland have been forced to approach things very differently during lockdown.
There can be no face-to-face meetings, jamborees or any en-masse gatherings until Nicola says so, and that could be a while yet.
But badges have to be collected, lives have to be lived and fun has to be had, so ever-industrious youngsters have been completing challenges from their homes and gardens instead of in busy halls and campsites.
Woggles may not need to be worn for a while, but the scouting ethos – give it a go, to try new things and to muck in – is as strong as ever.
This has meant a lot of adapting, adopting and, in some cases, improving.
Those who take on the newly-created At Home Zodiac Challenge have to complete a number of tasks to earn a certificate.
And most, while missing the company of their pals, have found it to be hugely fulfilling and a great deal of fun.
The original version of the Zodiac Award encourages different outdoors "nights away" experiences including camping, staying in bivouacs and unfamiliar environments.
Meanwhile, the alternative lockdown challenge revolves around doing this from home.
Hence, gardens have been transformed into campsites, with a variety of sleeping quarters ranging from improvised hammocks to bivouacs cobbled together from random household items, to dens and good old tents.
When the weather has turned bad, scouts have headed indoors to camp under tables and in empty bath tubs.
Accompanying activities include collecting firewood, designing flags, learning new knots, making Lego models of campsites, painting stones and identifying constellations.
While help can be sought online for some tasks, one demands that you survive 24 hours without your phone, wifi, computers, TVs or consoles. Perish the thought!
As a former Brownie, and with a thirst for lockdown adventure, the At Home Zodiac Challenge was right up my street.
With 10 points required to get me a certificate, it was a big ask, but I had to start somewhere.
Camping in my garden, sleeping in the bath, or building a den would net me a mere one point, and I found it hard to imagine myself doing 10 of such activities!
Nevertheless, I dug out my tiny one-man tent and got to work erecting it on the freshly-mown lawn.
The last time the tent saw the light of day was in 2015, on the banks of Loch Lochy in Lochaber, so it was due an airing.
With a little bit of help from my black Lab, it was up and ready in no time. Did I spend in the night in it? Well, of course! That got me one point.
The next activity was to collect firewood and grade it in piles. I did this with great relish, gaining my second point.
What I should've done after this was to spark up a cavewoman-style fire by scratching two sticks together, or at the very least, by using a fire steel, and then cooked up a feast of sausages and marshmallows. Had I done this, I'd have earned another point – but I'm saving this task for a sunnier day.
Instead, I went online in a mission to learn five new knots. This was tricky.
I started off with the square knot, billed as one of the most simple, but my attempt was woeful. I blame the rope.
As to the other four knots, well, I'm a very long way off cracking them.
I gained another point by learning how to identify four constellations using an online star chart.
I can now show you the Plough, Ursa Minor (the Little Bear), Cassiopeia and Draco (the Dragon).
With only three points achieved, I've a long way to go but the main thing is I've learned a lot and I've enjoying the tasks I've completed.
I take my hat off to the Scouts who've completed the full challenge – they're an inspiration to us all.
Gregor Kennedy, 12, a member of the 2nd Kirriemuir Scout Group, is one of these young heroes. His highlights were sleeping in his hammock and cooking sausages on a garden campfire.
"It was fun sleeping under the stars and watching bats flying back and forth," he said.
"Working towards this badge helped me continue scouting even though our troop can't meet up and it gave me something fun to do during lockdown."
Sarah Phillips, a fellow member of 2nd Kirriemuir Scout Group, enjoyed making a fire in the garden and building an outdoor shelter.
"I loved sitting round the fire with my family," said Sarah, aged 13.
"Sleeping overnight in a shelter with no doors wasn't as bad as I expected but the birds were very noisy at 4am!"
So while many of us feel as if we're missing out on socialising and "normality", Scouts across the country are embracing the challenges thrown up by lockdown and demonstrating how to adapt to this new – and hopefully temporary – order of things.
Whether you're a member of a Scout group, a child or an adult, setting yourself new tasks and learning new skills close to home can be therapeutic and fulfilling – something we could all do during this incredibly odd time.
Amy Douglas, deputy chief commissioner for Scouts Scotland, is delighted young people and volunteers are embracing this "new way" of scouting.
"We know they have been struggling and feeling isolated from their friends, so we wanted to come up with new ways that people could achieve their awards at home," she said.
"The At Home Zodiac challenge allows people to push themselves to achieve an award, to learn new skills but, most importantly, have fun."
info
Scouts Scotland have adapted many badges so they can be achieved at home, allowing young people to continue to achieve their awards. Zodiac Awards are available to young people aged 10 to 25. The At Home Zodiac Award has been developed to give young people a flavour of the "full" award until face to face Scouts resumes. For more details, see scouts.scot