Barrett Steel Scotland is part of the UK's largest steel stockholding group, supplying a range of steel products across Scotland daily – but its passion is supporting local communities.
In Montrose, the location of its stock and processing depot, the business is already proud sponsors of local football team Montrose FC and is committed to supporting the ambitions and dreams of local sports teams and athletic talent.
As part of this focus on community, Barrett Steel Scotland has invested in local rising boxing star John Docherty – the 'pride of Montrose'.
"As a local business, we were keen to support an up-and-coming local star and John fitted the bill perfectly with his passion and commitment," said Ross Kidd, Branch Manager for Scotland.
"John has a number of key career fights coming up, but this fight against Anthony really is the step up so it'll be good to see what happens. No matter what, I can guarantee the whole Barrett Steel Scotland team will be cheering him on every step of the way."
Read on for a Q&A with John Docherty to hear more about his Barrett Steel sponsorship, bronze medal at the 2018 Commonwealth Games and future career goals.
1. Why did you feel Barrett Steel Scotland was a good match as a sponsor for you?
Local sponsorship means a lot to me, as Montrose is my hometown, so to partner with a company like Barrett Steel Scotland meant a lot. Montrose deserves to be on the map and with the backing of Barrett Steel I can achieve that.
2. Who is your biggest inspiration?
Tyson Fury. I've got to say, yeah, the big man Tyson Fury.
3. You are currently 8 wins in 8 since going pro – 6 by KO. How do you feel going into your fight with Anthony Fox, who has won his last 3 and beat the unbeaten Sinclair last time out?
Yeah, I'm feeling good, obviously he's got some good wins on his record, it's a step up for me in fighting. I've left no stone unturned in preparation.
It's going to be a hard fight, and I've put my body through hell, so I've done everything right in the gym and I'm looking forward to this fight as it's going to be close. I'm willing to knock him out.
4. How has training during COVID-19 been in preparation for your fight, have you had to adapt?
COVID was very hard, to be fair, I just kept training over it and kept doing my runs. I got told I'd be fighting soon so that gave me the bit of push to keep training.
I got told I'd be fighting as soon as we could safely get back to boxing, and obviously I've got a family to provide for – so kept training and doing what I was doing.
It was a bit different not training in a gym, and obviously training at home. But listen I kept at it, and that's why I'm fighting so soon.
5. What does it mean for you to be a Scottish boxer? How did it feel to stand on the commonwealth podium for Scotland?
I love fighting for my country and travelling around the world flying the Scottish flag really is the dream.
The Commonwealth's put my profile out there when I won the bronze, and when I was standing on the podium for Scotland it was something else, and it will be hard to beat that feeling.
6. What are your long-term goals?
Long terms goals are British champion, European champion, Commonwealth champion and then the dream for any fighter is world dominance.
7. What has been your biggest challenge since going professional?
My biggest challenge was just switching from the amateur style to the pro style. I had to change a lot in my ability to get a lot more power into my shots and to get much stronger.  I've done that now so, we are seeing the benefits.
9. If you had one piece of advice for young Scottish boxers with dreams of turning professional what would it be?
If you're enjoying boxing and you're in it for the long haul, you've got to keep listening to your coach, keep going forward.
I started with a little dream and now I've got a big dream of being world champion. You've got to keep sticking to your boxing, keep listening to your amateur coaches and you'll get there.
If I was speaking to any amateur coming through the scene, especially the younger ones, I'd just say you must focus on your Scottish boxing first, then aim for the GB squad and then you go from there. Once you get on that GB squad, that's half of the battle and a great step for your career.
---
Find out more about Barrett Steel Scotland at its website here and catch John's fight on Sky Sports Main Event on Friday 14 August.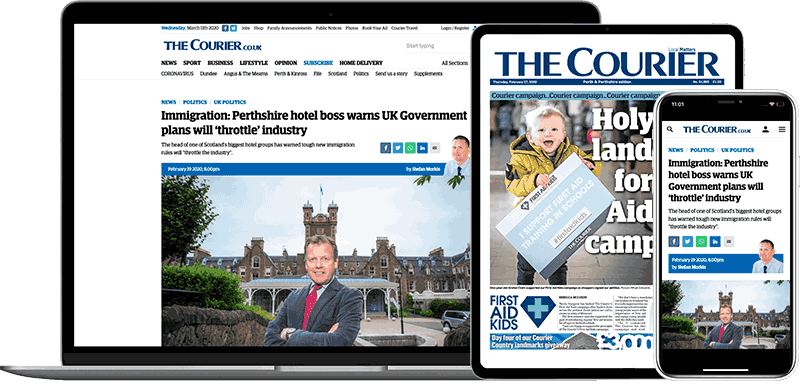 Help support quality local journalism … become a digital subscriber to The Courier
For as little as £5.99 a month you can access all of our content, including Premium articles.
Subscribe