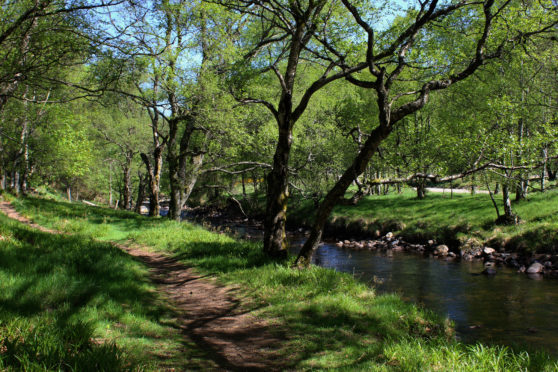 Broad Cairn, Glen Clova, Angus
With the weather settled and the sun in the sky, a day in the mountains was on the cards and, after a quick look at my maps, I plumped for Broad Cairn, a Munro sitting on the northern boundary of Angus.
The peak can be climbed in isolation or incorporated into a longer round taking in neighbouring Cairn Bannoch, another Munro, and the tops of Fafernie and Crow Craigies.
However, settling for just the one summit on this outing, my approach would follow the River South Esk upstream from the ranger base and car park in Glen Doll to the remnants of an old shooting lodge at Bachnagairn above which the work really begins.
The walk up the valley, initially along a very pleasant riverside trail, breaks legs in gently before a more robust track is briefly joined, the gravel road leading past an isolated steading at Moulzie.
The river is never far away and, north of Moulzie, a bank of forestry steered me back towards the water and the pair run in tandem, the path crossing grassy flats before ambling along the riverbank to a footbridge.
The crossing here was washed out during winter storms a couple of years ago but has since been replaced and, once over the bridge, I entered a progressively wilder and more remote upland landscape.
Overshadowed by high cliffs and brooding crags, the track rises steadily, the river, so benign lower down the glen, now skipping through a succession of waterfalls, rocky gorges and deep pools.
The track ends at a bridge spanning Burn of Altduthrie from where a well-constructed path weaves up through larch, passing the scant remnants of Bachnagairn Shooting Lodge, built in 1819.
Above, straddling a deep, raucous ravine, the Roy Tait Memorial Bridge offers safe passage over the tumbling white water and this is a good place to pause for rest and refreshment as the gradient soon ramps up.
Constructed in 1984 as a memorial to climber Roy Tait, who died in an accident on nearby Lochnagar three years earlier, the robust crossing of today replaced an earlier, rather rickety structure.
The path climbs steeply away from the bridge and, although strenuous, a series of zigzags take some of the heat out of the slope while a fine outlook over the valley below is reason enough to pause from time to time.
Looping left below scattered pines, the domed summit of Broad Cairn soon appears and, as the incline finally eases, the path roaming more leisurely over moorland, it feels tantalisingly close.
I made another brief pit stop at Allan's Hut, a stalkers' pony stable nestling in the col, before tackling the mountain's eastern shoulder.
Much work has gone into tackling erosion on this popular peak and an excellent path elevated me onto a flatter section of the flank where a sprawling highway leads to the base of a boulder field encircling the top.
While the onward path picks a reasonably obvious line through the jumbled chunks of granite some rock hopping is required and careful footing is a must as there are plenty of loose stones waiting to snare the unwary.
Once through this, however, the summit cairn appears, proffering an appropriately broad and decidedly regal vista over the Royal family's Balmoral Estate and, within it, Lochnagar, to the north, and Loch Muick, below me.
ROUTE
1. From yellow marker post, descend towards river, turn left over grass to join riverside path beyond picnic tables. Follow path north by River South Esk to footbridge.
2. Cross bridge and follow path 300m east through forest to meet track. Turn left and follow track north to Moulzie.
3. Fork right by entrance to Moulzie and continue north on track.
4. Where track swings left, continue north on path towards woodland. Approaching trees, bear left over boardwalks and cross grassland, following path upstream to footbridge.
5. Cross bridge to meet track, turn right and follow track up through valley, ascending to footbridge below Bachnagairn. Cross and continue up path to junction.
6. Turn right, cross Roy Tait Memorial Bridge, and ascend path to Allan's Hut.
7. Turn left and ascend well-constructed path.
8. Continue on rougher trail, weaving up over stony ground to summit.
9. Return via outward route.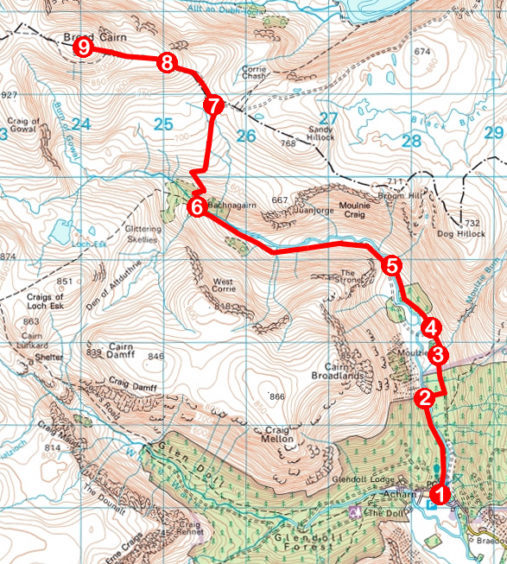 INFORMATION
Distance: 18km/11¼ miles
Ascent: 870m/2870ft
Time: 5-6 hours
Grading: Challenging and strenuous there-and-back hike to the summit of a Munro, following good tracks and paths, suitable for fit, well equipped hillwalkers
Start/finish: Glen Doll Ranger Base car park, four miles north-west of Clova (Grid ref: NO 283761). £2 pay and display charge
Map: Ordnance Survey 1:50,000 Landranger sheet 44; Ordnance Survey 1:25,000 Explorer sheet 388
Tourist Information: Glen Doll Ranger Base, Glen Clova, Kirriemuir DD8 4RD (Tel 01575 550233)
Public transport: None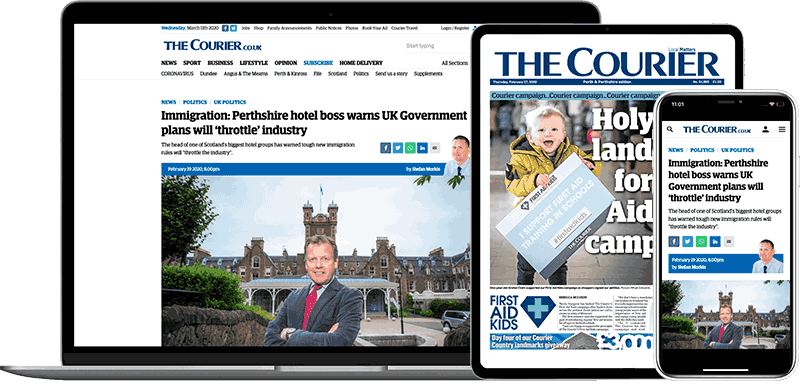 Help support quality local journalism … become a digital subscriber to The Courier
For as little as £5.99 a month you can access all of our content, including Premium articles.
Subscribe