Nasty, aggressive, spitting machines that chase you? Gayle finds the complete opposite is true of llamas when she takes part in a unique experience near Glenshee
Gazing into his huge dark eyes, fringed with ridiculously long lashes, I lean forward and give him a kiss.
His muzzle is incredibly velvety, his fleece soft and cuddly. Yes, I've fallen for a llama!
This is something I never thought would happen, as, like many ill-informed folk, I believed the creatures were unpleasant, aloof and rather keen on spitting.
The fact this turns out NOT to be true at all surprises me; I wish I'd known this years ago.
I've come to Ecocamp Glenshee to take part in a new "llama experience" which encourages getting to know the animals and taking on a fun challenge.
Set up by llama experts and glamping site owners Simon and Fiona Calvin, the experience involves guiding the creatures round an obstacle course – easier said than done!
Before we get stuck in, Simon fills me in on the unique psychology, character and physical make-up of the llamas, giving me a chance to feed and stroke Jet, Atticus and Bradley.
I can't resist kissing Jet and he seems to like it, especially when I reward him with pony nuts!
"The llamas' banana-shaped ears are highly expressive and their tails are shaped like sporrans!" quips Simon.
"They can't bite because they don't have top teeth, and if they accidentally step on you, it won't hurt because they have soft pads on their feet. They're like big sheep essentially."
As he strokes their necks, it becomes clear the bond between Simon and his llamas is very strong.
Indeed, he becomes rather irate when he talks about those who imagine llamas to be aggressive, unpleasant and co-operative.
"That's a complete misconception," he frowns. "People watch comedy shows or see llamas in zoos where they're unhappy and intimidated.
"The truth is, llamas are very friendly and co-operative. They're highly intelligent and can be trained to do all sorts of complex tasks, even picking out colours and words. They are curious and cautious in equal measure."
What of the spitting, I ask? "That's a last resort," says Simon. "They'll give a series of warnings first – stamping, gurgling and then perhaps spitting. It's their defensive mechanism kicking in when they feel threatened. They never spit at me because they trust me."
Llamas are also very protective and make great guard animals, chasing off predators like foxes, or, in more exotic climes, coyotes.
As we head towards the obstacle course, I lead Atticus by a halter. He's slightly less enthusiastic than Jet and more focused on grabbing grass and foliage. Here's a llama who knows his own mind!
The course starts with two small jumps, which Atticus isn't too joyous about. Rather than dragging him, I attempt to gently persuade him and eventually, he hops up and over.
We then weave in and out of poles, through a "slalom" course, and attempt to step through a tricky "maze" of logs.
I have better luck with Jet, who willingly pops the jumps and conquers the course swiftly.
Then Simon has a go with Bradley. Today, it seems, Bradley is simply not in the mood.
"That can happen," says Simon, as he admits defeat following Bradley's persistent refusal to co-operate. "We'd never force them to do anything and today he's just not up for it.".
Had I been accompanied by others, I'd have competed in a time trial to see who could be first to complete the challenge.
Simon, who's billing the experience as a "team building" opportunity, says: "People need to learn key skills like persuasion, patience and perseverance to get the llamas to complete the tasks.
"All these skills are transferable and of much use in the boardroom!
"Our llamas are powerful and stubborn animals and yet when treated right can be completely compliant. "Shouting and force won't get you very far."
As we lead the llamas back to their field, I give Jet one last cuddle. He hums as I do this – a sign he is happy and content.
We then head to a wooden bothy for cake and hot chocolate. And the fun doesn't stop there!
I'm spending the night here, in a restored 1941 goods wagon, one of many different types of accommodation including luxury glamping pods and shepherd's huts.
The funky off-grid space is dog-friendly and my Labrador Toby and I enjoy a cosy night snuggled in front of the wood burning stove.
I leave with a spring in my step and a revelation that I want to share with everyone I meet – that llamas are fantastic, co-operative, willing creatures, and very, very cuddly.
info
As well as running the "llama experience", Ecocamp Glenshee offers llama treks through the Angus Glens or forests of the Southern Cairngorms.
Ecocamp Glenshee is at Blacklunans, around 12 miles from Blairgowrie. It offers many different types of accommodation, including luxury glamping pods and shepherd's huts.
For more information and to book an experience and/or accommodation, see www.llamatrekscotland.com and www.ecocampglenshee.co.uk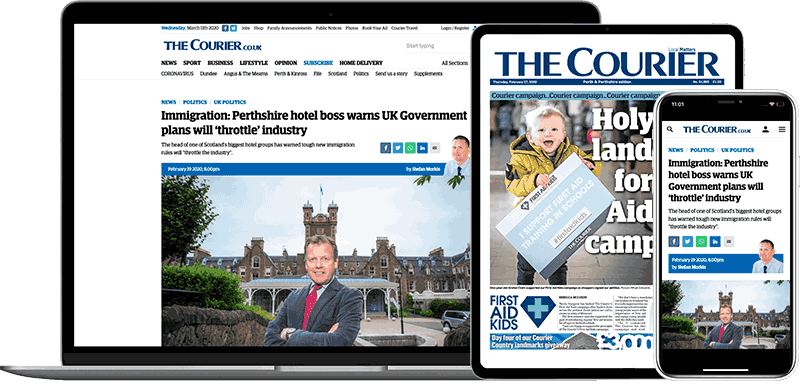 Help support quality local journalism … become a digital subscriber to The Courier
For as little as £5.99 a month you can access all of our content, including Premium articles.
Subscribe