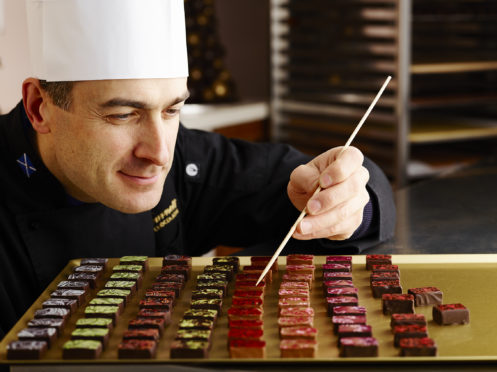 Iain Burnett, aka the Highland Chocolatier, has launched a series of chocolate tasting "flights". Gayle Ritchie heads to his Perthshire base in Grandtully to try one…
As someone who lovingly devours Cadbury's products on a regular basis, I don't consider myself a chocolate snob.
Give me a Dairy Milk, Bournville or Fry's Chocolate Cream and I'll be happy.
So when I was invited along to the launch of master chocolatier Iain Burnett's new range of interactive chocolate "flights" at his base in Grandtully, I was excited, but not quite ready to be completely blown away.
The centre is like a modern-day version of Willy Wonka's factory, with stunning displays of truffles, pralines, chocolate bars, lollipops, and more.
Things started off fantastically well when I was handed a cup of what turned out to be THE most fabulous hot chocolate I have ever tasted.
That's probably because it's made from a thick melted dark chocolate ganache – with no fatty cocoa butter in sight.
The smoothest, most delicious thing ever, it's no surprise to discover it's served with afternoon tea at Claridge's in London.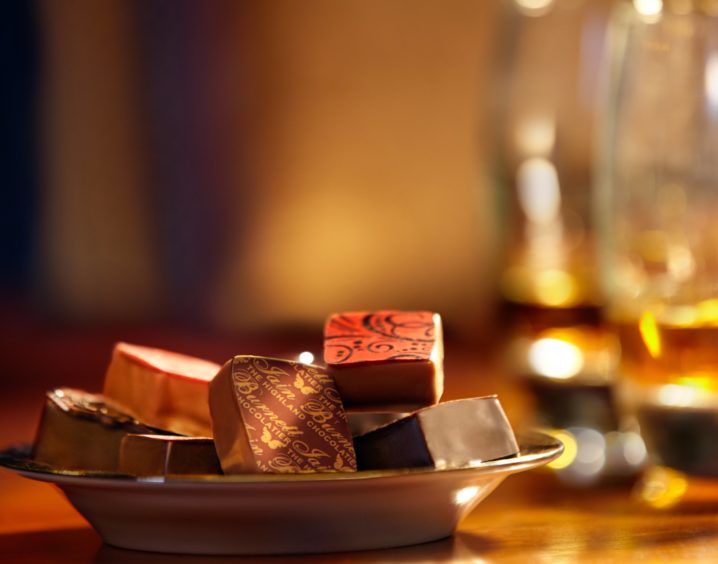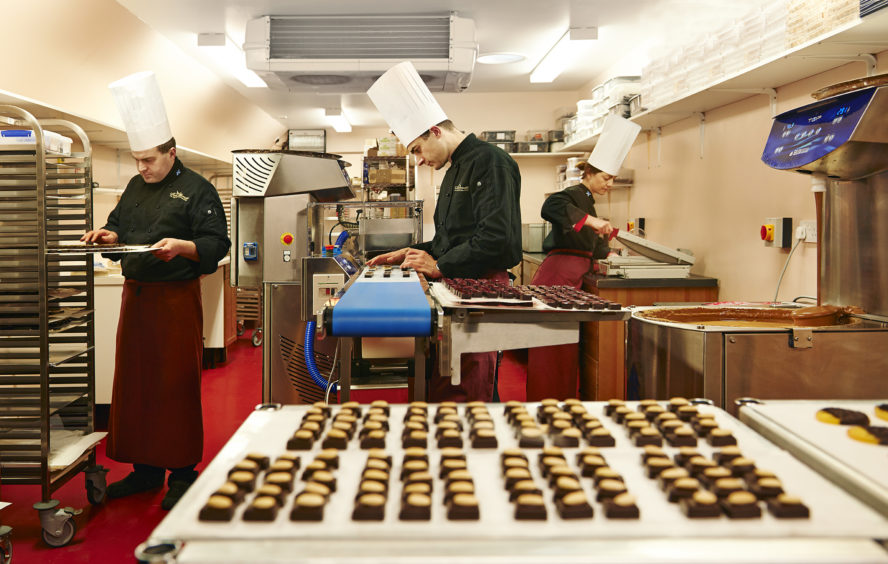 Anyway, I digress. I was here to sample Iain's "flights", which are available in his "Chocolate Lounge", or can be ordered online to enjoy at home via an audio link.
Already popular in the wine and whisky industries, tasting flights offer a unique way to sample a range of different varieties and flavours in one session. As you taste each chocolate, presented on a tasting mat, Iain, 45, gives an insight into his experience as an acclaimed truffle specialist and describes how each artisan chocolate is made, as well as discussing tastes and textures.
One particularly fun element is when you have to guess the ingredients.
Iain also takes you through the process of producing chocolate "from tree to bar".
The flight I tried (there are two and others are in development) included five chocolates – the dark Langue de Chat, which boasts 71% Sao Tome island cocoa, the dark velvet truffle, a velvet truffle with raspberry and black pepper, a velvet truffle with passion fruit and a touch of mango (this is described as a tangy crushed fruit balanced in a ganache of creamy 'blonde' white chocolate), and the velvet praline.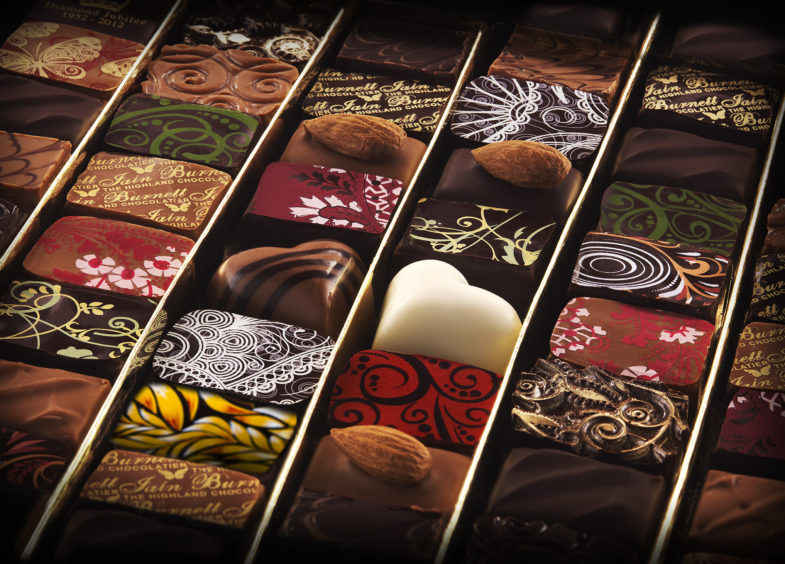 Once I had devoured the lot, as slowly as I could because they were truly scrumptious, I began to forget all about my Cadbury's habit.
One reason Iain's chocolate tastes so epic is because it is fresh and doesn't use additives like sorbitol or glucose to extend shelf life.
Then there's the fact that Iain – who had a background in product engineering – is an absolute perfectionist, obsessed by the science behind it all.
"Making a fantastic ganache is awkward and very difficult, but that's what we do," he said.
"Spending three years making a particular recipe is fine with me. I'd rather take the time to create a recipe and process that will produce 100 perfect chocolates, possibly losing a couple along the way, than produce a bulk of just 'OK' chocolate."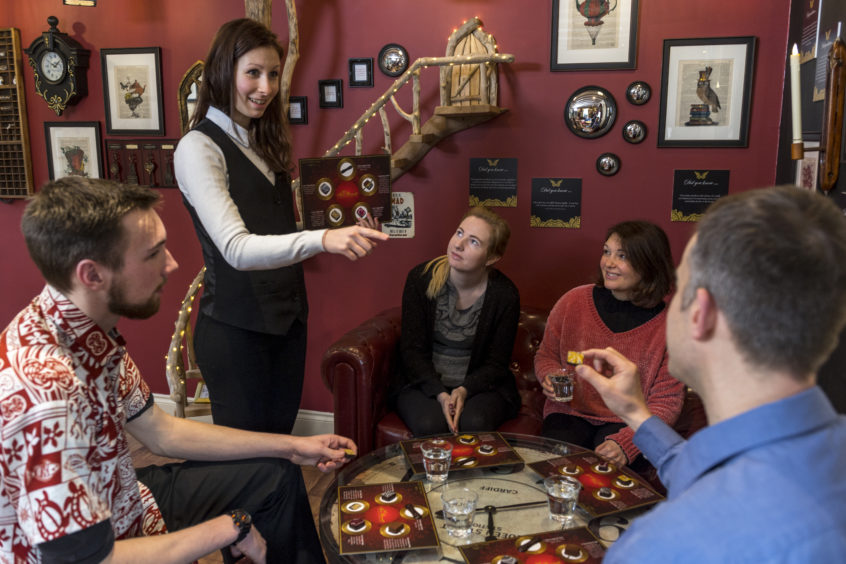 Iain, who established his eponymous family business in 2005, hopes his flights will boost tourism in Perthshire.
"I believe we're the first gourmet chocolatier in the UK to offer this unique experience," he said.
"More and more people are looking for an experience rather than a transaction, and the flights bring together the special tastes and textures of the velvet truffles, combined with the educational experiences that we are trying to share through our Chocolate Lounge, exhibition, shop and kitchen viewing window.
"It's a natural evolution that gourmet couverture chocolate, itself like fine wine, should have its own pure chocolate flight.
"I love to see people's reactions when they first experience the velvet truffles and share with them why and how they are made.
"The flights are delicious, educational and, hopefully, fun."
Iain's famous velvet truffles have won various awards, and that's because he insists on using only the finest ingredients – a combination of a rare Sao Tome single-origin chocolate and unblended fresh cream from a specially selected herd of Perthshire-based Friesian cows. The result is a "naked" truffle (one without a shell) with a smooth, luxurious texture.
As Michelin-starred chef Albert Roux said when he tried one: "This is the one."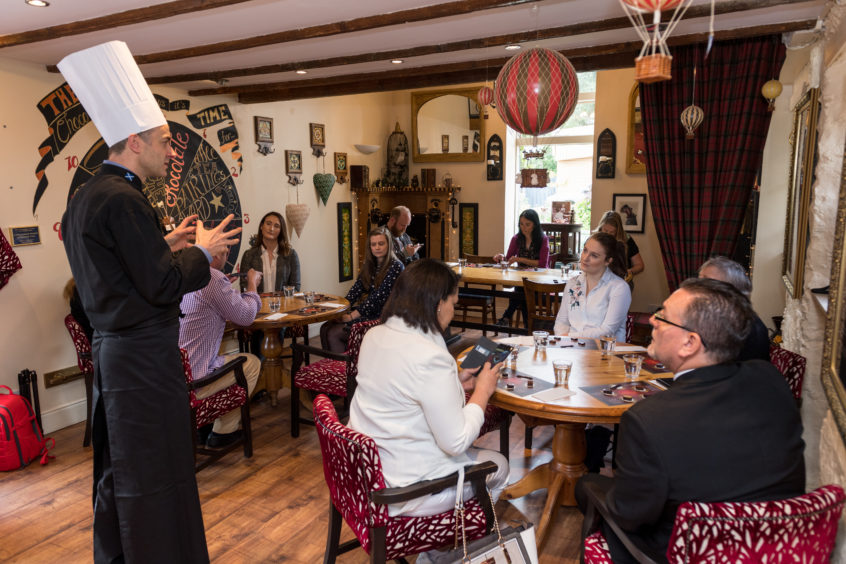 Other well-known fans and customers of Iain include Gordon Ramsay, British Airways First Class, and several master distillers.
He even designed a chocolate for the Queen's 90th birthday, the Sandringham truffle.
"These use blackcurrants from the Queen's garden in Sandringham, as well as raw wildflower honey from Wales, Scottish fresh cream from Crieff and creamy butter from Northern Ireland," said Iain.
But, Iain, who studied at Glasgow School of Art and trained under French, Belgian and Swiss master chocolatiers, is adamant that his chocolates should be for everyone – not just the rich, famous and royal.
"You don't have to be a gourmet to enjoy them. The main thing is the smile that they bring to people's faces," he added.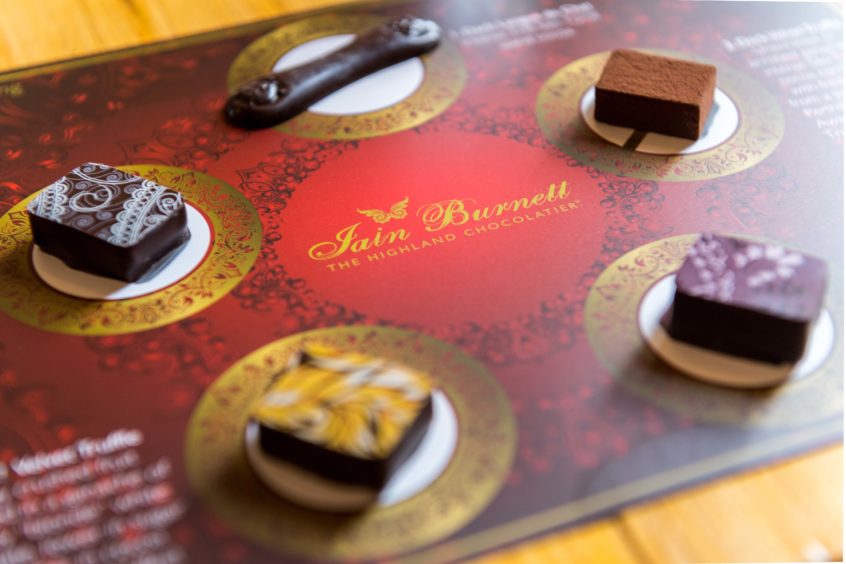 Iain spends more than three years training each of his own team members, They make 20,000 to 40,000 chocolates each week.
For more highlandchocolatier.com