Michael Alexander speaks to Alabama 3 country acid house legend Rob Spragg (a.k.a. Larry Love) ahead of their forthcoming gig in Fife.
They've been described as "the best live band in the country" and were once referred to by Trainspotting author Irvine Welsh as "the first band I could ever dance to in the daytime hours without chemical assistance".
It's almost 20 years since Alabama 3 brought their unique blend of country acid house music to the masses with the release of Exile on Coldharbour Lane – the debut album which later saw the track Woke Up This Morning used as the opening gangsta title theme for The Sopranos TV series.
But as one of the most original and eccentric bands to emerge from the 1990s acid-house scene embarks upon a UK tour which brings them to a sold-out gig in Fife, one man struggling to process the passing of two decades is the collective's co-founder and front man Rob Spragg (a.k.a. Larry Love).
The 48-year-old Brixton-based father-of-two was preparing to head off to pick his eight-year-old son up from school when The Courier called him this week.
But he admits that he, and other members of the band have "never really grown up" – and the passage of time has all been a bit of a blur.
"It's a bit like the 60s – if you were there you can't remember it," he laughs with dry humour.
"I spoke to the rest of the band. We haven't really noticed that 20 years have gone past. I don't know if that's indicative of our commitment to rock n roll, or music, or just because we were totally stoned all the time!
"But it's like we've maintained a childlike approach to it. None of us have grown up basically even though we might have had some kids along the way.
"I think our children are more our parents than we are. My 16-year-old daughter is totally embarrassed about me. To look after my kids I've got to act like a kid myself. That's my excuse anyway!"
Founded in 1995 when Glaswegian Jake Black (a.k.a The Very Reverend Dr D. Wayne Love) met Welsh-raised son of a preacher man Spragg at an acid house party in Peckham, South-East London, Alabama 3 emerged from experimental warehouse DJ sets when the pair started layering blues and gospel over acid house beats.
"It kind of worked so we thought well what a stupid idea let's go with it!" recalls Spragg.
They weren't American and didn't have three members in the band.
But the name Alabama 3 was chosen because they thought they'd be "arrogant at the height of Britpop."
"We'd pretend we were American – just for a total laugh," says Spragg.
"We chose Alabama –and we added a number on the end.  If you think of the other states of America we could have been the Utah 5 or the Memphis 7. A lot of them had been used so we thought Alabama was the funkiest name – the birthplace of Robert Johnson, Hank Williams.
"The three on the end is a nod to the Guildford Four, the Birmingham Six and other miscarriages of justice. We associated ourselves with Americana and the criminal justice system. I don't quite know why. And then we started talking in American accents to English journalists!"
The American accents certainly had many fooled. When David Chase, director of The Sopranos, first heard Woke up This Morning while driving down the freeway in New Jersey, and decided he wanted it for his series titles, he was led to believe the band were from Alabama, San Francisco then that they were "three black kids from the Bronx".
"Then he finds out it was a Scotsman and a Welshman living in Brixton pretending to be from Alabama – and he went for it! That was a real complement!"  laughs Spragg, adding that the song was originally about domestic violence, before being adopted as a gangsta anthem.
The band's line-up has ebbed and flowed over the years, and Spragg is still influenced by a staple diet of Miles Davis, Captain Beefheart, Rolling Stones, Hank Williams and Jimi Hendrix.
Still proudly based in Brixton, the band also run their own recording studio, record label and club, which helps keep their musical influences fresh.
But they are also incredibly proud of their mixed range of fans – many of whom, like him, are "growing old disgracefully".
"We might not sell out Wembley Arena but we are known amongst promoters as having the fans who are the biggest purchasers of drink per head in gigs, "says Spragg.
"I think that says a lot about our fans.
"We get three generations of fans coming in. There are the granddads in their 60s who got their daughters into it then their children are into it.
"Our subject matter can be a bit naughty but we do seem to be a band the kids seem to like.
"I like to think we're the music for broken families!"
The 90s acid house days might be the stuff of history but Rob is looking forward to a few whiskies while in Scotland, adding "never trust a musician who says he's given up sex and drugs and rock n roll to do gardening and meditation – because his album will probably be rubbish".
With that in mind, Rob says there will "probably still be some hands in the air in Dunfermline."
But he adds: "I'm the son of a preacher man. I grew up in the Mormon Church, so I like a bit of gospel-vibe where you take people down and you take them up. You build up to a crescendo. It's like a twisted circus I suppose – and three Scotsmen talking in American accents!
"But hopefully people go home converted, or perverted – one of the two!"
*Alabama 3 play P.J. Molloys, Dunfermline, on Sunday April 23.
www.alabama3.co.uk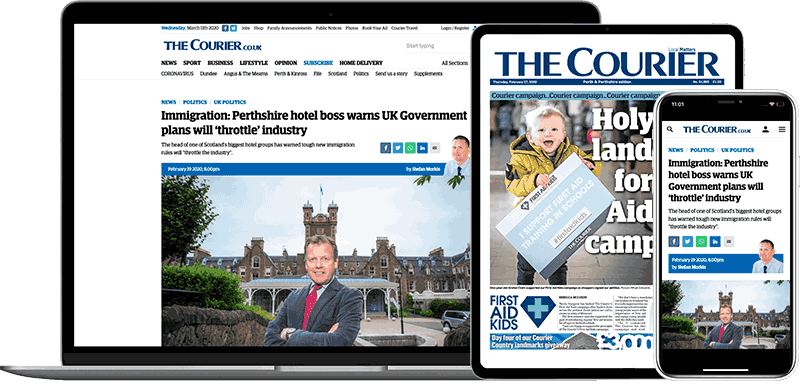 Help support quality local journalism … become a digital subscriber to The Courier
For as little as £5.99 a month you can access all of our content, including Premium articles.
Subscribe