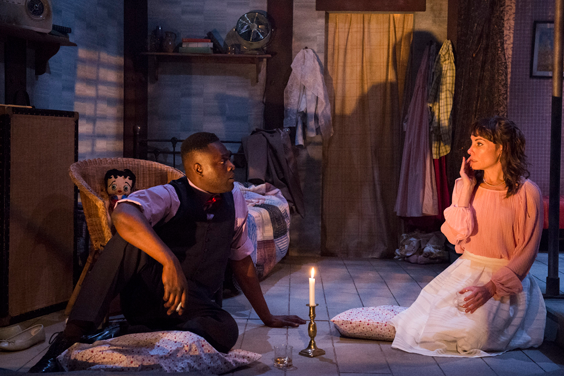 It is the 1947 play written by American playwright Tennessee Williams that received the Pulitzer Prize for Drama in 1948.
Now, audiences in Fife are being treated to Rapture Theatre's hot new production of the iconic American masterpiece A Streetcar Named Desire during its 70th anniversary year which will transport them to the sensual surroundings of New Orleans.
Southern Belle Blanche DuBois seeks solace with her sister, Stella, after her world starts to crumble.
But her downward spiral brings her face-to-face with Stella's husband – the handsome but brutal Stanley Kowalski.
As temperatures soar and passions rise, Blanche and Stanley battle for Stella's soul…
A Pulitzer-prize-winning play by Tennessee Williams, Streetcar was immortalised in film by Marlon Brando and Vivien Leigh.
This new production, featuring a cast of 10 top class performers and under Michael Emans' direction, follows swiftly on his critical and popular success earlier this year with Rapture's Who's Afraid Of Virginia Woolf?
Last seen as Judy, Christopher's mother in the National Theatre's The Curious Incident of the Dog in the Night-Time, Gina Isaac leads the cast as Blanche, with Joseph Black, whose most recent work includes Cheek by Jowl's The Winter's Tale, as Stanley.
Kazeem Tosin Amore (Hamlet in Brixton) plays Mitch and Michelle Chantelle Hopewell (Sister Act), Eunice.
Multi-award winning Scottish actor Billy Mack appears as Steve and critically-acclaimed Scottish actress and theatre-maker Julia Taudevin takes on the pivotal role of Stella. Completing the cast is Steven Scott-Fitzgerald, Paul Kozinski, Gary Nelson and Liz Drewett.
Director Michael Emans said: "I am thrilled to have assembled such an eclectic and highly-talented cast to join me on the dark and disturbing journey into the passionate, whirlwind world of Streetcar. I hope that, together, we will create a powerful new perspective on one of the greatest masterpieces of theatre."
Emans says: "This year, the 70th anniversary of the play's original production, we celebrate the timelessness of Streetcar.
"It presents us with an unflinchingly bold examination of sexual politics and prejudice, morality and identity that resonates powerfully today.
"It highlights the highly prescient topic of mental illness and lays bare the cultural and social tensions between an 'immigrant' diaspora and those who consider themselves to be the 'native' population.
"Streetcar is unflinching in its questioning of reality, forcing all of us to confront our own self-protective, self-created fantasies and illusions." Emans continues: "Despite such powerful themes, the play also remains a very human story, its impact achieved through its strong and convincing characterisation and powerful, poetic language."
*A Streetcar Named Desire
Byre Theatre, St Andrews, September 21 to September 23
Adam Smith Theatre, Kirkcaldy, September 28