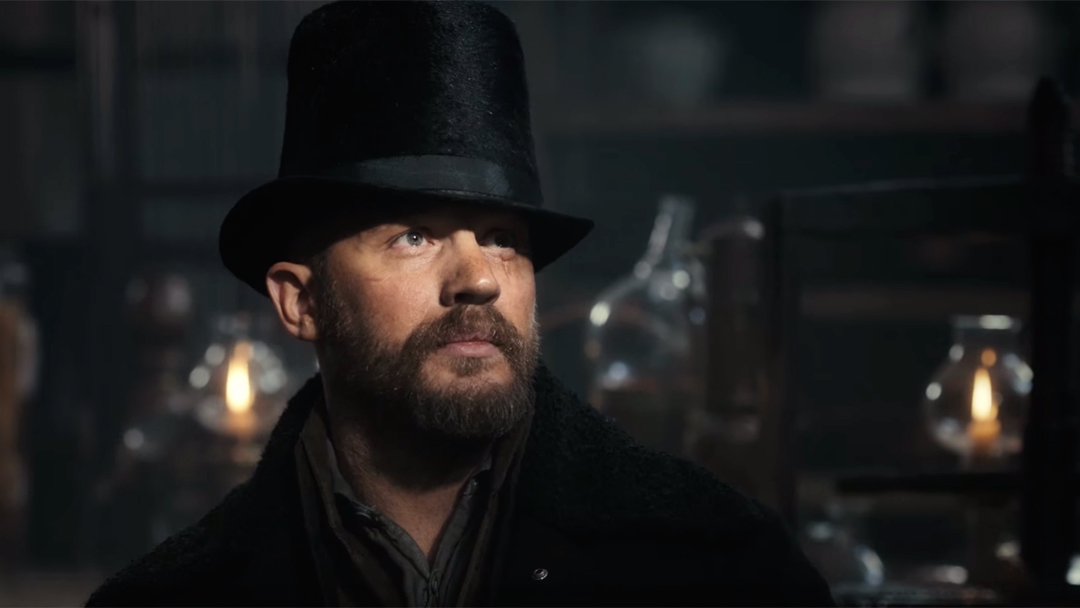 A Break in Transmission: 14 January 2017
TABOO: Saturday, BBC One
LET IT SHINE: Saturday, BBC Two
TABOO: Saturday, BBC One
Even if TABOO involved heavyweight method growler Tom Hardy playing the word-based guessing game while smashed to the gills on ghastly fruit liqueur, it still wouldn't be as bonkers as the actual show itself.
Not that I'm complaining. This delirious period melodrama is a hoot.
Set in 1814, it follows rogue ex-soldier turned pirate James Delaney (Hardy) as, far from dead as presumed, he returns from Africa to London for his father's funeral.
He inherits a disputed piece of land in America, with whom Britain is at war, much to the chagrin of the powerful East India Company, led by Jonathan Pryce swearing like a trouper (His language isn't anachronistic – according to estimable Horrible Histories expert Greg Jenner, expletives were all the rage in Regency England).
Revenge is afoot when Delaney discovers that pater was murdered, which exacerbates the typhoon of demonic voodoo voices in his head.
Delaney is a perfect fit for Hardy, which is hardly surprising as he co-created Taboo with his father, the winningly named Chips Hardy, and writer Steven Knight, who devised the similarly lurid and stylised Peaky Blinders.
A magnetic actor, Hardy's natural eccentricity imbues every role he plays. Striding through the filth, macho coat-a-flapping, he revels in Knight's knowingly ripe, lurid dialogue. Hardy doesn't chew the scenery in Taboo, he gargles and caresses it.
Sample threat: "You send me twelve men, I will return you twelve sets of testicles in a bag." I'd quote the rest of that line, but this is a family newspaper.
Imagine an adventure yarn written by a laudanum-addled Robert Louis Stevenson tearing through the Viz Profanisaurus, and you've almost imagined Taboo.
It's stirring stuff, strikingly drawn in visceral charcoals and populated by scarred, craggy faces including such reliable stalwarts as Christopher Fairbank (Moxey from Auf Wiedersehen, Pet) and Scots walnut David Hayman.
Propelled by Hardy's imposing performance, it moves with the sleekness of a contemporary thriller while exploiting the potential of its wretchedly fascinating period setting.
If it delivers on its promise, then Taboo could rule Saturday nights for the next eight wintry weeks.
In reality, of course, LET IT SHINE will triumph. Mediocrity always does.
Gary Barlow desperately needs to find five young lads for his new Take That-based musical, so thank God the BBC has stepped in to help him via this formulaic talent show.
If I was feeling similarly charitable, I'd dismiss it as a harmless yawn of bland razzle dazzle. But I can't ignore its role in the inexplicable campaign to promote toadying lickspittle Barlow as an undeserved national treasure.
This is a man so desperate for a knighthood he'd muck out the corgi kennels with his bare hands if that's what it took. He makes fellow Windsor's pet Gareth Malone look like Oliver Cromwell.
The programme itself is benign enough – even the 'losers' are treated gently – but Saturday night talent shows are in dire need of a rest. Strictly can stay, as it's always been more of an old-fashioned light entertainment extravaganza, but the rest are more tired than a Barlow solo album.
In an ideal world, the genre would receive a shot in the arm from the likes of 'Atmosphere!' in which New Order search for the star of a new Ian Curtis musical, or 'Bootsy Camp' starring legendary funk bassist Bootsy Collins as he attempts to revive Funkadelic with fresh-faced Italia Conti graduates.
News just in: we don't live in an ideal world.
NEXT WEEK'S TV HIGHLIGHTS
STACEY ON THE FRONTLINE: GIRLS, GUNS AND ISIS
Tuesday, BBC One, 10:45pm
That nice Stacey Dooley meets an all-female battalion hell-bent upon destroying the so-called Islamic State. She discovers that these young women are fuelled by a desire to avenge loved ones murdered by the extremist group.
MEET THE TRUMPS: FROM IMMIGRANT TO PRESIDENT
Tuesday, Channel 4, 10pm
To mark his inauguration as President, this documentary reveals how Trump's penniless German grandfather arrived in America and ended up running bars and brothels during the Gold Rush, while his mother travelled from the Outer Hebrides and married a tycoon.
 JACK DEE'S INAUGURATION HELPDESK
Thursday, BBC Two, 10pm
If you can't quite believe that Trump really is President, then Jack Dee will provide sparse comfort with this wry take on his inauguration. He's joined in the studio by broadcaster Gabby Logan and comedian Romesh Ranganathan.
STATUS QUO: HELLO QUO
Friday, BBC Four, 10pm
Repeated in tribute to the late Rick Parfitt, this authoritative documentary traces the extraordinary career of one of Britain's most successful rock bands. It's followed at 11:20pm by a compilation of acoustic performances from 2014.
FILM OF THE WEEK
THE GRAND BUDAPEST HOTEL
Monday, Film4, 9pm
Quirky writer/director Wes Anderson (Rushmore/The Royal Tenenbaums) presents this warm and whimsical crime comedy set in a luxury Alpine hotel in the 1930s. Despite the backdrop of encroaching fascism, it's a charming farce involving the likes of Ralph Fiennes, Willem Dafoe, Jeff Goldblum and Anderson regular Bill Murray falling in and out of a convoluted plot involving the murder of a wealthy matriarch (Tilda Swinton) and a priceless painting. In typical Anderson style, it's a beautifully fabricated fable.