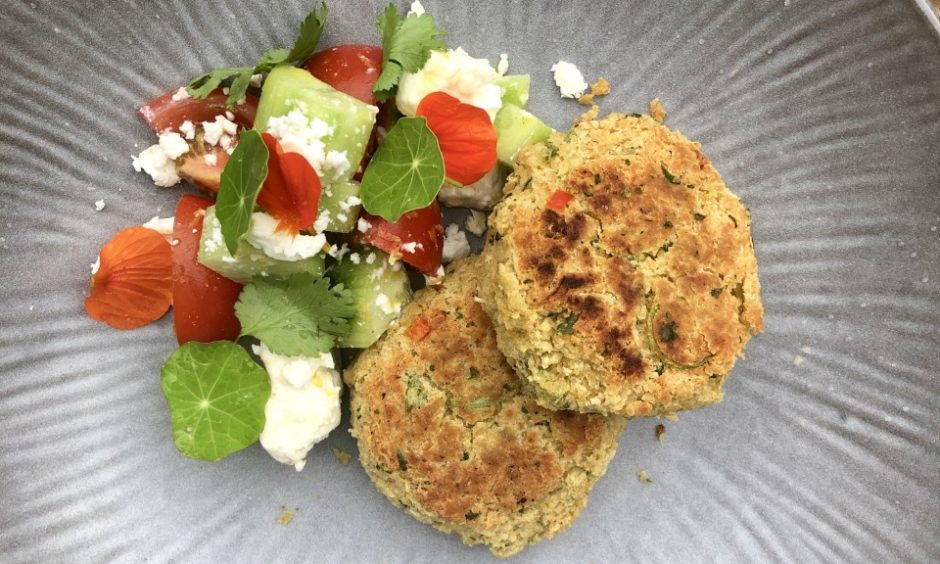 Catherine Devaney, a regular contributor to The Courier's food magazine, The Menu, writes about how food will get her through the mix of emotions she feels for the first week of her kids returning to school
Time has an annoying habit of passing either too quickly or too slowly.
It's a fickle quicksand, whose variables include: (a) the number of tasks to be completed; (b) the urgency of the tasks; (c) the level of anticipation; and (d) the frequency of interruptions.
I spent the first eight weeks of lockdown in a sort of semi-holiday state. There were endless days filled with painting rainbows, teaching small children to tell the time and pausing to weep occasionally at the generally apocalyptic sense of awfulness.
Work lost all meaning and I found myself pondering whether my true vocation was as a sort of barefoot, home-schooling, bread-making gardening obsessive.
But time doesn't stand still forever. It's been a game of two halves. After a stern locker-room talk with myself, the second half of lockdown has been quite a different story.
The worlds of home working and home schooling/holidaying have collided meteorically. Those divided loyalties have jostled uncomfortably, like two kids six hours into a 10 hour road-trip, needling and niggling, pacified only intermittently by crisps and bouts of screen time, shot through with healthy doses of maternal guilt.
It's been almost six months since the eldest shuffled dejectedly out of the school gate, weighed down by two potted plants, a bulging bag of books, a home learning folder, a pack of cards, a packet of polo mints, three sunflower seeds and a Jacobite shield. And I am beat. I am done.
The days have been crossed off on the calendar. The plants are dead and the sunflowers didn't grow. We've gained two rabbits and lost our sanity. I've been awaiting the recent news from Nicola like a lifer eyeing parole, wondering whether it may be snatched blithely away at the last moment, to be replaced by a god-awful purgatory called blended learning.
I've fantasised madly about all I will achieve when two sets of shiny new T-bars and white knee high socks have disappeared through the school gates. Once I have dried the tears, which only the mother of a new primary one can cry, I shall bravely enter a new world where there is a true separation between work and home; and productivity, unleashed, knows no bounds.
Yet I nurse a sneaking fear that, suddenly untrammelled by interruption, I might simply stare blankly at a wall, binge on takeaway cappuccinos and scroll Instagram. Might I find that I'm no closer to achieving the staggering list of work goals than I was when life was punctuated by endless snack preparations, sibling dispute resolution and Barbie's adventures in social distancing?
Because that's the thing about time and self-employment: the more of it you have, the less you tend to achieve.  When my days are free will I still get up at 5am to work before the kids wake up? If only.
And so this week, blindsided by a mixed bag of emotions, I'm baby-stepping my way through with a seriously towering "to do" list, a few frankly unachievable projects and a spot of family meal planning that would make Mary Berry proud.
Make-ahead meals
Distraction from the sudden engulfing silence comes in the form of make-ahead meals (and there's always He Who Works From Home and his trail of undisposed-of tea-bags, for when the withdrawal of interruptions becomes too much to bear).
Tuesday
Fish van day, so time for a bubbling, rich gratin of smoked haddock & kale mac 'n' cheese. Poach four smoked haddock in milk until flaking, then make a béchamel sauce with 50g butter, 50g plain flour and 750ml of the milk used to poach the fish.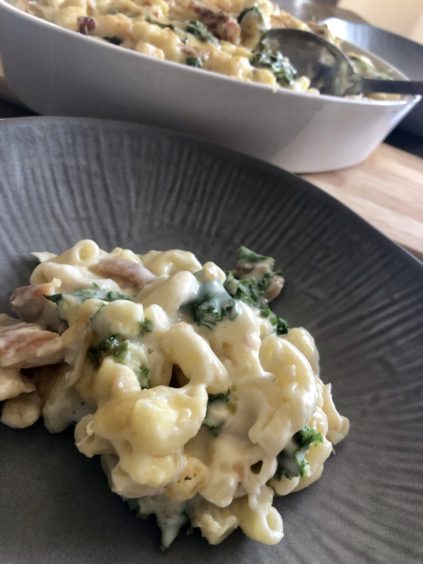 When the butter is bubbling, stir in the flour and cook for a minute, then gradually whisk in the milk, bring slowly to the boil then simmer for a minute, whisking all the time. Add one teaspoon of Dijon mustard and stir in lashings of mature cheddar (smoked if you have it) and parmesan, then season to taste.
Stir the flaked fish and a few handfuls of shredded kale (be sure to remove the tough stems first) through the hot sauce, then mix with cooked macaroni. Transfer to an oven proof dish, top with more grated cheese, then cool and put in the fridge until you're ready to bake and re-heat later on.
Wednesday
A tricky day at the best of times – traybake chicken. Put chicken drumsticks and thighs in a large oven tray with some chunky wedges of peppers, courgettes, vine tomatoes and some whole garlic cloves.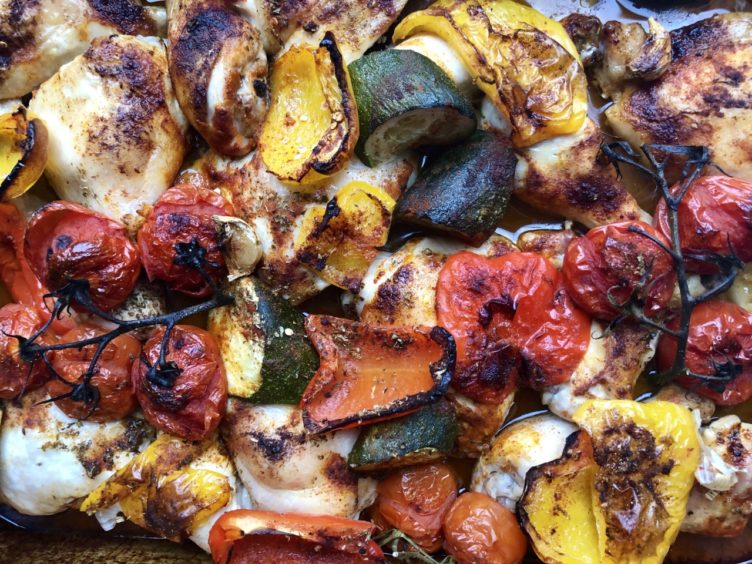 Scatter liberally with smoked paprika and oregano, the zest and juice of a lemon, some sea salt and pour in a big glug of olive oil. Toss to combine. Cling film and pop in the fridge until you're ready to bake (at 200C for about an hour, basting now and again with the pan juices, until the chicken is golden and skin is crisp). Serve with garlic bread and some fresh salad leaves.
Thursday
Nearly there – chickpea & cannellini burgers. Blitz one tin drained cooked chickpeas and one tin drained cannellini beans, with one clove garlic, half a de-seeded red chilli, one tsp ground cumin, a handful of fresh coriander, an egg, handful of breadcrumbs and a large pinch of salt.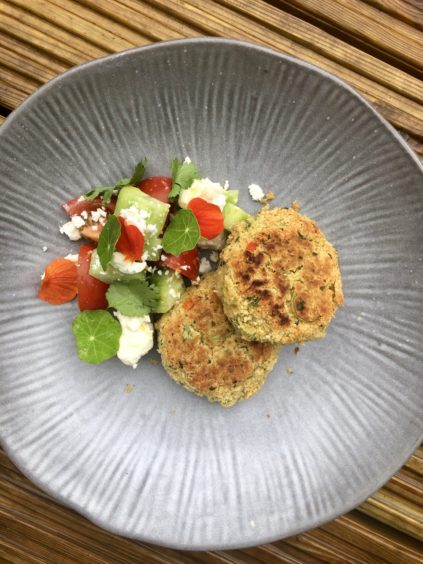 Shape the mixture into patties and chill in the fridge. When you're ready to eat, shallow fry them in hot oil until crisp and finish in the oven at 180C for ten minutes. Serve with a yogurt & cucumber dip and an easy Greek salad of vine tomatoes, cucumber, crumbled feta cheese, the zest of a lemon and a drizzle of olive oil.
Friday
Pizza on the sofa night. Make the pizza dough in the morning and slowly prove in the fridge during the day. Put 225g strong flour, 5g salt and half a teaspoon of sugar in a bowl. Dissolve 7g dried yeast in warm water then pour into the bowl with the flour. Add 20ml olive oil and mix well.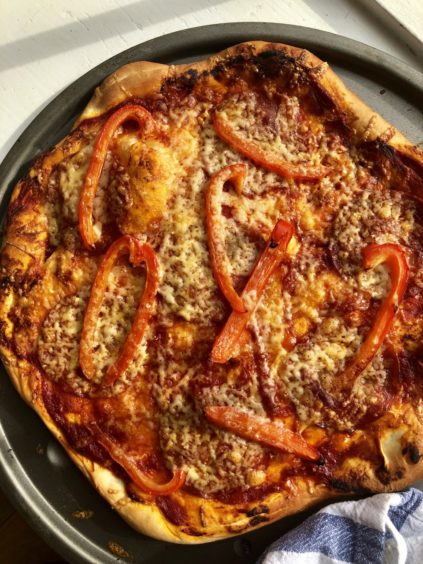 Knead for 10 minutes then pop into a lightly oiled bowl. Cover with cling film and prove. Knead again for a few minutes before rolling out thinly into two pizzas.  Let the kids decorate their own with pizza sauce and whatever toppings you can muster (or they will tolerate), smother with mozzarella and bake at 220C for about 10 minutes.
Now pour a glass of wine and take a deep breath. Is it the weekend already?
---
Read more in this series…
Kitchen Life: Forget meditation – a warm scone is the secret to inner peace
Kitchen Life: Ensure picnic perfection with advanced planning and this stylish way to avoid sharing food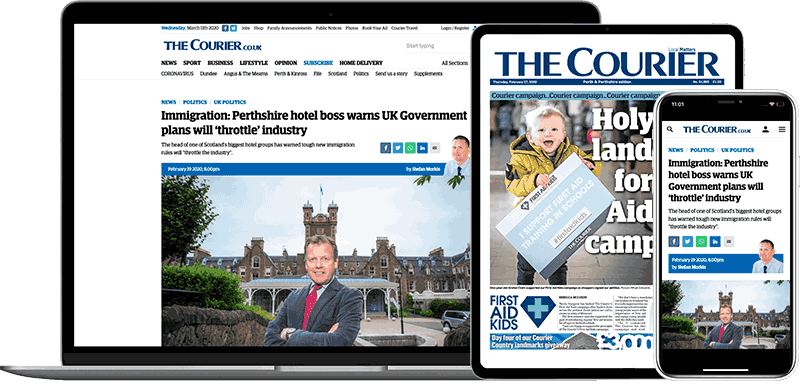 Help support quality local journalism … become a digital subscriber to The Courier
For as little as £5.99 a month you can access all of our content, including Premium articles.
Subscribe