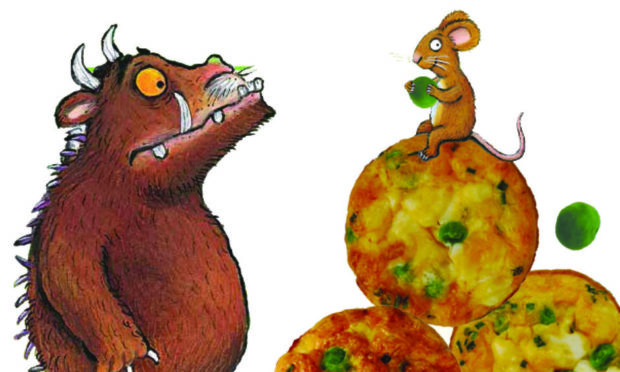 Is your tummy beginning to rumble? Then why not have a go at making these wickedly good, 'poisonous wart' frittatas, brought to you by The Gruffalo.
These poisonous wart frittatas are just one of 24 specially-designed recipes for children and adults from the book, Gruffalo Crumble and Other Recipes, and they're perfect for keeping the kids busy at lunch or on the weekend.
The book is packed full of sweet treats, healthy snacks and simple meals – all based on the bestselling picture book The Gruffalo by Julia Donaldson and Axel Schaffer.
---
Poisonous Warts (Veggie Frittatas)
(Makes 8)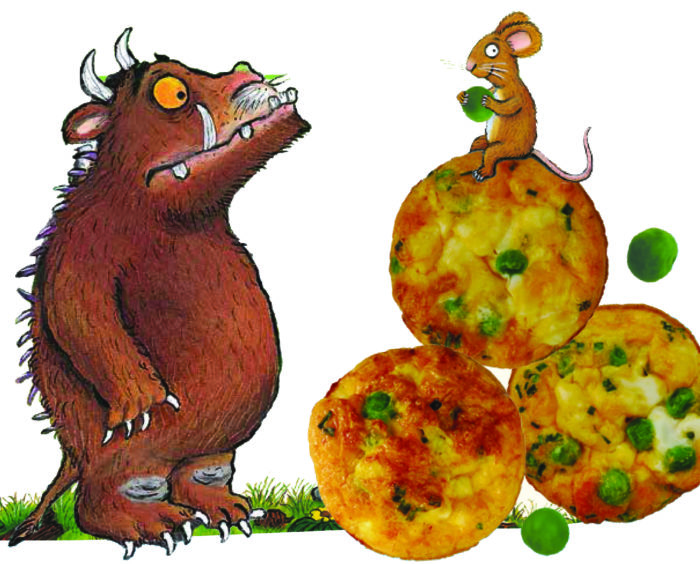 Ingredients
4 eggs
60g feta cheese
3 chives
10 tsp peas
Butter, for greasing
Method
Preheat the oven to 180C.
Dip a piece of kitchen paper in some butter and grease the holes in the muffin tray.
Break the eggs into the measuring jug and pick out any pieces of shell.
Cut up the chives into little pieces using a pair of safety scissors. Add to the egg mixture.
Use your fingers to crumble up the feta cheese and add it to the mixture.
Mix everything really well with a fork.
Pour the mixture into an eight-hole muffin tray, then add a teaspoon of peas to each one.
Cook for 12-15 minutes.
Run a butter knife around the edge of the frittata and then carefully lift them out. Enjoy
Top tip: Make sure you grease the muffin tray really thoroughly so the frittatas don't stick. Plus, you don't have to use feta cheese – why not use grated cheddar or parmesan instead?
---
Read more in this series…
Kids' Kitchen: Animated food that'll be a hit with the young ones
Kids' Kitchen: Go nuts with the children over these peanut butter treats