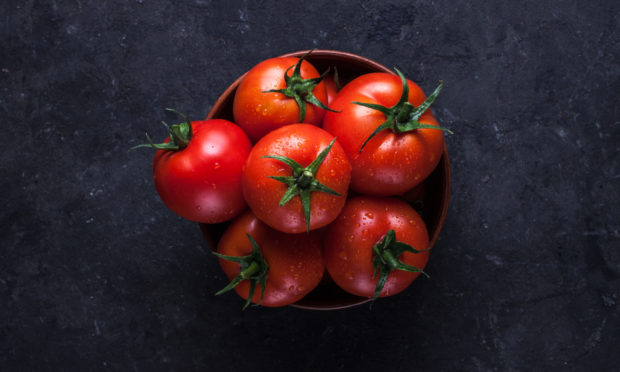 It's that time of the year when tomatoes are at their tastiest. One of the most popular ingredients, we munch our way through around 500,000 tonnes in the UK every year.
Cooking with tomatoes is a joy because of their versatility and they add colour to any dish, whether it's a summer salad or a brilliant bolognese.
At their best when kept out of the fridge, tomatoes can be eaten in so many different ways that they're really a fruit to be enjoyed by everyone, from tots to adults.
So, here are three easy ways we've found to cook with this amazing ingredient, courtesy of Fife food ambassador Christopher Trotter, including seasonal vegetables, butternut squash and stewed beets.
---
Marinated vegetables
(Serves 4)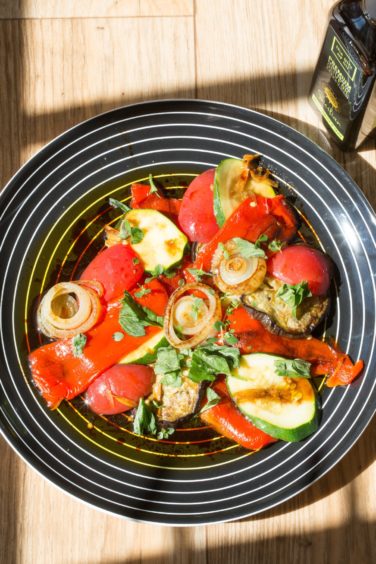 Ingredients
1 aubergine
300ml extra virgin olive oil
2 red peppers
1 medium red onion
2 courgettes
4 ripe tomatoes
3 tbsp matured balsamic vinegar
1 clove garlic, cut in fine slivers
Handful of fresh basil leaves
Sprig rosemary, leaves stripped off
Sea salt and freshly ground black pepper
Method
Preheat the oven to 200C, gas mark 6.
Slice the aubergine in rings of about 1cm and brown lightly on both sides in a hot pan with half the olive oil. Place on a roasting tray and transfer to the oven for 8 minutes. Remove and set aside.
Increase the oven to 230C, gas mark 8 and make slashes down the sides of the peppers; brush with olive oil and roast for 20 minutes until the skin begins to blister. Allow to cool enough to handle and skin them; cut in quarters and remove the seeds, set aside.
Slice the onion into rings and fry for five minutes each side to colour slightly; set aside.
Cut the courgettes at an angle and blanche in a pan of boiling salted water for a minute, drain and dry.
Blanche, skin, quarter and de-seed the tomatoes – see end of recipe. Mix the remaining olive oil with the balsamic, garlic, basil, rosemary and a little water.
Lay the vegetables in a single layer on a dish and sprinkle over the dressing, with a little black pepper.
To obtain skinned tomato pieces without the seeds you need to blanche them.
Bring a pan of water to the boil.
Using a small knife cut out the green bit where the stalk of the tomato was and make a criss-cross cut into the skin on the other end of the tomato.
Have a bowl of ice cold water ready and plunge the tomatoes into the boiling water for 12 seconds – remove and plunge straight into the cold water and leave for five minutes to really cool.
Remove and the skin will slip easily off, cut the tomatoes into quarters and remove the seeds.
---
Roast butternut squash with tomatoes and lime yoghurt
(Serves 4)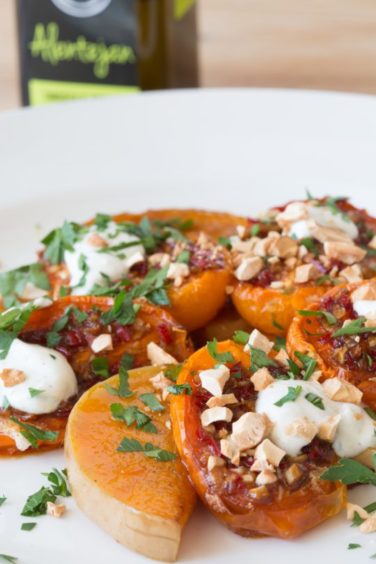 Ingredients
1 medium butternut squash, halved, de-seeded and cut across to give 2cm wide wedges
3 tbsp extra virgin olive oil
6 plum tomatoes, cut in half
3cm chunk of root ginger, grated
1 red chilli, finely chopped
2 garlic cloves, peeled and crushed with salt
30g dark sugar
Sea salt and freshly ground black pepper
120g Greek yoghurt
Pinch ground cardamom
Grated zest and juice of a lime
Roughly chopped coriander leaves
30g cashews, chopped and roasted
Method
Turn the oven to its highest setting.
Mix the squash with 2 tbsp oil and salt and pepper and roast for 35 minutes until well coloured; set aside.
Reduce the oven to 170C, gas mark 3, place the tomatoes on a roasting tray, cut side up. Drizzle with the remaining oil and sprinkle with salt and cook for 30 minutes.
Crush the ginger, chilli, garlic and sugar together to form a paste and spread this over the tomatoes. Cook for another 20 minutes until caramelised.
Mix the yoghurt with the cardamom and lime, spread over the top and sprinkle over the coriander and cashews.
---
Stewed beets, lemon and tomatoes
(Serves 4)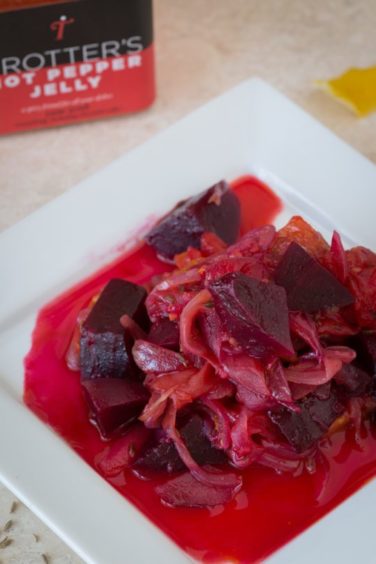 Ingredients
3 beetroots, roughly 450g
Zest and juice of a lemon
2 tbsp Gift of Oil, orange and mandarin oil
½ tsp cumin seeds
1 red onion, peeled and finely sliced
750g tomatoes blanched, peeled, quartered and de-seeded and chopped
2 tsp Trotter's Hot Pepper Jelly
Sea salt and freshly ground black pepper
Method
Wash the beetroots, removing any earth adhering to them, and place in a pan; cover with cold water.
Add a little salt and bring to the boil, and cook gently for 30 minutes. Leave in the water to cool. Slice the lemon zest finely.
Heat the oil in a pan and over a low heat stir in the cumin seeds. Stir for a few minutes and then add the onion; cook to soften.
Add the lemon zest and juice, tomatoes and hot pepper jelly, and simmer for about 15 minutes.
When the beetroots are cool enough to handle, using your fingers, slip them out of their skins.
Cut the top and bottom off and cut into 1-2cm dice; stir into the tomato mixture and cook until the beetroot is hot through; check for seasoning.
Recipes from Tomato by Christopher Trotter. £5.95 from fifefoodambassador.co.uk or call 07739049639. – christophertrotter.co.uk
---
Read more in this series…
Three ways with picnic food: Celery sausage rolls with a beer dip and two different salad ideas
Three ways with raspberries: sponge pudding, cheesecake and scrumptious white chocolate tarts