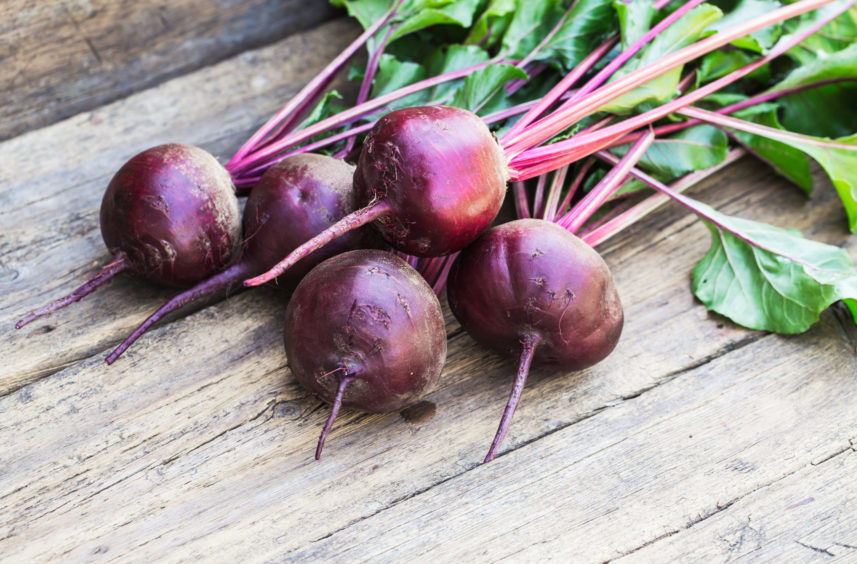 Known for their purple juices, beetroots often act as a colourful and eye-catching accompaniment to delicious dishes in fine dining restaurants and home kitchens alike. Rebecca Shearer finds out more…
Having originated in the ancient Middle East and with historical records suggesting it was grown by the Greeks, ancient Egyptians and the Romans, it's safe to say beetroot is a thing of the past.
Fast forward through the 19th Century in which its juice was used to colour wine, modern day beetroot has many uses and appears in numerous recipes throughout the summer.
Not only is it used in various dishes, but the hugely versatile beetroot has also been known to be used in medicine, with its ability to be beneficial to those suffering from diabetes. Its leaves are also rich in calcium, iron and vitamins A and C.
With the main beetroot season starting in July and continuing through to the winter months, it's an ingredient that is likely to start appearing in our shops and on our plates a lot more frequently over the coming months.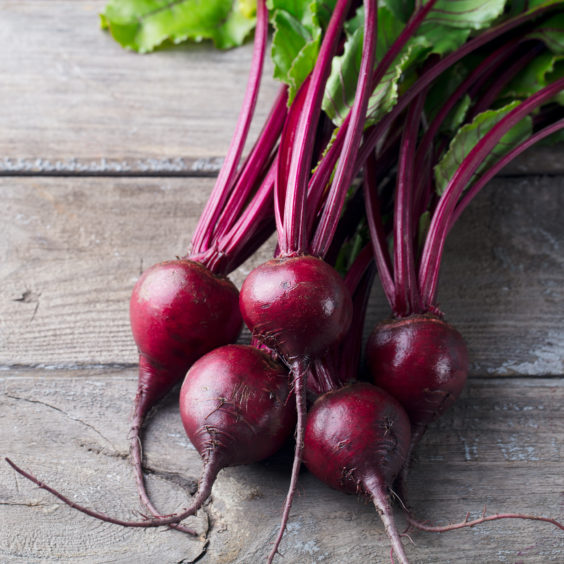 What do the foodies say?
Many of Scotland's chefs, producers and foodies have been starting to use beetroot in their produce as its ability to be grown in the Scottish climate makes it an easy and abundant vegetable to source.
We spoke to three producers the length of the country – Aberdeenshire, Dundee and in the Scottish borders – to find out more about the different ways they love to use beetroot.
Chef Rory Lovie, from Dundee's Bridgeview Station, often uses beetroot in his cooking, with dishes including breaded Mornagie brie, chicory and beetroot and golden beetroot carpaccio in his repertoire.
He said: "Beetroot is more usually associated with winter but it's in spring and summer that it is at its best and sweetest."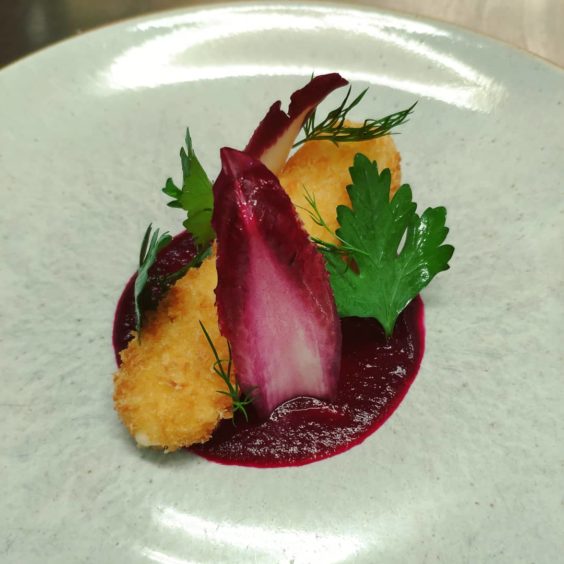 "Beetroot is such a great ingredient. It's packed with essential nutrients and is a great source of fibre. Beetroot juice also has a high vitamin C content.
"It has great diversity in sweet or savoury dishes, from cakes to curing fish and can handle very bold flavours, from vanilla to, my favourite, a nice strong blue cheese.
"The classic use of it in the UK is to pickle it and put it in a jar. I do love it pickled but even purees, soup, ice cream, sorbets, smoothies the list is endless. Also ingredients like dark chocolate, nuts, coffee or roasted onions have earthy flavors and pair well with beetroot."
Meanwhile, Aberdeenshire-based Piggery-Smokery use beetroot to cure smoked salmon, as well as adding natural colouring to some of their bacon, such as their Chinese New Year edition, Hanze Panda.
Top baconeer Mark Reynolds said: "It doesn't add huge amounts of flavour to the bacon but does provide magnificent staining. We also have boiled and lightly pickled beetroot and mix it with mayonnaise and it is a taste sensation. For me, it is best in a salad mixed with mayo and put straight into a sandwich.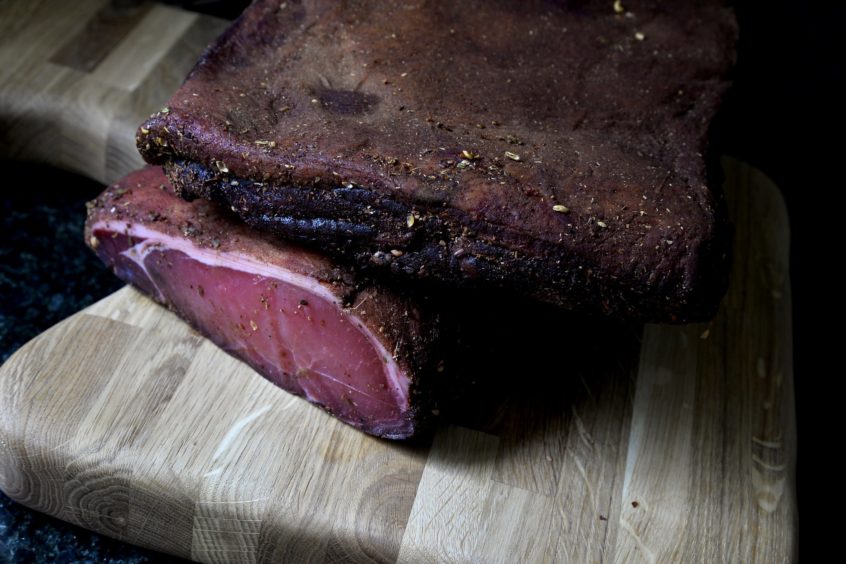 "Beetroot is fantastic raw and cooked, whether it's grated into salads on top of potato, baked with salt or sliced very thinly providing a translucent talking piece.
"It has a very earthy flavour, especially home grown ones. For homegrown we boil the leaves and treat them like spinach, although it does tend to take the lining off your teeth a wee bit in this context.
"For the salmon we use powdered dried beetroot and rub it in – it has the most amazing colour. There are loads of different types from golden through to obvious red colour.
"For me, its colour and earthy flavour makes you feel like you're actually eating something real."
Another foodie who uses beetroot is Lucy Wilson, a personal cook based in the Scottish Borders. Lucy first tried fresh beetroot in 2000 when she moved to Scotland.
She said: "I'm Australian and it was a revelation for me to try fresh beetroot that my mother-in-law had grown in her garden in 2000.
"I had grown up with it pickled in a can (which I also love) but it's so versatile and very easy to grow. You can eat the tops too – the young ones in salads and the older tops are good stir fried.
"Some people are suspicious of the idea of beetroot in cake but it's actually very similar to carrot cake. It just has a slightly different earthiness which I love and works well with nuts.
"Like most veg, you want to use in-season beetroot that should be really naturally sweet to cook with. My other absolute favourite thing to do with beetroot is a salad which is always popular and consists of grated raw beetroot, carrot and coriander with mixed seeds and a balsamic dressing.
"Beetroot works brilliantly as a chutney and is particularly good with orange. It also pairs really well with goat's cheese, horseradish and mackerel and, of course, it's so good for you!"
In terms of the season itself, Louise notes that the summer months of July to late September work best for her.
"For me, the season starts in July and ends about September/October. Some people can leave them in the ground to harvest all winter as they will stop growing when it gets cooler but I can't – the mice eat them!
"I cook, slice and freeze a lot – I make beetroot, red curry and coconut soup in the winter. Great if you feel like you're getting sick!"
What do the suppliers say?
One of the UK's leading suppliers of cooked and ready-to-eat beetroot products, G's Fresh supplies vegetables and other produce to UK retailers and help run the brand Love Beetroot.
G's Fresh marketing director Jenny Danby is delighted that beetroot season has arrived and hopes that more people are encouraged to try it this year.
Jenny said: "Right from the farm and straight to your fork, British beetroot season is upon us and it is the perfect time to add a splash of colour to your plate.
"Beetroot is an incredibly versatile vegetable and full of goodness, although some 30% of people claim to shy away from preparing their own for fear of it being a bit too tricky, according to research by Beetroot brand Love Beets.
"We are a nation of beetroot lovers however and luckily enough, have a huge variety of pre-cooked and ready to eat beets available to us in supermarkets all year round, meaning we can enjoy the wonderful vegetable without all the work.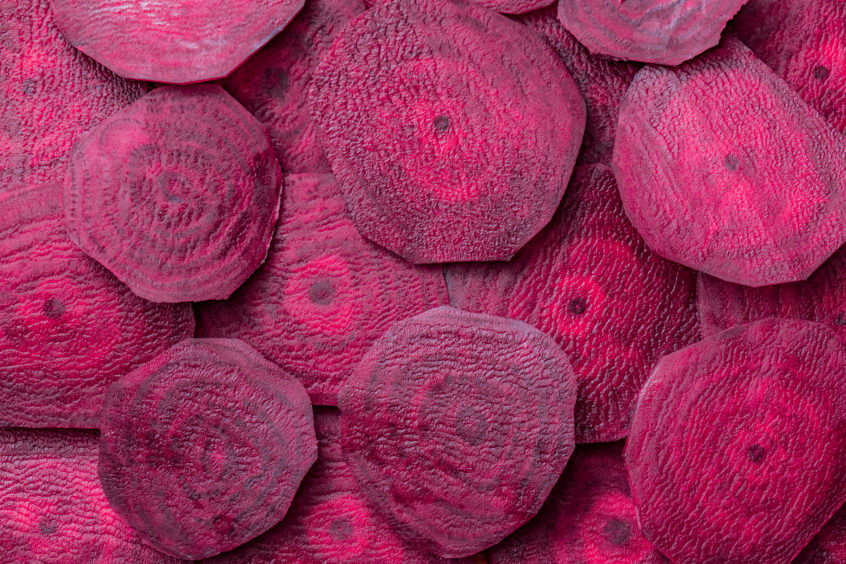 "New harvest British beetroot begins in July and now is the perfect time to pick up your favourite type of beets and add a splash of colour to any dish.
"Beetroot really is an incredibly versatile and nutritious vegetable. The wide range of cooked and ready-to-eat varieties make it a great ingredient in cooking such as blending into cakes, roasting or even creating pink pasta as well as eating cold where we find most people like to add it to salads, include in a sandwich or even have as a side dish – it's a great way to get an extra one of your five a day.
"As we move into fresh British season crop, this is when the natural sugars are especially high, making the beets that little bit sweeter tasting. And the variety of options available to us is endless, from plain cooked beets right through to great tasting flavour infusions. It's the perfect time to add a splash of colour and goodness to your plate."
Why not try making Anna Lamotte's beetroot and goat's cheese terrine from last week's The Menu, or this recipe below from Paul Wedgwood of Wedgwood the Restaurant in Edinburgh?
---
Venison haggis, chanterelles, leeks, beetroot, basil pesto, truffled jus
(Serves 4)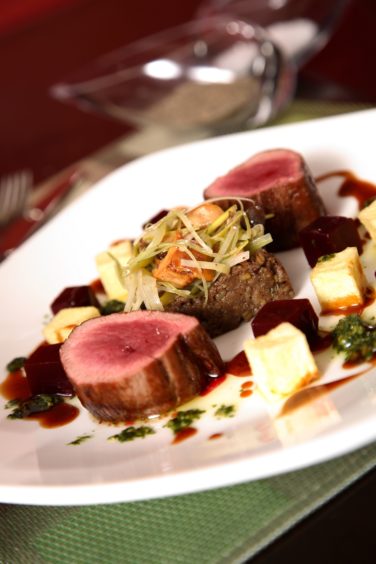 Ingredients
4 x 250g pieces venison loin
500g venison haggis
16 cubes beetroot
75g basil pesto
5ml white truffle oil
200ml venison jus
2 floury potatoes, diced
2 leeks, chopped
125g chanterelle mushroom
Butter
Salt and pepper
Oil for frying
Method
Preheat oven to 200c.
Gently fry the leeks and mushrooms until soft, season to taste.
In a hot pan seal off the venison and then place in oven for eight minutes, cook further if you like it more than medium rare. When cooked to your preference remove from oven, season then leave somewhere warm and allow to rest for four minutes.
Deep fry the potatoes in the oil until golden and crisp.
Heat the jus and add the truffle oil, whisk well to incorporate.
Heat the haggis and then mould in a metal ring about half full, top with the leeks and mushrooms.
Arrange the beetroot and pesto and crisp potatoes around the plate. Drizzle with truffle jus.
Remove the metal mould from the haggis and leeks.
Slice the rested venison in half and place on either side of the haggis and leeks.
---
Read more in this series…
Season's Eatings: Why now, more than ever, cherries should be on our shopping lists
Season's Eatings: Tomatoes prove fruitful when kept out of the fridge