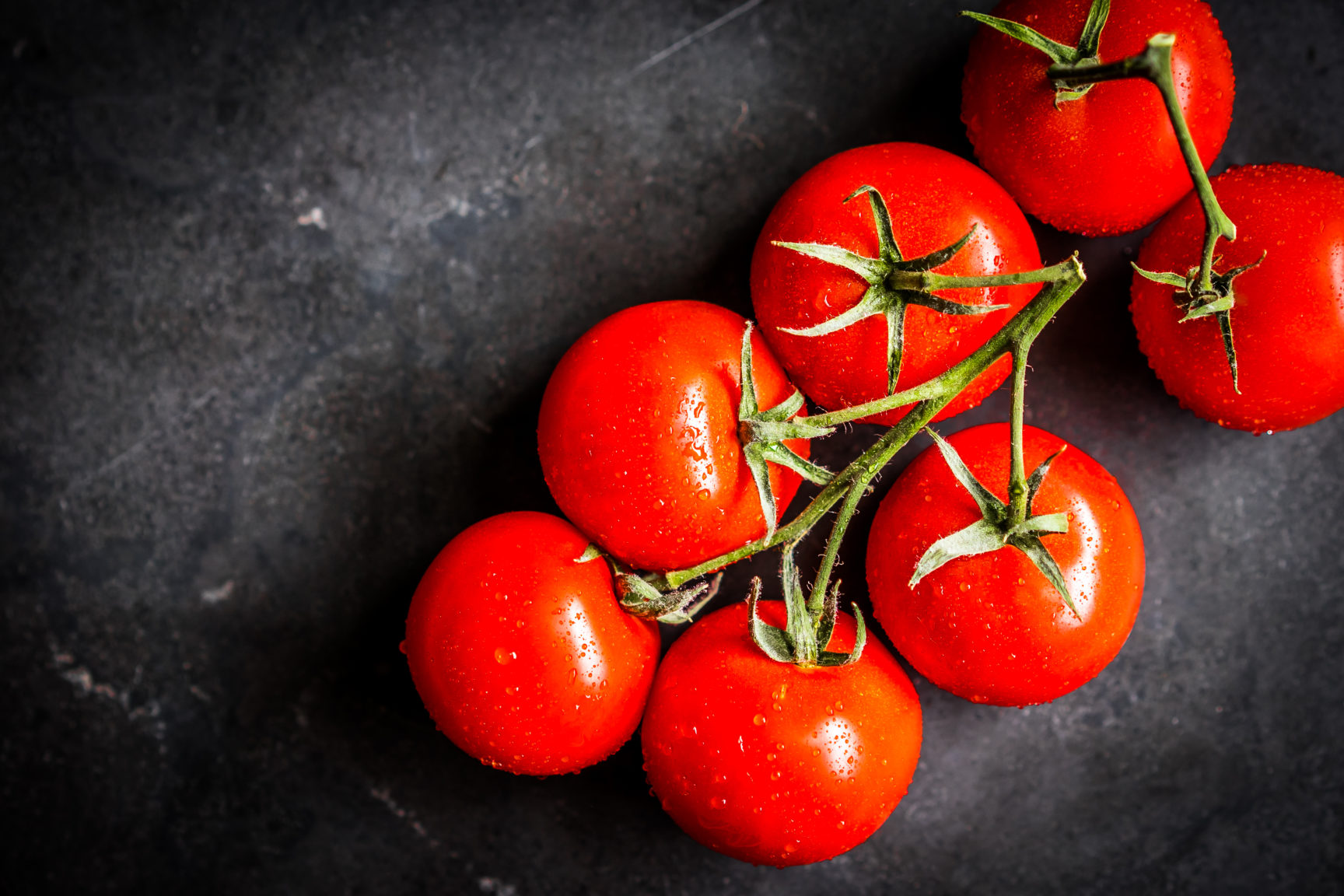 Synonymous with the summer, tomatoes are one of the most commonly used ingredients in a variety of meals. But how much do we really know about them and are we storing them properly? We ask the experts…
They are one of the most common foods people grow in their allotments and greenhouses, yet there are only a handful of commercial growers left in Scotland, all of which lie south of Edinburgh and Glasgow.
But all is not lost when it comes to tomatoes as they are very much a part of our diet now as they have ever been, be it in the form of a sauce, on a pizza, or even as a soup.
Scotland's involvement in the tomato production world is nowhere near as industry-leading as it is when we think of seafood, game meat and whisky. But unlike the other produce Scotland is perhaps better known for, tomatoes are something that everyone is capable of growing at home, meaning we don't always have to rely on the supermarkets for a delicious yield.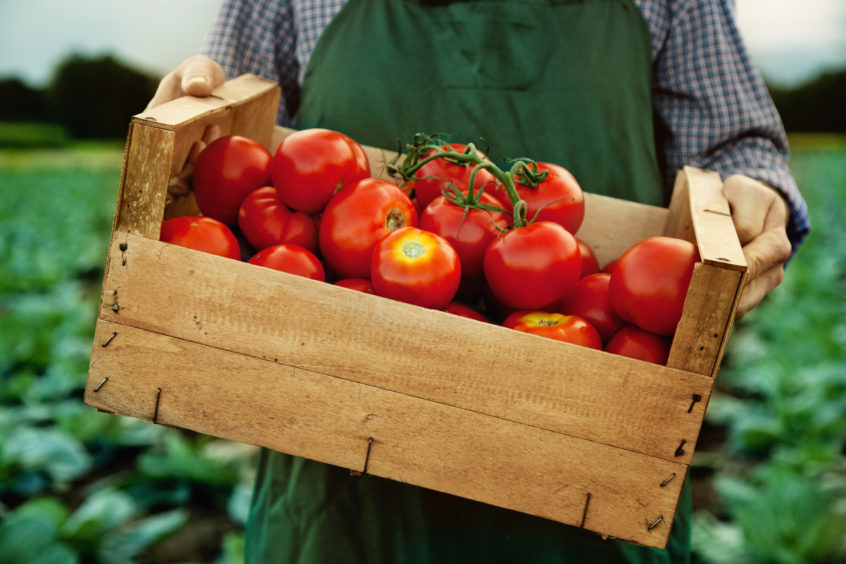 It was only 30 years ago that thousands of tomatoes were grown each year in Clyde Valley, so much so that Scotland was able to export its surplus and the country was a player in global tomato production.
But as recently as 2010 it all changed. Supermarkets stopped supporting local producers and looked elsewhere as tomato imports became cheaper.
The last of the Clyde Valley tomato industry, Clyde Valley Tomatoes, collapsed in 2015 and since then there have only been a handful of large-scale producers left, perhaps the best known being Standhill Farm, in Hawick, which took on the role after diversifying from a dairy farm into commercial producers of the fruit.
Jim Shanks, a fifth generation farmer, leads the production of tomatoes on the farm, which supplies local shops as well as being the only supermarket suppliers of tomatoes left in Scotland, with their produce hitting the shelves of Morrisons and Asda.
Despite initial qualms about growing tomatoes this far north, when the sunlight isn't always on its best behaviour, Jim and his production staff have made the seasons work for them.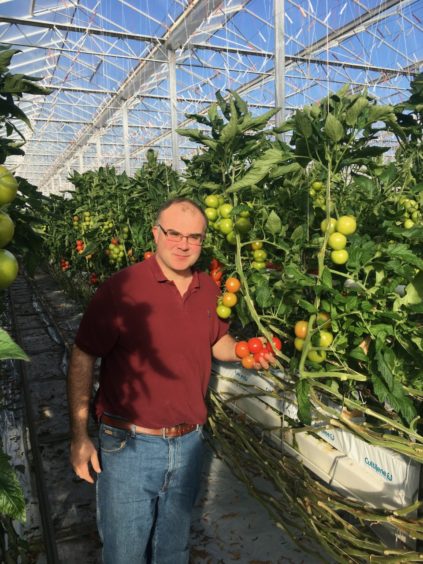 "We get the plants in January when they're about two feet tall. Then, depending on what variety it is, they're ready to start being picked by early April/late March. If they are loose then you can just pick them as they appear but if they're on the vine then you have to wait until the whole husk is ready. For loose ones we could be picking as early as March 22 but if they're on the vine it's very rarely before April 1.
"We grow for the full season and are equipped to produce just short of 30 tonnes a week. Full production usually starts from the end of April until the end of June then starts slowing down and teetering off until November, which is when we'll do the last pick.
"It really comes down to how few tomatoes are grown in Scotland now – that it's not a mainstream industry. Only 30 years ago Lanarkshire was thriving with tomatoes but sadly that's no longer the case.
"We can't guarantee we get the same amount of tomatoes every week – the more sun we get the more tomatoes we get and the more tomatoes we get, the more the consumer consumes."
Meanwhile, at Guardswell Farm in Perthshire, a small scale market farm, are sisters Kirstin and Anna Lamotte who grow a variety of fruits and vegetables, including tomatoes.
Like Jim, their season is towards the start of the year, but is also weather dependent.
Kirstin says: "Generally with tomatoes we sow the first seeds from the end of February to March, then the harvest will usually begin from July onwards, finishing in late September/early October.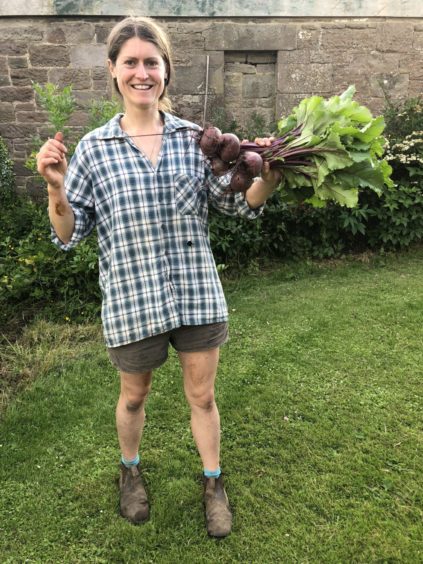 "They need sunshine to ripen and growing undercover – ideally a glasshouse or a polytunnel – means you can extend the growing part of the season. A heated greenhouse extends it even more. The greenhouse we use is unheated so largely affect the dates our tomatoes are in season.
"I would expect the further north you go the shorter the season will become, with less light and generally less warmth. Luckily we live in the central belt which, if you have a glasshouse/polytunnel, means growing tomatoes is much easier than you'd expect. In the south of England however it's easier to grow them outside."
Blogger and Youtuber Eli Appleby-Donald makes regular videos and content on The Kitchen Garden to encourage people to grow more food in their gardens and is also in agreement that growing any kind of food in Scotland is affected by the weather.
"Everything in your garden, whether it's growing fruit and veg or flowers, is all controlled by the weather," she said.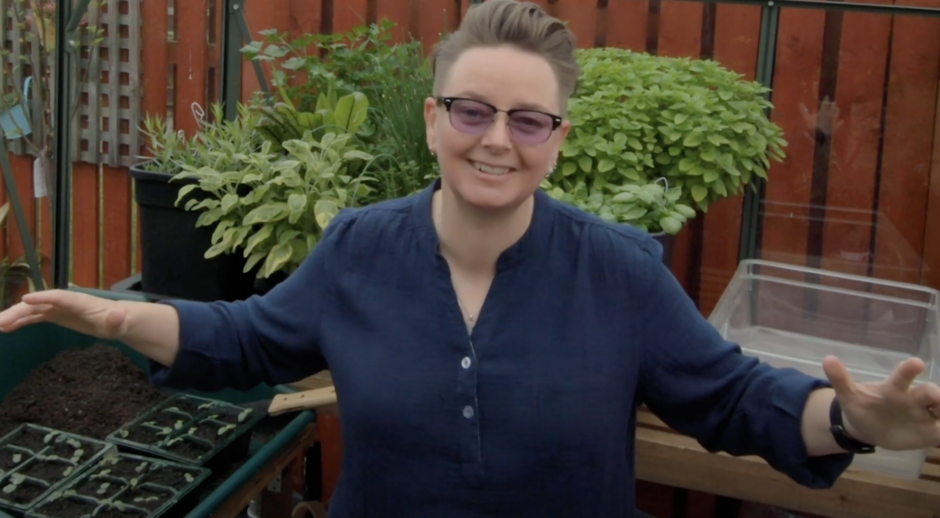 "My garden can be different from one that's four streets away depending on how much sun they get, how much shelter there is etc.
"This is why I started a blog and a Youtube channel – because so many people watch things like Gardeners' World and follow the example of Monty Don, not realising that where he lives is a lot sunnier than it is here and that will affect what you grow.
"From experience, and knowing my garden, I can't plant anything early on so it's normally the end of March or beginning of April before I can plant any seeds. Any sooner than that and they won't grow.
"I usually get ripe tomatoes by about mid-July. They take quite a while to ripen but I have them situated in a big greenhouse that gets lots of sun. And I will keep getting them, probably until the end of September. If there are any tomatoes after that I will just leave them on the plant because in Scotland we just don't have the heat and the sunlight required for them."
Why do we love tomatoes so much?
There's no doubt that there's a large appetite for tomatoes in Scotland, despite some of the tribulations that our renowned cold climate can present. But why is we love them?
Jim said: "We've found also that Scottish people want big tomatoes, which is interesting because everywhere else in Europe, except maybe Italy, it's mostly little tomatoes. The little tomatoes taste fantastic, they're very sweet, especially if they've been kept out the fridge.
"But the feedback we get, mostly from the local shops, is 'my kids will only ever eat these tomatoes', referring to the bigger ones we produce. If they're consumed not long after they're picked, they're fantastic.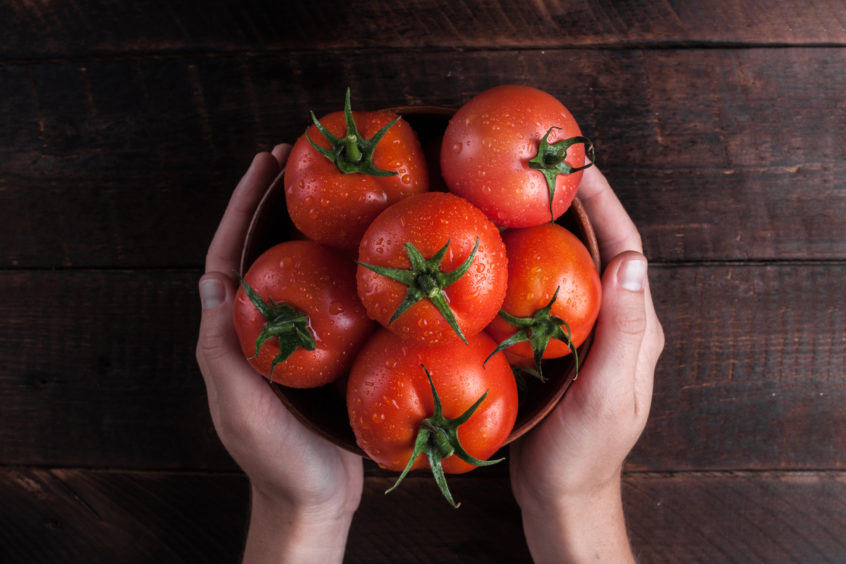 "We started the business thinking that everyone wanted the wee tomatoes, but Scottish people seem to like the big tomatoes. I think this is because there's still a generation that remembers the tomatoes coming out of the Clyde Valley, and all of those were the big tomatoes. And because they were coming out the Clyde Valley they would be fresher – they'd be straight into the Glasgow fruit market and consumed there.
"Another reason we love big tomatoes in this country is because I think we think we're getting more value for money – they're getting double the tomato for the same price. But you can also do anything with the bigger tomatoes, you can put them in a sandwich, pop them in a salad, it's just so versatile. The smaller ones are more of a lunchbox type thing and are better eaten on their own."
What should we look for when buying tomatoes?
It may seem that tomatoes are in the shops all year round, which is often the case, however, as our producers would agree, just because it looks like a bright red tomato doesn't mean it will be of the best quality.
Eli said: "You can tell how ripe a tomato is by its colour and it should be slightly soft to the touch. A lot of the tomatoes we find in the shops have either been forced – grown out of season – or have travelled a long distance.
"If you press a tomato gently and it has a bit of give then it's likely to have the best flavour."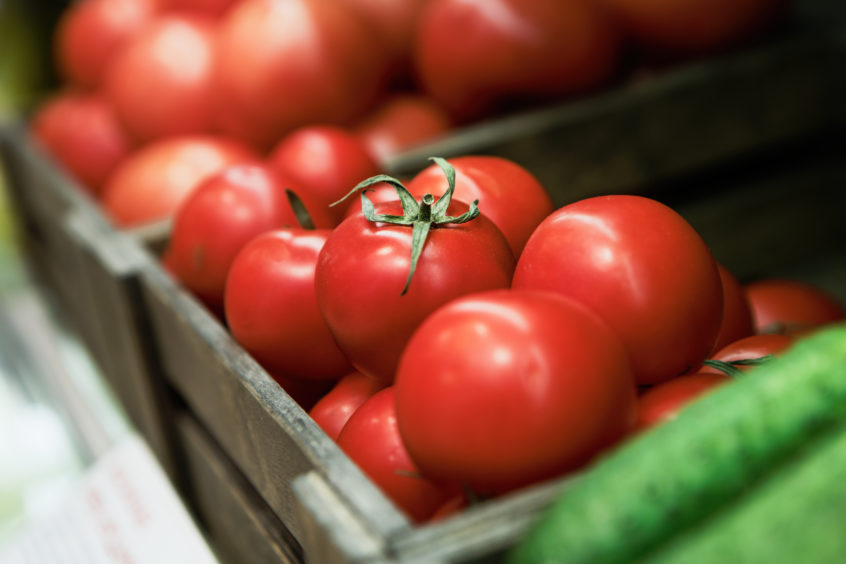 Meanwhile, Jim highlights the fact that tomatoes are used to being grown at high temperatures, so the ones that have been in the supermarkets longest or have travelled the furthest aren't necessarily the freshest.
"One thing that is crucial with tomatoes is that they don't go in the fridge – that kills the taste of tomatoes more than anything else," he says.
"They're used to being grown at 25C through the day and around 14C at night. They're not used to any other environment apart from that. If someone puts them in a fridge between 4 and 8 degrees, the whole biology just breaks down.
"That is absolutely crucial – keeping them out the fridge. It's the worst thing anybody can do to tomatoes.
"We sell to a few local shops and it's great because we know they're straight out the glasshouse, straight to the local shops and you can just smell the vine off them when you go into the shops.
"The supermarkets we supply to aren't too bad. We have to take the heat out of them first, by reducing it to about 12c. They don't go below this temperature. We're still able to get them a really great tasting product, better than most, because anything coming from abroad is cooled right down so that it stays the same colour but it can take the taste out of the tomato."
Anna Lamotte is also in agreement: "Contrary to popular belief tomatoes are much better stored out of the fridge than in. The fridge is far too chilly and the tomatoes lose a lot of their flavour. Store them somewhere cool, dry and dark if possible. They will taste ten times better at room temperature than they would from the cold of the fridge."
"Tomatoes are best eaten when they're still in season, simply because they are at their tastiest. They'll have absorbed that lovely summer sunshine and be at their absolute prime.
"The chances are, if they are in season, they haven't travelled particularly far (which is obviously the other reason – environmentally it is better to eat anything in season), then they are really lovely, fresh and ripe- and they haven't been encouraged to ripen in transit or via any form of artificial ripening process."
What are some top tips for growing our own tomatoes?
Often, when people decide they want to start growing their own fruit and veg, tomatoes are the first thing they think of, perhaps not realising the things they need to consider when doing so.
Eli admits that if you don't have the right set-up for growing your own, then they won't work at all.
"Normal tomato plants can grow to be about eight-foot tall and can become about four or five foot wide, so anyone planning on growing a tomato plant in their garden or greenhouse need to take this into consideration.
"If you want to have more than one then they also need to have an appropriate amount of growth space between them. They also need a lot of sunlight so would be best placed somewhere in direct sun. Tomatoes originate from Mexico so they are used to the heat and like it hot so if you don't have the right set up you're going to struggle."
Kirstin says: "Tomatoes are much easier to grow than people expect. If you are a bit nervous about it I would say buy seedlings from someone instead of starting from seed – but don't be afraid to try from seed too as that is always really fun.
"If you are growing from seed you need to have warm temperatures – ideally above 21C. If you start with small plants/seedlings then usually they will be ready to plant out into a bed, grow bag or pot right away.
"Tomatoes grow fast – some varieties need pruning, so it can be good to stay on top of this. Feed with an organic fertiliser if they look like they are struggling – seaweed or homemade comfrey tea is good. Bush tomatoes might be easier than a tall variety for beginners as they don't need pruning. Plant some calendula or marigolds near them as they help with pest control – pests go to calendula instead of tomatoes. Basil works nicely as a companion plant."
"For tomatoes to produce fruit – they have to be stressed slightly – in June we water the tomatoes around 30-45 minutes a day but by August we will be watering much shorter, even twice a week to force the tomatoes to fruit more."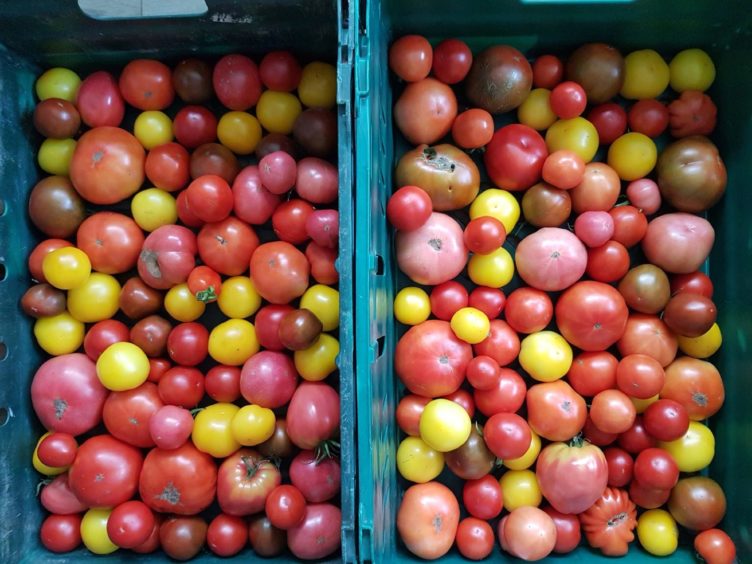 Jim also agrees the tomato plants need to be slightly stressed in order to bear more fruit.
"If people are growing their own tomatoes in their allotments or greenhouses, I'd say don't water them too much," he said.
"Like a lot of things on this planet, if it thinks it's going to die, it'll go back to nature and want to reproduce. If the tomato plant is stressed it will actually push out more fruit.
"So we're constantly just stressing it a little while giving it its nutrients as well. If you water it a lot, it'll just push out leaves."
What do we need to know about cooking with tomatoes?
"When looking for a tomato that is full of flavour," Anna says, "try to find a really good heritage or heirloom tomato varieties. A local grower or greengrocer will have these.
"If making a sauce, (you don't want to it be too watery) try to find fleshy, really ripe tomatoes – they'll be full of flavour and lovely and sweet due to the "ripeness".
"If  you have the luxury of time try peeling your tomatoes first, and removing their seeds to make for a silky smooth sauce. Cut the stem join circle out of the tomato, and cut an 'x' into the opposite end. Blanche in boiling water for approximately 20 seconds or as long as it takes for you to see the 'x' open out. Then remove from the boiling water and peel back the skin. San Marzanos are traditionally used in pizza sauce, so seek them out if you're craving a margarita!
"Simple tomato salads and gazpacho are definitely my favourite way of using seasonal tomatoes. You can't beat a plate of randomly chopped and sliced heritage tomatoes – a really good mix of different varieties and colours – arranged on a platter, drizzled in a really good quality olive oil with a decent pinch of sea salt.
"That to me is summer on a plate. Or, when you have a glut and the sun is out, make lashings and lashings of gazpacho or salmorejo. There is nothing more refreshing than a bowl of heritage variety gazpacho on a hot day, with all of the little toppings delicately placed on top."
For another idea, check out Eli's recipe for passata below.
---
Read more in this series…
Season's Eatings: Why Scottish strawberries are the cream of the crop
Season's Eatings: Getting to the root of it all with carrots