Sometimes even a weekday lunch can be special, whether there is an occasion for it or not.  And once in a while a Tuesday needs a little bit of sparkle.  I had just such a Tuesday recently and decided to try the "reborn" Seafood Ristorante in St Andrews.
Formerly The Seafood Restaurant, it has long been a favourite with foodies in the Fife town and beyond. The name change follows its sale to 22-year-old entrepreneur Stefano Pieraccini, who is being mentored by his restaurateur father Adrian, former owner of Rocca in the town and the Rocpool hotel and restaurant in Inverness.
An excellent pedigree then to match an extraordinary venue. St Andrews is a magnificent place with some incredible views but I have found none better than those from the beautiful glass box in front of the aquarium.  It's a truly fabulous setting so  I knew in advance that we were in for a visual treat and was hopeful that the view would be just the starters.
The inside of the restaurant is a delight – even without those windows. The decor is elegant, the open kitchen is a hive of activity even on a quiet day, the cutlery is weighty and the upholstered chairs are comfy; I could feel us settling in for a long lunch.
The menu certainly got our juices flowing and nailing down our choices was a struggle. It shouldn't come as a surprise that the majority of the dishes involved seafood (the clue is in the name) but there were still veggie and meat options available, just in case. A couple of oysters were on the cards to start and they didn't disappoint.These were creamy, fresh and divine and there is something wonderful about eating an oyster while gazing at the sea.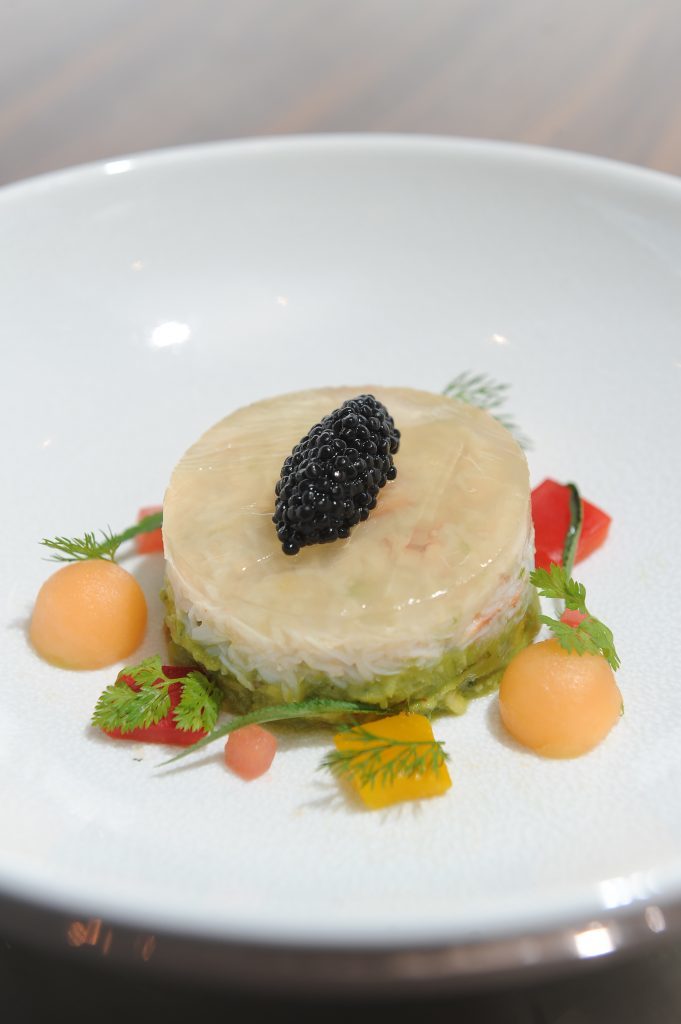 It was downhill a little with my starter of stuffed sardines. I usually love the oily little fish but these were swamped by their stuffing, then breaded and fried,which meant the fishy flavour struggled in vain to come through. It didn't help that they were served on toast which was smeared in a paste so heavy on the cumin that it overpowered everything else.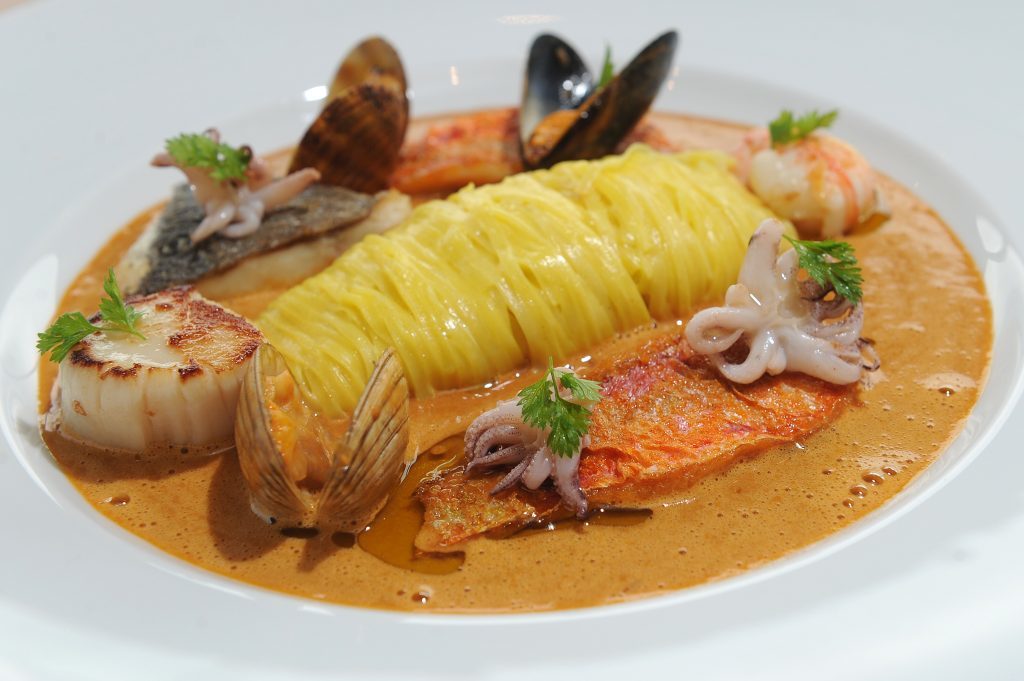 Flavour was also hard to find in my friend's East Neuk crab. The delicate crab meat arrived nestled on avocado and topped with a clear, nondescript jelly. Gazpacho was poured over at the table, which was a lovely touch, but this chilled dressing was the only component that really had any taste. "Incredibly subtle" would be a diplomatic assessment of the dish, but we had been hoping for a bit more flavour at the very least from the crab.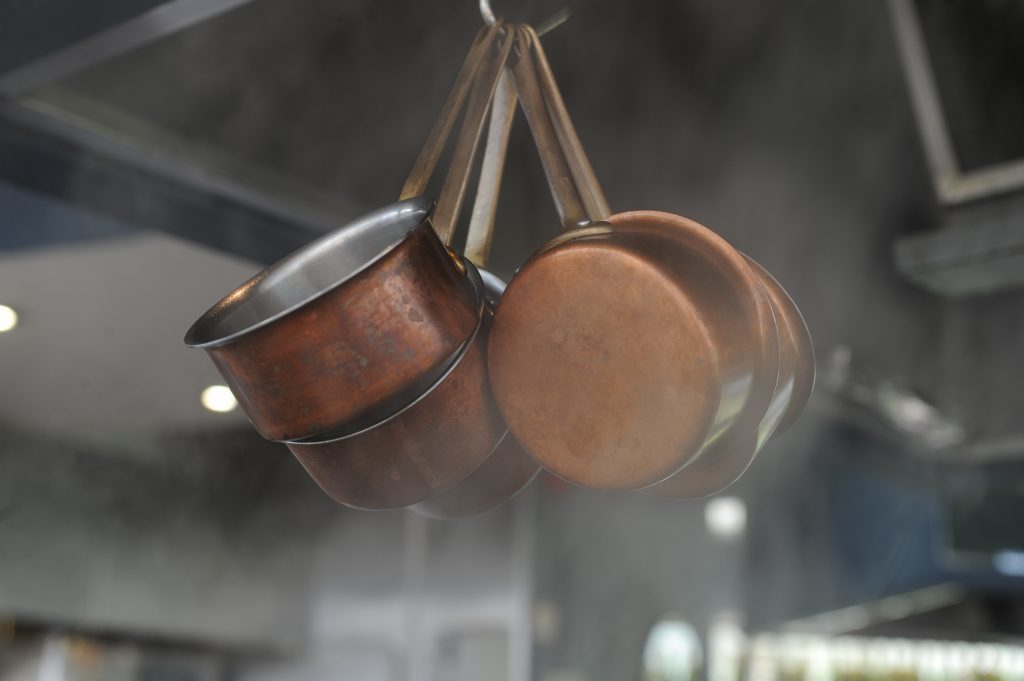 I am thrilled to say our feelings of being underwhelmed started and ended with our "primi course".  I chose the fish stew as my "secondi" and was presented with a concoction unlike any fish stew I have ever eaten.  Delicate morsels of individually cooked pieces of fish, clams, squid, prawn, scallop and mussel were surrounded by a glorious shellfish bisque. It was rich and deep, decadent and delicious. In the middle of this elegant plate, a carefully twisted twirl of hand-rolled saffron linguine left me almost speechless. The saffron intensified the richness of the stew to even greater heights and the light strands of pasta swilled in the bisque tasted a lot like heaven to me.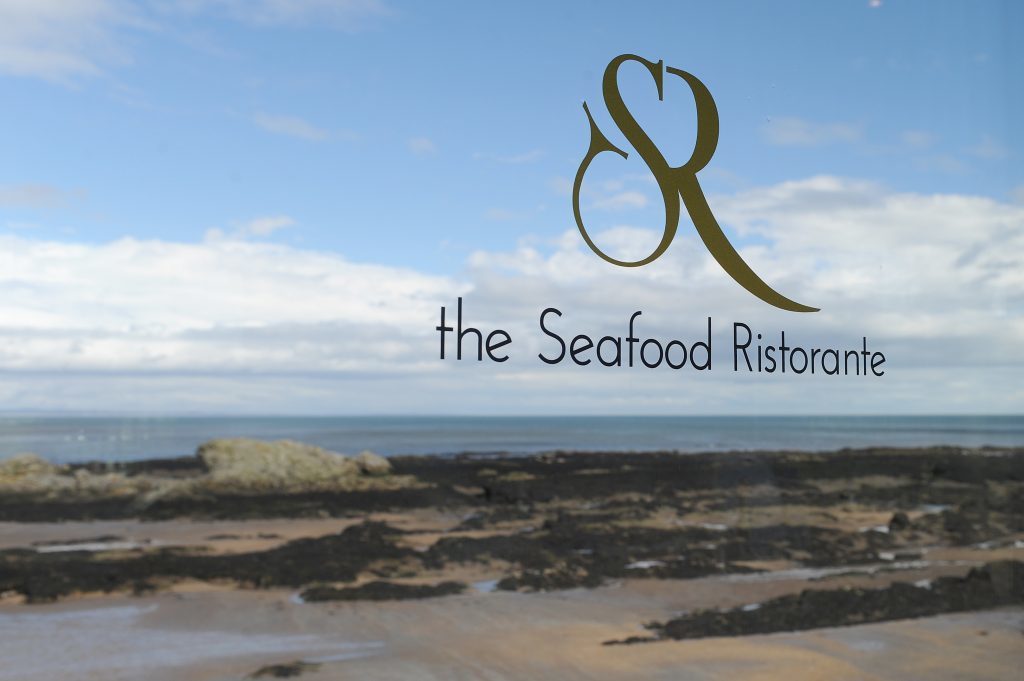 Across the table, the Anstruther lobster pappardelle received a similar reception. The bisque-style sauce was a lot like – maybe even the same as – mine but wide ribbons of soft pasta had been tossed in it, along with chunks of incredibly sweet lobster meat. The richness of both dishes made them very filling and I confess only managed a couple of forkfuls of my side order of oozy burrata.
I loved the Seafood Ristorante.  The service was friendly and engaging without being too intrusive, the main courses were divine and the setting hard to beat. We knew when we chose our destination that we would be splashing out but I was actually pleasantly surprised when the bill arrived as I had anticipated a much higher figure.  Next time we will try harder to make a bigger dent in the credit card and I guarantee there will be a next time.
Info
Price: Starters: £8.50 – £15; main courses: £21 – £38; desserts: £7.50 – £14.50
Value: 8/10
Menu:  7/10
Atmosphere: 9.5/10
Service: 9/10
Food: 8/10
Total: 41.5/50
Info: Seafood Ristorante
Address: Bruce Embankment, St Andrews, Fife, KY16 9AB
Tel: 01334 479475