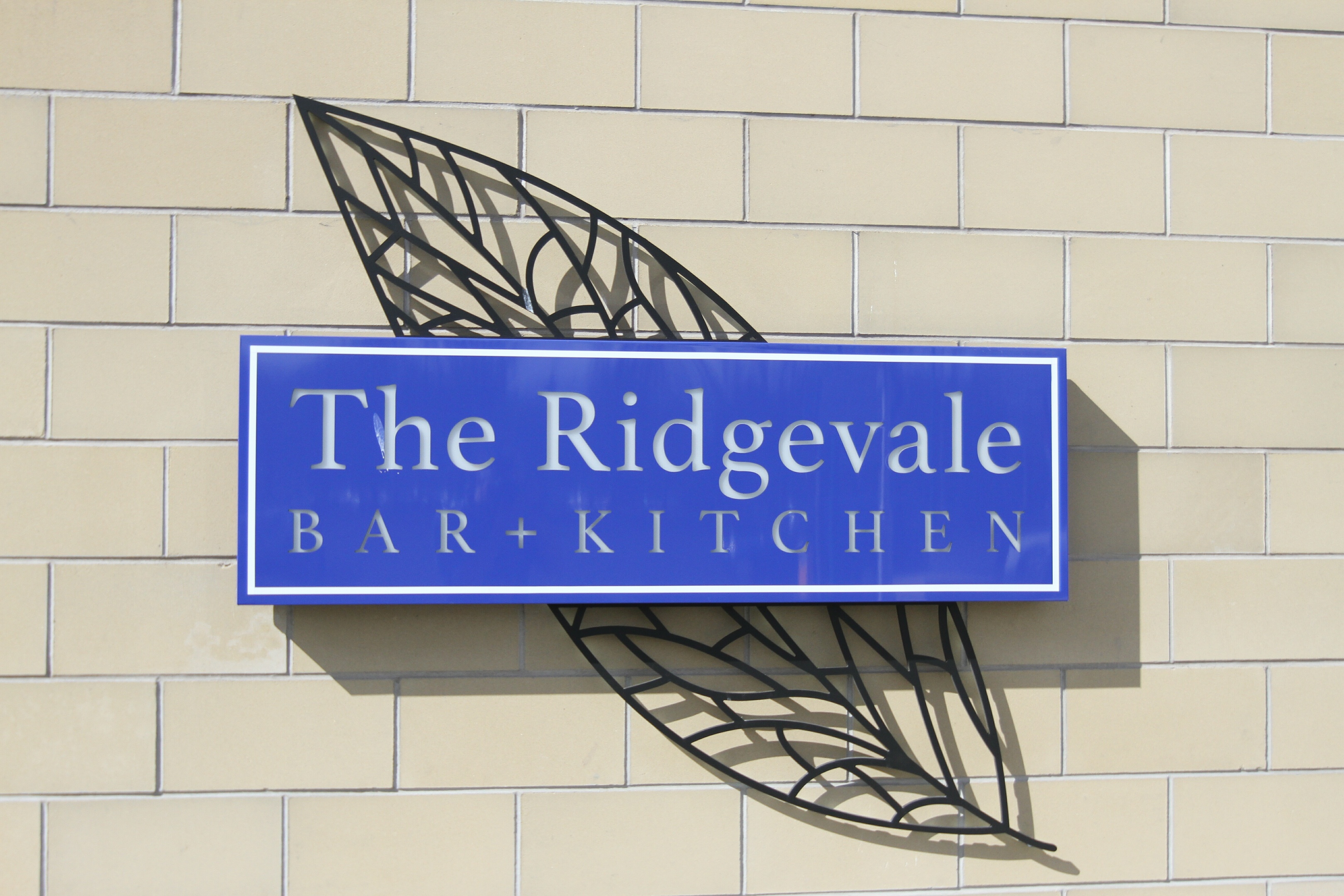 I hope someone out there has a time lapse camera set up in Dundee, not just to document the progress of the V&A but also to capture the rest of the city.  Every time I drive through, something new has sprung up, or been cleaned up or planted.  Dundee is evolving and it's such an exciting time to live here.
One of the new larger constructions that has popped into view is the Hampton by Hilton hotel and adjoining it, The Ridgevale Bar and Kitchen. I am very often disappointed with hotel restaurants but at such a convenient and central location, it would have been rude not to give it a try.
I had arranged to meet a friend for lunch and I entered The Ridgevale directly and didn't go through the hotel lobby. This may well have swayed my thinking but on entering the bar, this did not feel to me like a hotel bar or restaurant at all.   It had it's own identity with none of the generic tables or laminated menus but snazzy wallpaper and fabulous brightly coloured sofas. The place is still very new and so everything was crisp, vibrant and clean, nothing in sight could be considered tired or faded.
Despite being the only table occupied for the duration of our time there, we did not feel out of place or vulnerable. This was in part due to the pleasant music which was loud enough to create an atmosphere and partly down to the welcoming service we received. Nothing too chatty but warm and efficient.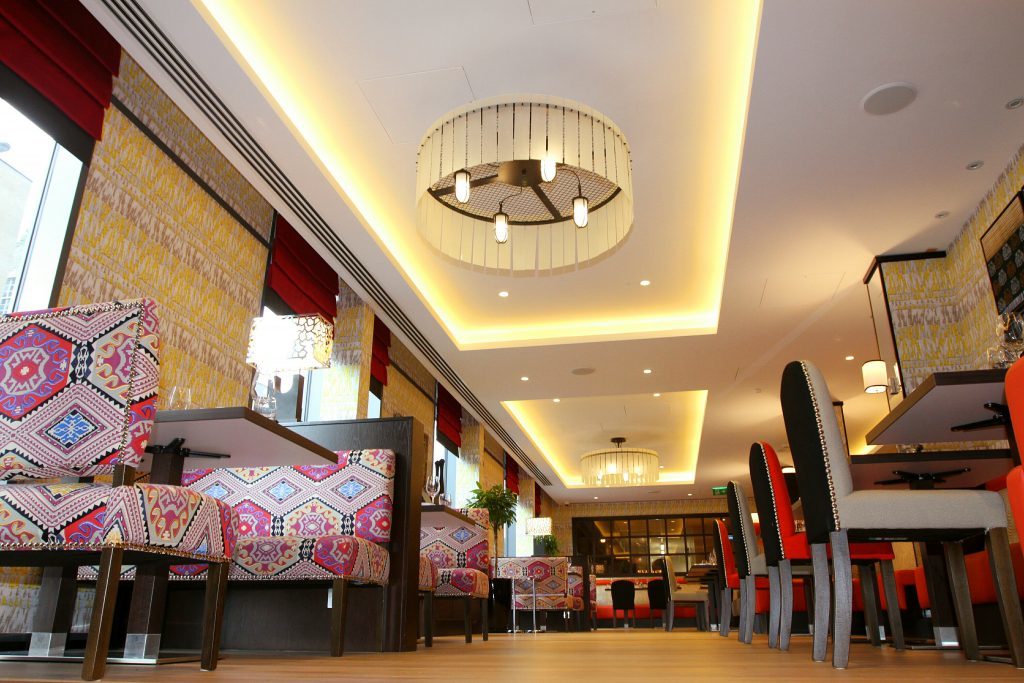 We perused the menu for longer than I had expected as although it contained classics such as fish and chips and bangers and mash, there were also some interesting curveballs on offer. I particularly liked the fact that various dishes could be adapted, if requested, to be either gluten free or vegetarian such as the sausages or haggis. This widens the scope for those with dietary requirements meaning they don't need to stick to the often limited items on a menu. We decided to order a "savoury bucket" to kick us off. A choice of nibbles was listed and we picked, as instructed, three of them to form the bucket. This is really designed as a snack to accompany drinks but we commandeered it to be our starter.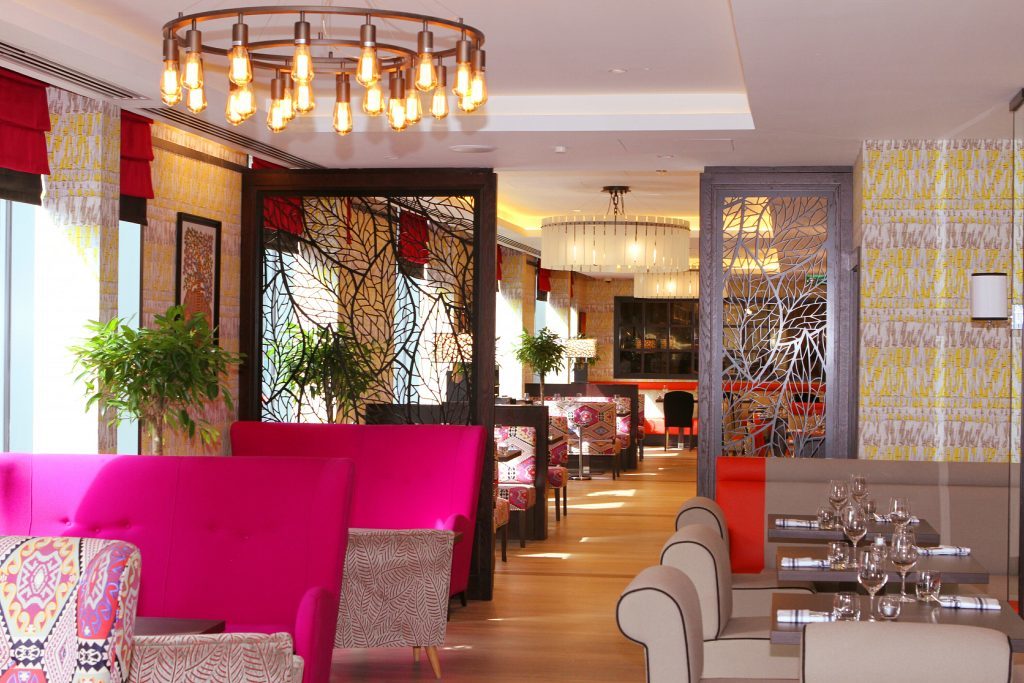 Our first was the haggis bonbons and we opted for the vegetarian option just to be different. To our surprise, these were not the normal deep fried balls of claggy veggie stodge but had actual flavour. It would have been nice to have some kind of dipping sauce for these but we were happy nevertheless. The next pot contained beer battered fish which was by far my favourite of the three. The batter was crisp and had flavour and the fish was hot, fresh and flaky. They really were delicious. The house salad was a small metal bucket of leaves and tomato, fairly nondescript but the token healthy option.
I then opted for the halloumi gyros. This consisted of crisped-up cheese wrapped in a puffy pitta with crunchy cabbage salad, tomato compote and garlic yogurt.  The variety of textures and flavours was a real hit for me and the very homemade fries topped off a really lovely lunch dish.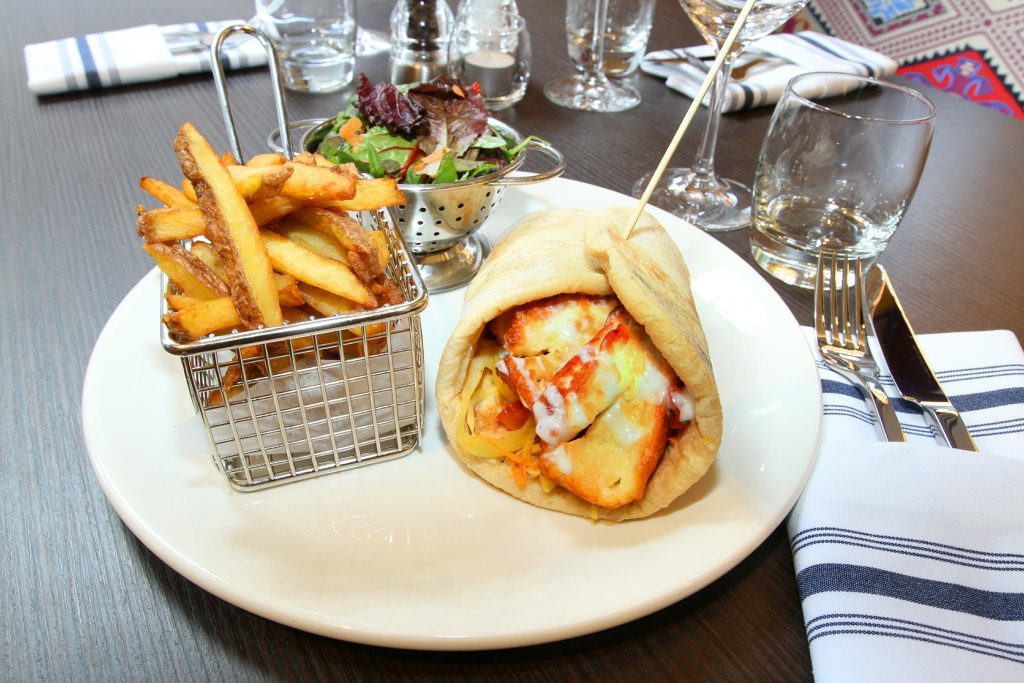 My friend ordered the chicken burger and we fully expected a fairly dull breaded variety to appear but instead, inside the bun was a patty made up of chicken meat. This was a nice surprise as the burger had moisture and flavour not just crunchy-on-the-outside-dry-in-the-middle blandness. Again, this was served with very good homemade chips.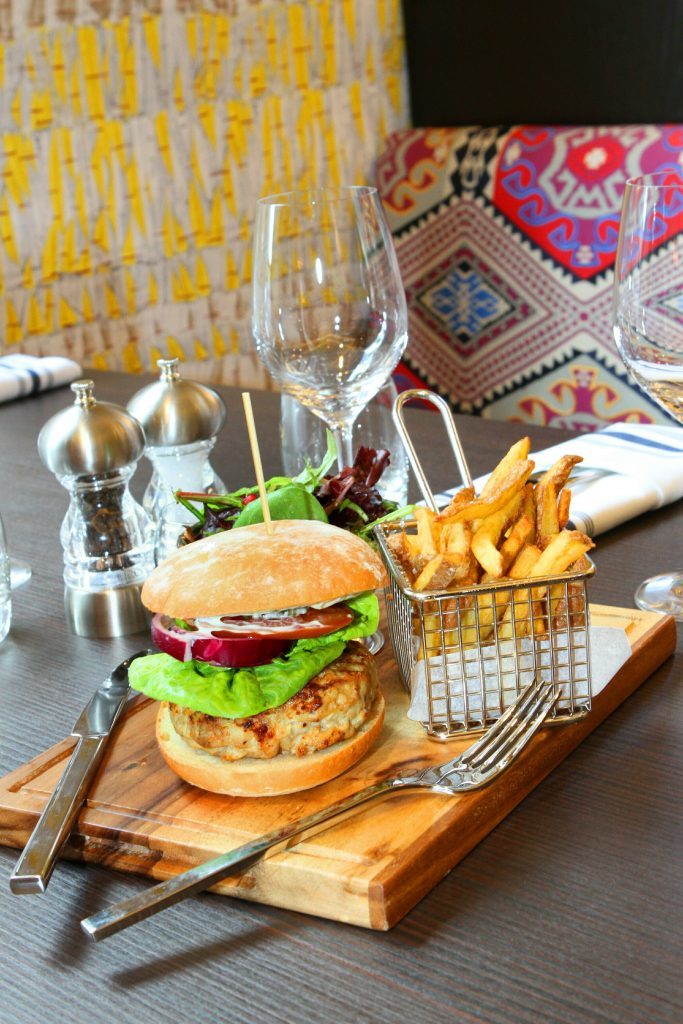 We finished our meal with an Illy coffee and stayed at the table for a lot longer chewing the cud and at no point did we feel any pressure to order anything else or vacate the otherwise empty restaurant. The Ridgevale is a kitchen bistro with vibrant decor, good service and great food. The menu contains pub classics as well as other surprises and I have absolutely added it to my list of dinner venues in Dundee, especially after having a quick look at the dinner menu  This is not a hotel restaurant but a lovely addition to the Dundee food scene all on its own.
Info
Price: Starters: £4.00 – £13.00; lunches form £8.00; a la carte main courses: £14.00 – £29.00
Value: 8/10
Menu:  7/10
Atmosphere: 8/10
Service: 8/10
Food: 8/10
Total: 39/50
Info: The Ridgevale Bar and Kitchen
Address: 1 Argyllgait, Dundee, DD1 1PZ
Tel: 01382 725205
Web: www.theridgevale.com