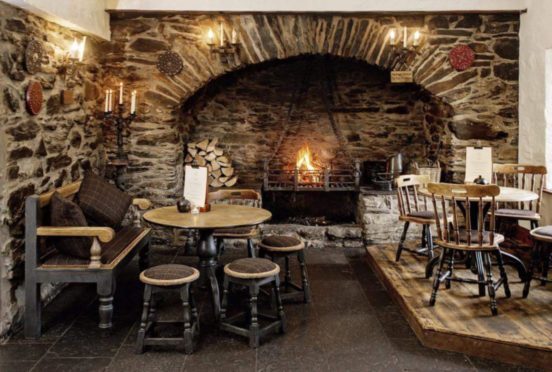 Some restaurants are lucky enough to be in the perfect location, blessed with scenery or a particular tourist attraction. However, that does not in any way guarantee them success.
They may well get the passing trade but a badly-run restaurant serving bad food will not get returning customers or anyone out of season. Luckily, the Inn at the magnificent Falls of Dochart will not have this problem.
The rolling, bubbling, angry water rushing over the rocks at Killin is incredible and I could have sat for hours just staring at it. I would ordinarily imagine a waterfall starting from high up on a hill pouring downwards but the sheer force of the water here creates the same effect on a much flatter gradient. It truly is worth a visit and attracts visitors all year round.
The Inn has the ideal spot with its front windows overlooking the falls, so I would really recommend trying to nab a table by the window. Inside, the bar area is cosy and characterful with dark woods, bare bricks and tweed. It is a real Scottish inn and tourists are not the only visitors who would delight at its charm – we certainly did too.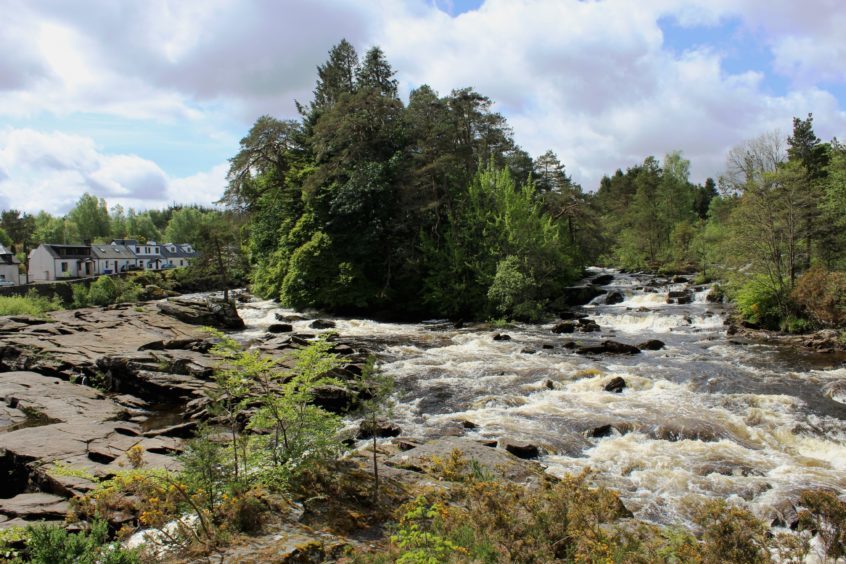 The drinks are focused locally with ales from Loch Lomond and a lager brewed near the falls themselves. I sampled a few halves of the latter and it was crisp and light and very drinkable. This was a fabulous way to start our lunch as was our visit from a curious and incredibly cute Bunty, the owner's little dog.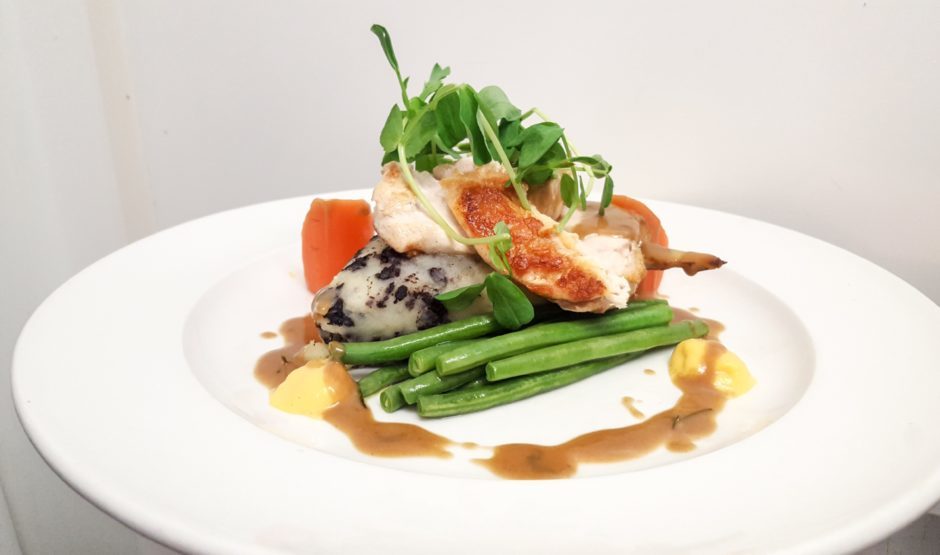 The menu is packed with crowd pleasers such as fish and chips, venison casserole and haggis bon bons, with vegetarian options as well. If someone wanted to visit a proper Scottish pub with proper Scottish food then they wouldn't be disappointed.
I started with the cullen skink which was mighty fine. For the first time ever I actually added salt to the soup as the haddock had such a lovely delicate flavour and wasn't overly salty at all. The creaminess of the soup was intense and when combined with the fish, leeks and potato it made a rich and delicious first course. Our bubbly waitress apologised that we had received normal sliced white bread but apparently the proper stuff was still in the oven and wasn't quite ready. It didn't bother me at all but freshly baked bread is a lovely addition.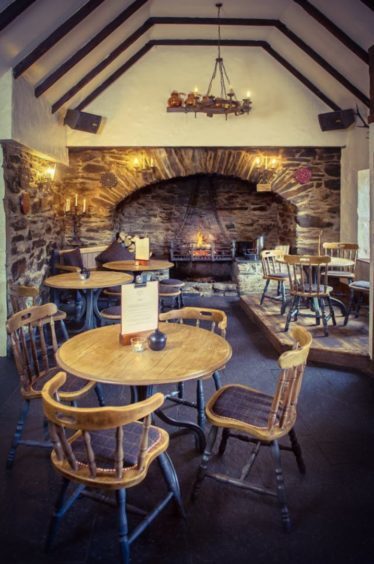 Mr Kerry put himself under pressure and chose the vegetable stack as his starter, which surprised us both. What arrived though was an elegantly presented mound of Mediterranean vegetables, roasted until soft and sweet and served with a balsamic drizzle and garnish. It was actually very tasty as the flavour of each simple element had been allowed to shine.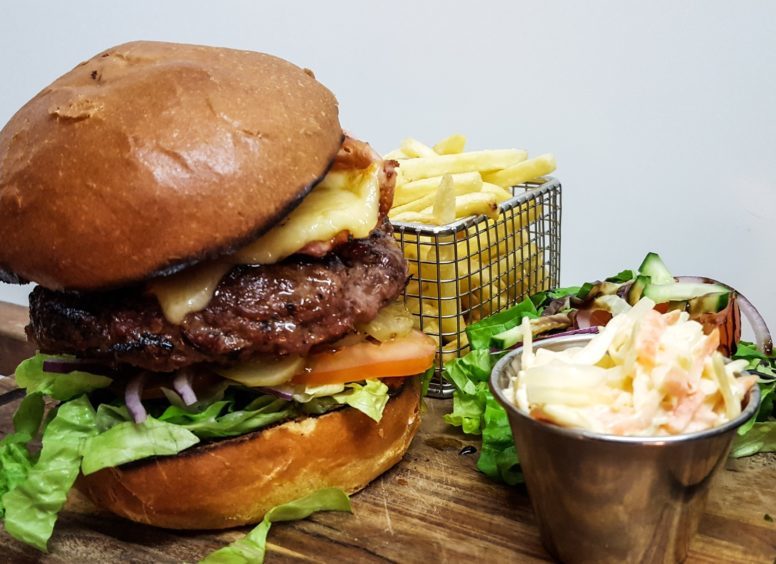 Although we would have been happy to order from the main menu, it was the two specials that caught our eye. Mine was a pressed pork belly, a favourite of mine. The meat was meltingly tender although still with thick layers of fat and no crispy skin which was a shame. The pork was served with a square of very thinly sliced dauphinoise potatoes, the butter from which, when mixed with the pork fat, did create a fairly greasy puddle. The celeriac puree added a nice depth of earthy flavour and there were token spears of grilled asparagus too.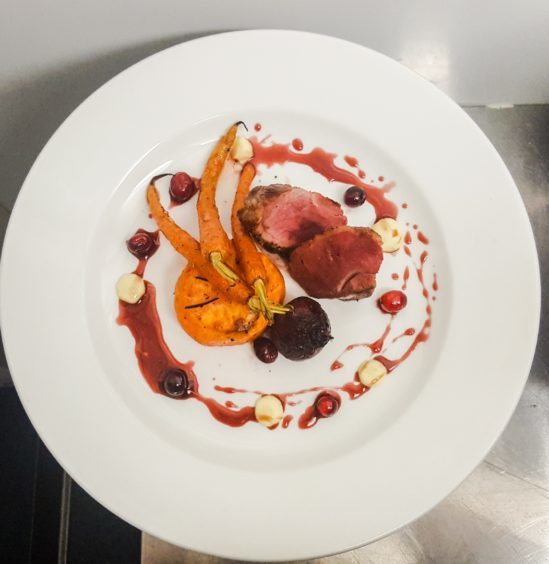 The dish was finished off with butternut squash fritters which had a nice, crunchy texture but not much flavour and the jug of honey and mustard just was fine. Overall this was a perfectly OK dish but not amazing.
Mr Kerry, on the other hand, had hit the jackpot. He had ordered the breast of chicken tikka which had been marinaded  long enough to allow the bright colours of the tikka to permeate the flesh, giving it a stunning appearance when cut. The bed of chickpea dhal it had been served on was incredibly tasty with complex spices, onion and tomato and a hint of chilli. It was accompanied with a cooling ramekin of minted yogurt and interestingly, haggis neeps and tattie pakoras. These were deep-fried cakes with familiar flavours which lent themselves perfectly to this otherwise Indian inspired dish. A real winner.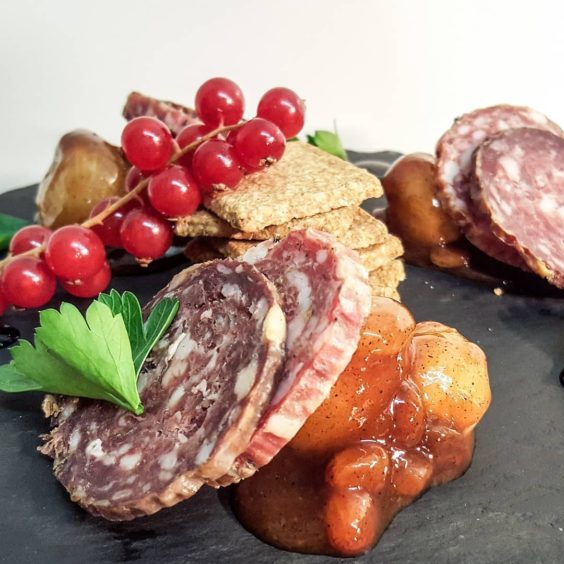 It was only as we sat eating lunch that we had time to notice all the lovely little details at the Inn. The basins in the bathrooms for example are made from bright, shiny copper pans atop thick chunky wooden slabs. Touches like this make all the difference and make a place a feast for the eyes as well as all the other senses. The music switched between upbeat modern Scottish instrumental music and more sedate Gaelic song, which I would imagine would be another hit with visitors both local and beyond.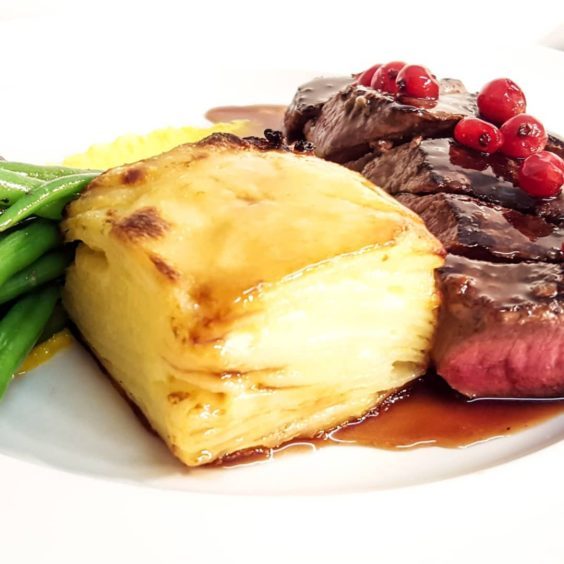 Although we didn't have dessert, we did wander through to the Inn's coffee shop, just on the other side of the wall, and gazed longingly at the cakes and tarts. We managed to resist but did take away a couple of lovely coffees so that we could venture back outside to watch the babbling water.
The Falls of Dochart Inn has it all.  The staff seem genuinely pleased to meet their customers and take an interest in their visit, the location is wonderful and the food wholesome and fresh. When topped with a few local ales, this is a place I will be returning to frequently.
Info
Price: Starters: £5.95 – £9.45; sandwiches: £9.50; main courses: £11.95 – £23.95; desserts: £6.95 – £8.95
Value: 7/10
Menu:  8/10
Atmosphere: 8/10
Service: 8/10
Food: 8/10
Total: 40/50
Info: Falls of Dochart Inn
Address: Gray Street, Killin, Perthshire, FK21 8SL
Tel: 01567 820270
Web: www.fallsofdochartinn.co.uk