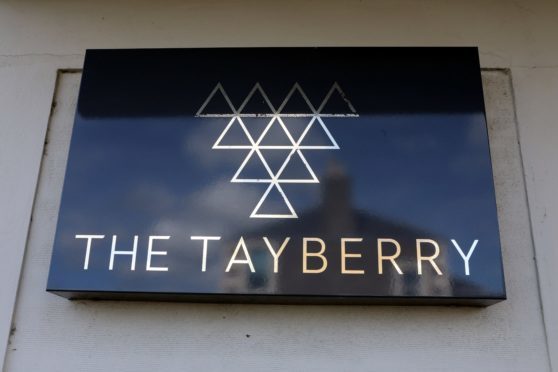 I have a very good friend who has never been particularly bothered by food. He eats to live, in contrast to me who lives to eat. Sure, he likes what he likes and cottage pie with bubbling cheese on the top is his favourite but taking him to somewhere offering "fine dining" would simply not be appreciated.
Sometimes in life, only a crisp sandwich will sate a desire, but this week, we had a hankering for something more refined, to appreciate the incredible talent and creativity that drives chefs to do what they do and so we headed to The Tayberry in Broughty Ferry for a sophisticated lunch.
This little seaside restaurant is not enclosed in a hotel or bunched up on a high street, it has its own space across from the beach with incredible views, especially from upstairs. As there are not too many tables, the atmosphere is modern, casually elegant and, when full, intimate.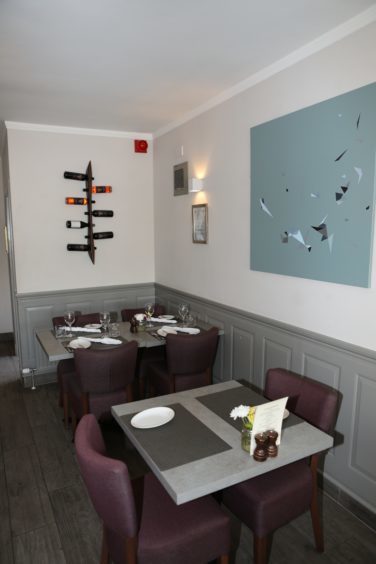 There is a set lunch menu and I loved reading it. I am in awe of chefs who can sit and use their passion and knowledge to invent different combinations of flavours and textures. There were so many dishes I would have liked to have tried and I suppose that's exactly what the tasting menu is for. I was surprised there was only one vegetarian option for each course but they all sounded amazing nevertheless.
The freshly baked bread arrived first which, on this particular day, was black pepper and fennel. The aniseed flavour was definite and delicious. Next, the amuse bouche of ham hock terrine with ceps was presented next and this was large enough to taste the many ingredients but small enough to leave us keen to taste what was coming next. An amuse bouche is a nice touch as it is another opportunity for the chef to showcase another set of skills.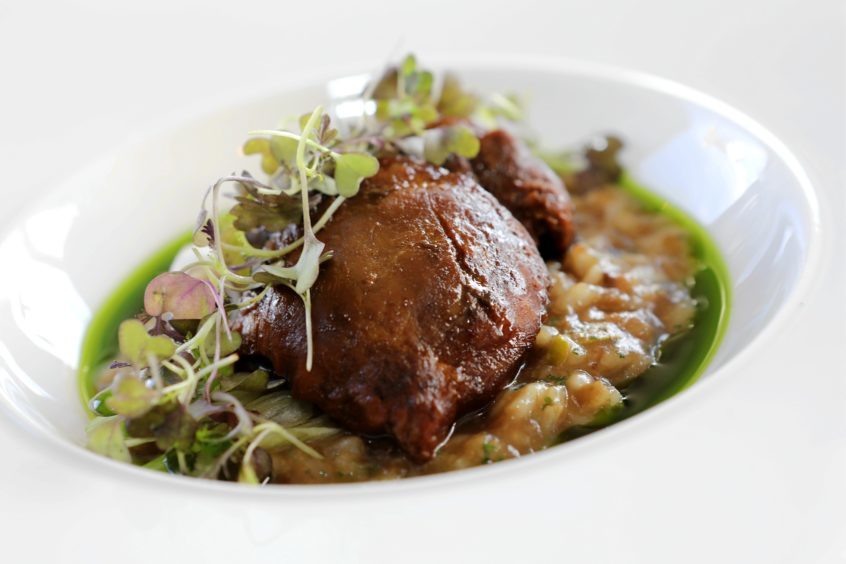 My starter of slow cooked pork cheeks with sweet onion risotto was sublime. The delicate discs of meat were so meltingly tender and slightly sticky on the outside. The risotto was sweet yet earthy and had been made with an incredibly rich stock. It was a substantial starter, which surprised me.
My guest chose the cheddar royale with pea velouté, which was sort of like a crustless quiche or a more dense soufflé. The mature cheese flavour was just pungent enough, yet the silky smooth texture enhanced the creaminess. The bright green velouté was frothy and light and sweet. This was another incredible starter.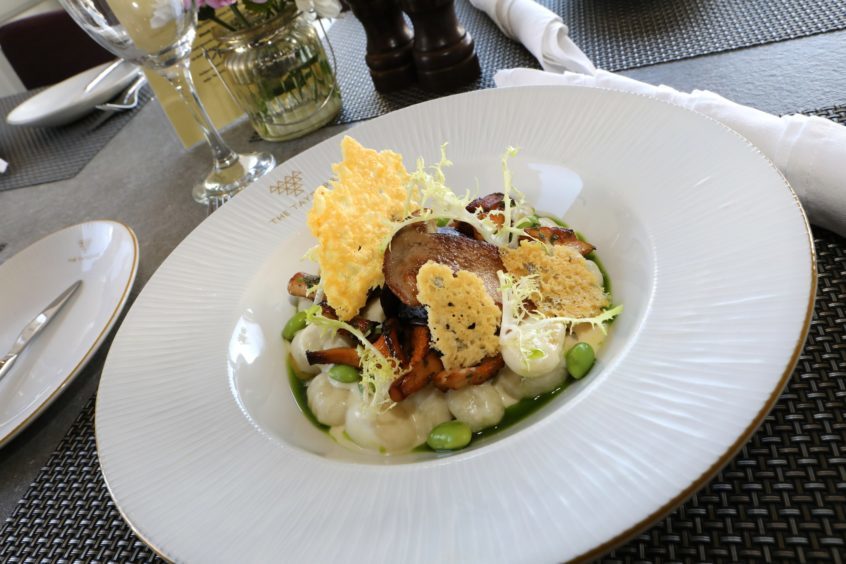 Up next for me was the sea bream which had been pan fried to perfection with addictively crispy skin. I tucked into with gusto. The bream came nestled atop an array of vegetables and pickled mussels in a broth which was incredibly tangy. The vegetables still had bite and I liked them but the fish was definitely the star of the show. The bit of the dish that confused me slightly was the mini nest of  noodles dressed in a creamy white remoulade type dressing, flecked with coriander  It seemed almost out of place on this dish but did add another component.
There are so many different elements and cooking methods that go into creating food of this standard and the time taken over each of them must be immense. My guest chose the gnocchi as his main course and, once again, a very attractive plate was presented.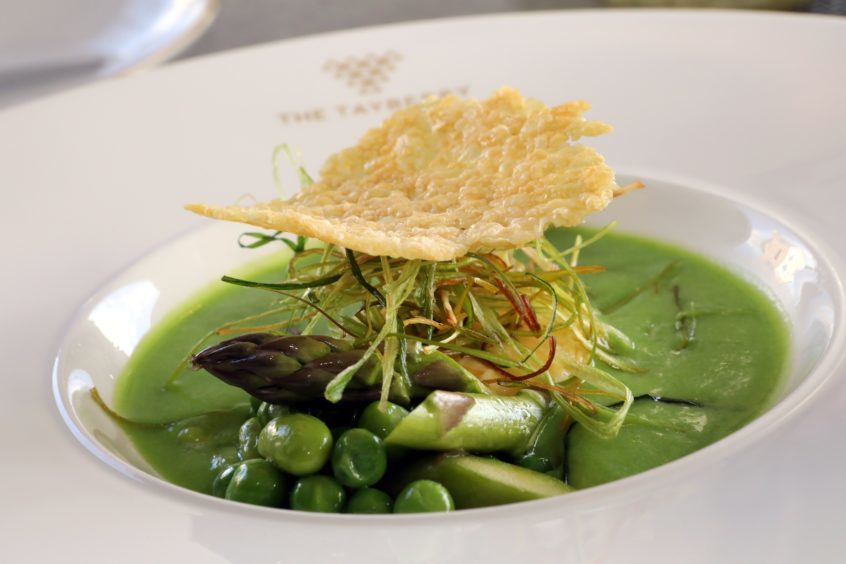 The neat little dumplings had been advertised as coming with goat's cheese and a cream sauce, which was then flecked with chunks of roasted beetroot and pan fried wild mushrooms. It was so pretty and looked incredibly inviting. I am a massive fan of  goat's cheese but it does have a powerful and sharp flavour and my friend found that the richness of the sauce, with the flavour of the cheese, made this dish too heavy for him to finish. He commented that he had really enjoyed the flavour but just a couple of forkfuls were fine as he knew the flavour would be the same throughout.
Fine dining often comes hand in hand with small portions and although the size of these dishes was elegant, there was certainly enough food and neither of us was able to finish all of it, let alone manage dessert.
Our lunch was enjoyable. The dining room was fairly quiet so we felt we had to keep our voices hushed but this was as much to do with the clientele on that particular day than anything. We were served by three members of staff, all with genuine smiles, but the service seemed impersonal and almost scripted. There was no chat, just straight down to business.
We are incredibly lucky to have such talented chefs in the area and Adam Newth, chef proprietor at The Tayberry, is the perfect example of a brave person with passion, taking a risk, going it alone and creating a little slice of luxury amongst the windy Broughty Ferry sand dunes.
Info
Price: 3 courses for £36; 5 course tasting menu: £55; 8 course tasting menu; £65
Value: 8/10
Menu:  8/10
Atmosphere: 7/10
Service: 7/10
Food: 8/10
Total: 38/50
Info: The Tayberry
Address: Brook Street, Broughty Ferry, Dundee, DD5 2EA
Tel: 01382 698280
Web: www.tayberryrestaurant.co.uk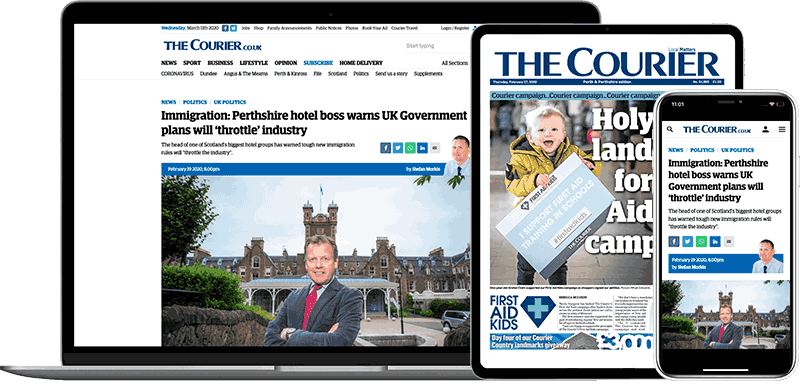 Help support quality local journalism … become a digital subscriber to The Courier
For as little as £5.99 a month you can access all of our content, including Premium articles.
Subscribe