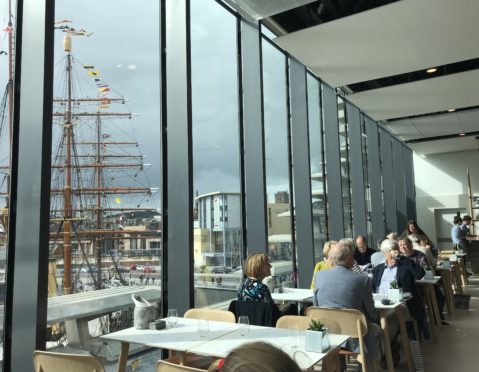 Michael Alexander and family enjoyed a taste of the Tatha Bar and Kitchen on the opening weekend of V&A Dundee.
Having been lucky enough to secure tickets in the ballot for the opening weekend of the V&A on Sunday, and having walked over the Tay from the Fife side of the bridge to enjoy the experience, my family and I had spent a couple of hours marvelling at the magnificent interior of the building and its exhibits when we decided on the spur of the moment that, since it was lunchtime, we should get something to eat.
It wasn't a sit down meal as such that was intended and, to be honest, a cup of coffee and a sandwich might have sufficed as far as I was concerned.
But given that the café on the ground floor was absolutely mobbed, we took the opportunity to grab a table in the slightly more upmarket Tatha Bar and Kitchen on the top floor of the museum – and it was an experience that was not to disappoint.
The Tatha – named after the Gaelic word for Tay – had actually caught our eye as we skirted it to head outside and admire the stunning views from the museum's west-facing external balcony.
Reminding me of the exhilaration the last time I stood on the back of a Calmac Ferry heading for Islay, the wind-swept and on this occasion slightly rain-swept balcony overlooking RRS Discovery and Discovery Point offers commanding views up the Tay towards the rail bridge – and in warmer drier weather it will undoubtedly be a great place to sit outside and enjoy a meal or drink.
However, after braving the elements, and seizing the moment to get a meal in the warm and dry, we headed back inside and grabbed one of the first empty tables we could find in the Tatha Bar and Kitchen – just inside the full length windows that offer similarly commanding views up the estuary.
Bright, busy and airy with a warm friendly atmosphere, we'd only been sat a moment when a young courteous staff member approached us and asked if we had a reservation. Apologising because we hadn't realised you needed one, she said it was fine – we didn't – but recommended in future that we might want to make one to secure a table (Day time bookings are available now with evening bookings available from September 27).
What followed wasn't a full meal on our part by any means. But it was an opportunity to sample the menu which claims to offer something for every time of day, from brunch to lunch to dinner.
After ordering coffee for us adults and juice for the children, I chose the chargrilled chicken bagel (£9.25) from the Brunchy/Lunchy menu that runs from 10am to 3pm.
The concoction of Puddledub bacon, avocado, fried egg and tomato with slaw and skin-on fries was a bit of a challenge to cut but it certainly hit the spot for a Sunday afternoon brunch.
My wife opted for cullen skink (£7) from the main menu – a replacement for the advertised Arbroath Smokie tart (£11.50) which must've been a best seller!
She said the soup was good, full of chunks of smoked haddock and had a good, creamy consistency.
It was accompanied by a warm bread roll and butter.
My 12-year-old son had the roasted red pepper and lentil soup (£5) which came in a generous portion, also with a warm fresh bread roll.
Meanwhile, my nine-year-old daughter chose the rosemary skin on fries (£3) from the sides menu. By all accounts they were delicious, covered in rosemary and sea salt flakes. Everything was served on stylish but understated tableware.
Throughout our lunch the staff were pleasant, courteous and efficient.
The coffee was strong and rich and 'pebble' chocolates delivered with the bill at the end of the meal were a nice touch.
The restaurant itself is worth the visit, even just for coffee, due to its position looking up the Tay towards the rail bridge and over the west of the city.
The huge glass windows are perfect for enjoying the view and despite the rain that had started outside there was almost a cosy, protective feel of being inside a ship looking out.
But looking at the menu – and given the wonderful setting – it's definitely a place we would consider going back to for a proper meal whether during another visit to the museum or simply for a meal in its own right.
The V&A website explains that their head chef operates a scratch kitchen which means that the dishes are created fresh each morning and the journey from farm to fork will be as short as possible.
They also cater for different dietary requirements and have a children's menu to refuel the wee ones.
The Tatha also prides itself on working with local suppliers including Dundee's own 71 Brewing. Suppliers from across the region include: Fisher and Donaldson, Simon Howie, George Campbell & Sons, Puddledub, Graham's Dairy and Jannetta's Ice Cream. It will also serve Dundee Gin and MacKays Marmalade.
Other options on the brunch and lunch menu include smoked Perthshire salmon royal (£8.50), an open breakfast burrito (£8) and a roast cauliflower flatbread (£8.75).
Other mains on offer include chargrilled Puddledub buffalo steak (£22) and crispy fried East Lothian chicken (£17.25)
A tapas style dinner can also be enjoyed by selecting multiple sharing plates.
For a relaxing drink after work, the dedicated bar serves cocktails, wine, beer and fizz along with a delicious array of light bites. From Thursday to Sunday, the restaurant and outside terrace will be open until late. We will certainly be back!
RATINGS
Brunchy/lunchy: £5 – £9.25
Starters/sharers: £5.75 – £20
Mains: £11.50 – £22
Dessert: £6 to £12
Value: 8/10
Menu: 8/10
Atmosphere: 9/10
Service: 9/10
Food: 9/10
Tatha Bar and Kitchen, V&A Dundee, 1 Riverside Esplanade, Dundee, DD1 4EZ, Tel: 01382 411611
W: https://www.vam.ac.uk/dundee/info/tatha-bar-and-kitchen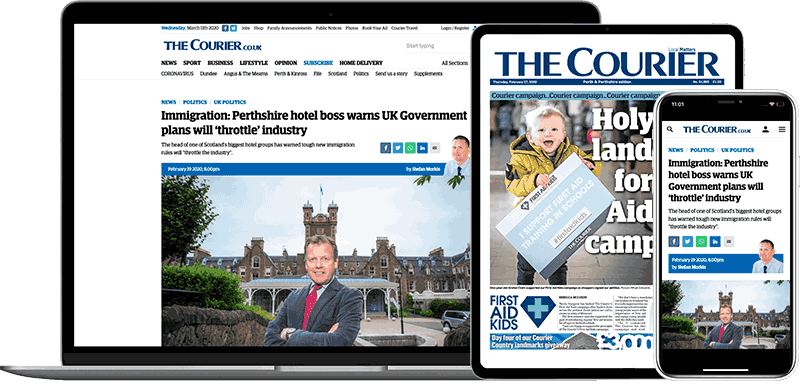 Help support quality local journalism … become a digital subscriber to The Courier
For as little as £5.99 a month you can access all of our content, including Premium articles.
Subscribe