Well, it's a hard job but somebody has to do it.
Eat at a Michelin-starred restaurant, I mean. I last ate here about five years ago, before the coveted star was awarded to chef-owner Billy Boyter's East Neuk operation and it has obviously gone from strength to strength.
I have to say at the outset that I found it very difficult to mark this place down on anything. Just on the "nobody's perfect" principle, I have found a few points to shave off here and there but I will admit to you now that it was nit-picking. You don't often find food, ambience and service as good as this.
The lunch at The Cellar, which is done out in tones of subtle grey, complete with slender silver birch trunks forming a partition between the cosy bar and the stylish, comfortable restaurant, comes in the form of a tasting menu. You can opt to study it or keep it as a surprise, as each course is explained as it's served.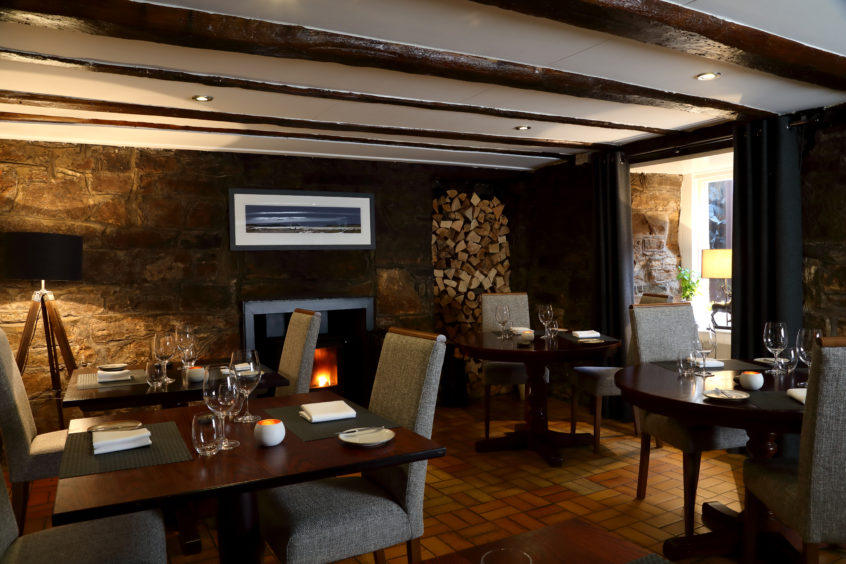 A canape of smoked Argyll mussel cream with fresh dabberlock, pickled gherkin and lemon zest, encased in a cylindrical crispy potato wrapping, came served in a box lined with sea shells and little stones, like a mini shoreline. Small but perfectly formed, it punched way above its weight in terms of taste and texture.
And dabberlock? A kind of seaweed rather than the monstrous construction of a fevered imagination (thank you Lewis Carroll's Jabberwock) and very tasty it was too.
Next, as an extra, came warm sourdough bread with whipped onion butter. God, it was good. More bread was also offered throughout the meal.
Ox tongue – perhaps not everyone's cup of meat but more than worthy of its place here – came with 36-month matured Parmesan cream that packed a wonderful punch, bedded on little chunks of meat that were crispy on the outside and melting in the middle. Another element was tri-boiled potato (I don't know how you could be bothered tri-boiling potato but the texture and smoothness it achieved here was worth the time and effort), topped with Wiltshire truffle shavings and bright green chive oil. It was rich, strongly-flavoured and fabulous.
The next course, initially, looked rather similar, partly because of the use of the brilliantly coloured herb oil. Aura potato, Arbroath smokie, crowdie and lovage were garnished with herring roe and seaweed gel. Now, gels and foams are part of the "fine-dining" experience that has never really convinced me but this combination of land and sea worked so well.
The meat course was venison, served pink. The perfectly cooked centrepiece came surrounded by densely-flavoured meat juice, barbecued kohlrabi (a cousin of cabbage) topped with crunchy, tangy mustard seeds, wilted cavolo nero, a circle of black pudding cream and dots of rosehip gel. These were wonderful ideas, the flavours and freshness coming right through to complement the rich venison perfectly.
We decided to forego the optional cheeseboard at £12 a pop but there were two puddings which reminded me of my late father, who used to describe anything particularly wonderful as "the two puddings!"
The first was hay cream, a kind of toasty panna cotta with green apple, rhubarb ice and decorative pansy flowers. Light and lovely. The main event, served in a dark pottery dish like an upturned hat as worn by the Sandeman port man (remember him?), was sensational. Toasted barley, chocolate sorbet with bramble jelly and fresh brambles, hazelnut crumbs and hints of lemon thyme were topped by a thin, crispy, light-as-air disc of pastry adding a slightly salty edge (maybe why I liked it so much), decorated with tiny dots of red gel and green leaves. Attention to detail? Second to none.
We didn't have the matching wine flight (£32) – I was driving and I draw the line at that level of self-sacrifice – but Himself enjoyed an Eden Mill g&t (£5.50) and a very good glass of Rioja (£8). When we go back – and note I say when – the car is staying resolutely at home as the accompanying wines were put in perfect context by the young sommelier. Service here is top class, with staff charming and well-informed.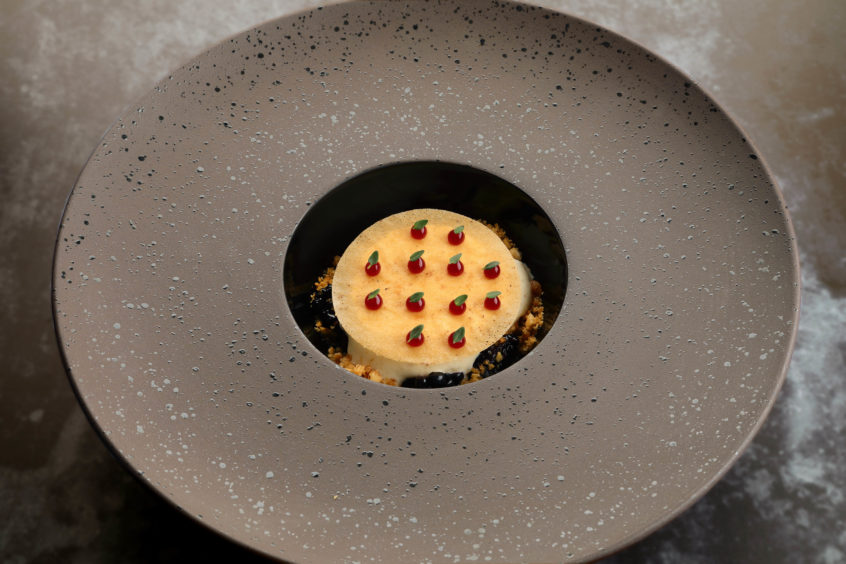 A couple of good coffees – an espresso and an Americano – came with three petits fours, if you can have three fours, but you know what I mean. Salted cinnamon fudge was served in a little box filled with cinnamon sticks, plus a whisky and orange chocolate truffle and a pineapple sugar jelly – a steal at £7 for the lot.
Fine dining isn't for everyone and if you like large, hearty helpings I suppose you could argue that you might get better value for money. But not when you consider the flavours, the balance, the style and skill involved here. It's the imagination that gets me – and the way that imagination is executed on the plate.
Himself hit the nail on the head. "Spectacular" was his verdict. I couldn't have put it better myself.
The Cellar Restaurant
Address: 24 East Green, Anstruther, Fife KY10 3AA
t: 01333 310378
w: www.thecellarrestaurant.co.uk
Price: lunch tasting menu £40 per head; dinner tasting menu £70 per head
Value: 9/10
Menu:  9/10
Atmosphere:  9/10
Service: 10/10
Food: 10/10
Total: 47/50