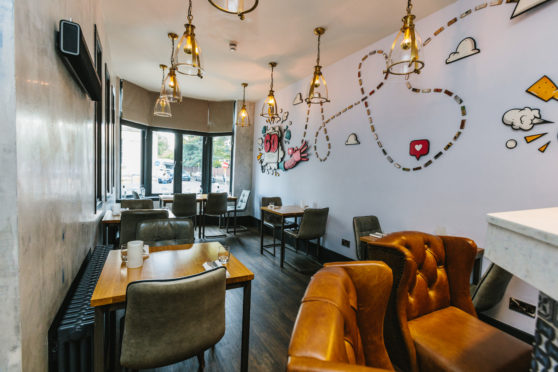 Haar has received a succession of glowing reviews since it opened in April this year – not least in this paper where it scored a remarkable 49/50 just after the fog had lifted enough to peer in the door.
Inside was a new interior (a bit nondescript/safe for food this interesting, in truth), including a long chef's table where you and your gang can watch your food being cooked.
Coupled with the fact that the website promises an almost life-changing experience ("a sensory experience like no other – Haar will stimulate all your senses as you dine" – ooh er missus!), then that sixth sense – of expectation – was pretty monumental. Everyone seemed to know Dean Banks's story courtesy of a very good series of MasterChef: The Professionals – and what an emotional story him reaching the final was.
Haar is an odd name for a restaurant, but I like it; when we visited it was one of those bright end of summer days that makes St Andrews shimmer – a mile away from the obvious Scandi grey gloom that the name Haar conjures up. But I enjoy the connotations and, as someone who cut his adolescent Gothic fangs on Ingmar Bergman films and Velvet Underground drones, Haar is living proof that sometimes down really can be up.
The food is great, some of the best I've eaten in Scotland in recent years.
We had determined to see if we could eat here on a budget because one of the annoying things about local fine-dining is the insistence on compulsory tasting menus. I don't always want the chef to decide what I eat and I certainly don't always want the pomp and circumstance of 10 courses, each with a lengthy preamble about provenance and intent.
Sometimes you just want something good to eat and you don't want to be there for hour after laborious hour as some beleaguered waiter frantically tries to remember where the berries were foraged.
Of course, they do have a tasting menu here (£75) and it rightly features many of the dishes that won Banks so much praise on MasterChef; even if he was tired of cooking them by now then it would be commercial folly to drop them, although I hear there are plans to introduce a second tasting menu with new dishes to run in tandem with the signature classics.
But we went for the three-course lunch menu (£23.95) which is such a steal we all left feeling  like kleptomaniacs. Everything we had (including, unusually for Tayside, some excellent vegetarian options) was ace and it's good to see that there is no compromise on ingredients and preparation with the set menu, which offers three choices of starters and main and two desserts.
Even the language is pared down here and I welcome this – some menus read like an extended dissertation on marine conservation and provenance these days when all you really want to see are the words "mackerel, wasabi, pea". Which is exactly what I saw here.
What you get with much of the food at Haar is a delightful surprise. When I ordered the mackerel I was asked if I wanted it raw or grilled, which shows a very good understanding of the vagaries and personal taste of the customer. I personally always want food prepared the way the chef chooses, so I had it raw; when it arrived it made me smile and, trust me, my life isn't yet so dreary that a piece of raw fish normally inspires hilarity. The slices of spanking fresh fish had been assembled in the shape of the body of…. a fish, with the tail made from the wasabi and pea puree. It was playful, clever, simple and delicious – so subtle  that the accompanying soy dip seemed overpowering and unnecessary.
My sister had the Fife pork belly with kimchee puree which showed a masterful understanding of the alchemy of food – and was again a picture on a plate. David had beetroot and goats cheese, simple ingredients that came together to create harmony from the classic juxtaposition of earthy and sharp, hard and soft.
We ordered one of each of the main courses and all were wonderful; Scottish grass- fed beef with Asian salad let the true flavour of the rare beef shine through but the sharpness of the salad made it sing a more complex note, whilst the cod with Goan curry was perfectly cooked and spiced/ seasoned to absolute perfection. The miso aubergine with rice noodle salad was a joy, the depth of the classic pairing of miso and aubergine cut through with the zest and zing of the noodle salad, all enhanced with the inspired addition of fennel.
I have to now confess that gluttony made us order some extra dishes from the a la carte menu and these were too great not to mention: spiced octopus with citrus barley and burnt tomato (£14) was a triumph, a complex amalgamation of very clean flavours, only suffering from the paucity of octopus – one small tentacle is not enough!
Theatre comes to the table with the smoking Arbroath smokie (£14), a nod to the chef's birthplace and a bit of a showstopper starter which involves a glass cloche being removed to allow the wonderful smell of Arbroath to escape. What is left to eat is the silkiest Cullen skink mousse with flakes of delectable smokie and an essence which transports you to a seaside smokehouse. Great stuff! A bowl of incredible seaweed potatoes (£5.50) is a necessary accompaniment – to everything. Bread and local butter(£4.50) were superlative.
Desserts were banoffee(a Banks classic) for Elaine and David and strawberries and custard for me. Mine was one of the prettiest and best tasting desserts ever – the local strawberries set on a bed of ambrosial lemon custard, together with honeycomb from the gods.
If I stayed quiet whilst I ate mine, my sister's face when she ate her brilliantly deconstructed banoffee was a picture;  I swear her eyes rolled back inside her head when she ate the accompanying chocolate bonbon which contained an amazing banana liqueur. When David suddenly started making strange noises as he ate his it was like when Haary Met Sally, albeit  transported from the Lower East Side of New York to St Andrews.
I have nothing but praise for the food at Haar and also it was great to see Dean Banks himself in the kitchen. This is a masterclass in the art of casual fine dining.
However, what they do need to tighten up is the service, which is charming but a bit untogether – although we had a booking the guy at the desk seemed startled to see us (it was 12.30pm on a Friday so customers should have been expected), our wine order was forgotten so that we had an entire course without wine, then wine came in the largest measures without those being requested, the table was never wiped clean between courses and someone took a mop to parts of the floor whilst we were sitting nearby. These are all minor things, easily rectified but important.
Very minor gripes aside, my London-based chef sister pronounced this the best food she had ever eaten in Scotland and I know I will be testing out whether I agree with her by visiting Haar many more times in the coming years. This is simply a very, very good restaurant run by a brilliant chef and a really important addition to Tayside dining.
Haar
127 North St
St Andrews
KY16 9AG
t: 01334 473387
Prices: three-course lunch menu served weekdays £23.95; tasting menu £75; starters from £12; mains from £20; desserts from £8.50.
Value: 9/10
Menu: 10/10
Atmosphere: 7/10
Service: 7/10
Food: 10/10
Total: 43/50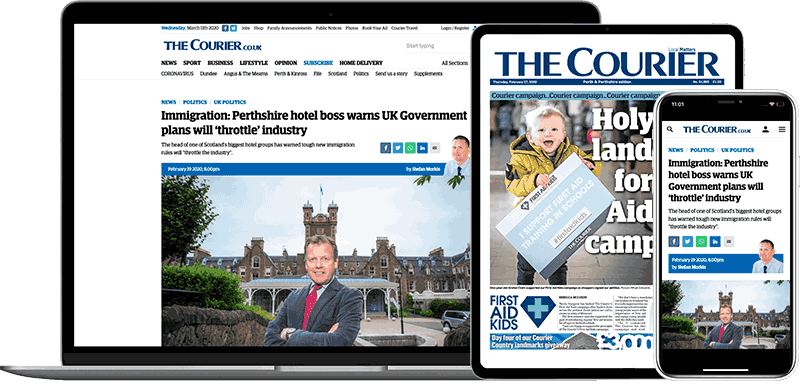 Help support quality local journalism … become a digital subscriber to The Courier
For as little as £5.99 a month you can access all of our content, including Premium articles.
Subscribe