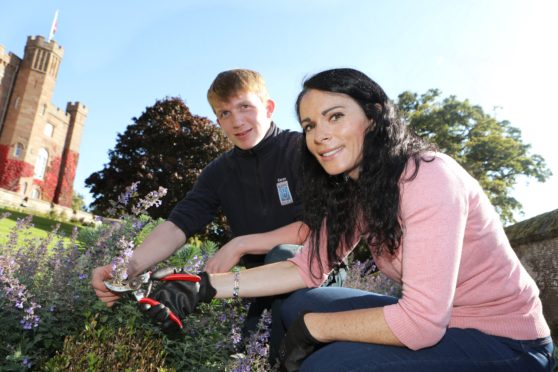 Fancy volunteering in the stunning gardens and grounds of Scone Castle? Gayle gets stuck in, and finds there's no shortage of jobs to do – all year round!
"I know I'm a plant geek," grins Brian Cunningham, handing me a pair of secateurs and inviting me to deadhead a dahlia.
"I get a real buzz out of seeing a tree, plant or flower grow and prosper."
Brian, a regular presenter on BBC's Beechgrove Garden, has been head gardener at Scone Palace since 2012. It's a job he considers himself extremely privileged to have.
As well as managing a team of gardening staff, he looks after a group of volunteers – all willing to give up their free time to get stuck into the serious (but fun) business of looking after the garden and its extensive grounds.
Brian has also just taken on a budding young apprentice, 18-year-old Kieran Bruce, to help out.
"People often say to me: 'you won't have much to do in winter', or 'there can't be anything to do in the garden',' but that's a load of old rubbish – it's one of the busiest times of year," laughs Brian, lopping down a sprawling sprig of catmint and giving it a sniff.
"There's masses to do all year round but now, going on into the colder months, is the perfect time for doing tree work, making beds, pruning and maintenance work.
"In January, we do rhoddie clearing and bashing – cutting down rhododendrons and burning them, which everyone loves. We get a big bonfire on the go and bake tatties!"
When I visit, Brian and his team are prepping the grounds for the annual Spirits of Scone event – a frightfest which boldly bills itself as "Scotland's scariest Halloween attraction where nightmares come true".
Brian recruited Kieran, who originally trained as a joiner, to help out on the estate in summer and was so impressed with his skills – in both joinery and gardening – that he took him on formally as an apprentice, via the Rural Skills Scotland Apprentice Scheme, last month.
"It's nice to be able to teach the next generation at Scone Palace," says Brian. "Kieran has an amazing career in gardening ahead of him.
"He has a good eye for detail and takes pride in what he does. We've got some old trees that came down in storms and Kieran is turning them into benches for the gardens. They'll be stunning."
Moving into the kitchen garden, Brian says his heart "skips a beat".
"A year ago, this area was just soil. Look at it now," he says, pointing to the vast array of colourful plants, flowers and vegetables before him.
"Kieran has done a grand job of helping to smarten it all up."
Kieran's apprenticeship is now something he has in common with one of the world's most famous botanists and plant hunters, David Douglas, who worked for seven years as an apprentice to William Beattie, the then head gardener at Scone Palace in the early 1800s.
In the grounds today is a magnificent Douglas fir, raised from the original seed Douglas sent back from America in 1827.
"More than 300 plants were either discovered, introduced or named by Douglas," says Brian.
"However, he died a gory death! He went to investigate a boar pit (a trap for wild boar), fell in and was gored to death by a boar!"
Tragic tales aside, Scone Palace, is, says Brian, a fantastic environment to get started in the horticulture industry.
Over autumn and winter, alongside gardening staff, volunteers can expect to help out with jobs including tidying, repair and maintenance work, mulching, pruning shrubs and fruit trees, painting, grass cutting, weeding, collecting fallen leaves, rhoddie bashing and much more.
"The whole industry relies on volunteers and with 100 acres of grounds here, plus trees and designed landscape, volunteers are totally invaluable," says Brian.
"They've done so much this year, from sowing seeds to creating raised beds and edging, planting vegetables, creating paths, and redeveloping the walled and kitchen gardens. Volunteering gives you a hands-on experience you can't beat, and we're always on the lookout for more.
"We'd ask to you commit to a minimum of a few hours a week but we're grateful to anyone willing to come and share our vision and help us to achieve the goals of the garden."
Gardening, while getting you out into the fresh air and giving you some exercise, can improve mood and mental health.
"Doctors often prescribe working in a garden," says Brian.
"That's because gardening is good for your health and wellbeing and you get a real boost seeing plants flourish.
"You learn new skills, meet new people and get to have a laugh with a bunch of gardeners."
Still need an incentive to sign up as a volunteer at Scone Palace? Brian promises you'll be treated to soup and scones in the cafe!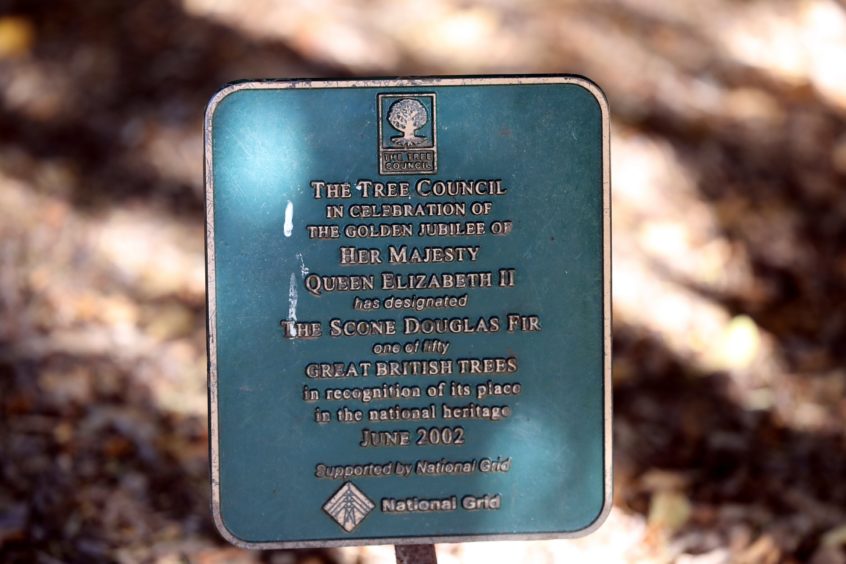 info
Volunteers at Scone range from retired people to students keen to get work experience but anyone is welcome.
For more information about volunteering, email Brian at brian.cunningham@scone-palace.co.uk or contact 01738 552300.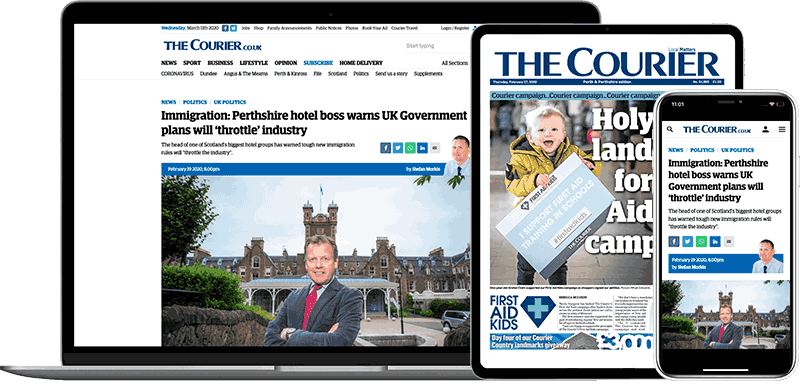 Help support quality local journalism … become a digital subscriber to The Courier
For as little as £5.99 a month you can access all of our content, including Premium articles.
Subscribe