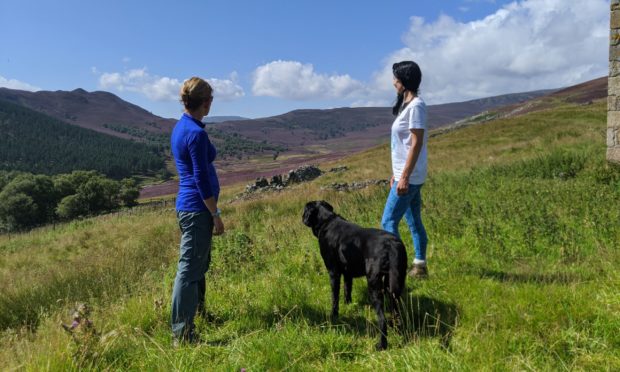 Gayle explores an abandoned "ferm toun" in Glen Fearder during a guided walk with Braemar Highland Experience.
It's a sunny Friday afternoon and I'm enjoying a wee dram and picnic while absorbing stunning views across a heather-cloaked valley to the towering peaks of Lochnagar.
There are multiple words I could use to describe this magical experience, but one comes to mind – bliss.
The whisky and nosh are treats courtesy of my walking guides Katy and Julian Fennema of Braemar Highland Experience.
The three of us have walked two rather sweaty miles up glorious Glen Fearder to reach the deserted settlement of Auchtavan – a rare example of a surviving traditional Highland clachan or "ferm toun".
It was once one of three busy townships in the glen, near Crathie on the Invercauld Estate, but was abandoned at the end of the 19th century, with inhabitants emigrating to the likes of Canada, America, Australia and New Zealand.
The land here – and it's absolutely breathtakingly beautiful – was farmed for around 250 years.
William and Margory McHardy were the last to leave in 1861 but a shepherd named Jock Esson eked out a basic existence at Auchtavan right up until the 1930s.
While piles of stones are the only remains of two nearby farming villages, Ratlich and Loin, Braemar Community Ltd restored two buildings in Auchtavan in 2008, and a visit here will transport you right back in time.
There's the "hingin' lum cottage", which boasts a suspended wooden chimney, and a horse mill complete with cobbles and "cruck frames" – tree trunks used to support the heather thatch.
And then there's the late Queen Mother's picnic cottage, the former home of the last farmer at Auchtavan, acquired by Braemar Community Ltd in 2010.
"Auchtavan is Gaelic for 'field of the kids'. This alludes to the fact that traditionally, the rent paid for the land to the laird of Invercauld was two young goats," explains Katy, offering me a second dram.
"It was a difficult landscape to cultivate and most people lived in blackhouses, which, quite literally, were black inside because there was no chimney for the smoke to escape through.
"Small settlements like Auchtavan were home to many families in the centuries before the industrial revolution.
"Most have crumbled and disappeared, leaving only a scattering of stones as a reminder."
Auchtavan, however, was spared and today, in 2020, it represents a way of life that's long gone.
Katy and Julian are brilliant guides who know the area like the back of their hands.
The couple, who met in Edinburgh, ditched their careers to set up Braemar Highland Experience in 2014.
For Katy, a Braemar native and former oboe player with the Royal Scottish National Orchestra, it was a case of embracing her roots; Braemar is and always will be in her blood. And it was a move that former academic Julian was more than happy to make.
They're the perfect couple for the job – super-friendly, brimming with enthusiasm, and keen to share fascinating facts about the land and its people.
Their stories of illicit stills, the grave of a 12-foot man, of "ringing stones" and tales of midnight rescue missions (Julian's a member of Braemar Mountain Rescue), are guaranteed to bring a smile or raise an eyebrow.
And their expert knowledge of whisky – we taste a gorgeous Royal Lochnagar and a Benromach at a picnic table – is second to none.
It's no surprise that they know the flora and fauna of Royal Deeside inside out.
"Make sure you camp near bog myrtle!" advises Katy, pointing out the aromatic flowering plant which grows in the glen in joyful abundance.
"It's a fantastic midge repellent!"
She also tells me how spaghnum moss was an ideal dressing for soldiers' wounds during the First World War, identifies "witch's broom" – a deformity on birch trees caused by a fungus attack – and "razor strop", a bracket fungus which is a favourite with scouts and used for sharpening knives.
"There was a superstition that a fire should never go out in your house so when people moved, they used a chunk of razor strop like a small bowl and carried the embers of some of the fire in it," she explains.
While I'm enjoying my dram, Julian playfully demonstrates how to make the wick of a "rush light" – a type of candle formed by soaking the dried pith of the rush plant in fat or grease. Who knew!
A few hundred metres down the glen from Auchtavan, an old lime kiln is built into the hillside.
Limestone was burned in the kiln to create a powder used to improve soil fertility – essential here, in such a difficult, barren, agricultural environment.
As I examine the remains of the kiln, Katy asks me if I notice anything strange about the landscape around us.
Indeed, while vast swathes of purple heather dominate the area, none grows here.
"That's because even though lime was put down hundreds of years ago, to change the acidity of the soil and make it more alkaline, it's still here in the ground, doing its job," she explains.
Certainly, the glen is full of hidden treasures, all waiting to be discovered.
But unless you know where to look, chances are, you might miss them, or you won't know the stories behind them.
That's why it's a great idea to go exploring with Katy and Julian – they'll be able to point you in the right direction and pick out fascinating features.
As someone who believed they "knew" Deeside pretty well, having holidayed and day-tripped in and around the area for decades, I was surprised how much I learned in just a few hours.
That's thanks to Katy and Julian.
The icing on the cake? The whisky picnic with the stupendous view!
Info
Auchtavan is around six miles north east of Braemar. The horse mill is permanently open while the Queen Mother's picnic cottage and the "hingin' lum cottage" opened to the public several times a year.
Braemar Highland Experience (BHE) is run by Katy and Julian Fennema. The couple's aim is to show the landscape through a local's eye and share their passion for the history, culture and wildlife of the area. BHE runs on-road tours, both locally and further afield, offroad safari tours, guided walking and whisky tastings.
Guided walks are at lower levels as well as to the summits – Katy and Julian are qualified mountain guides, and so able to do both. A lower level walk tends to look at the flora and fauna, history and folklore.
Tours are bespoke and range in price. For more details, see bhe.scot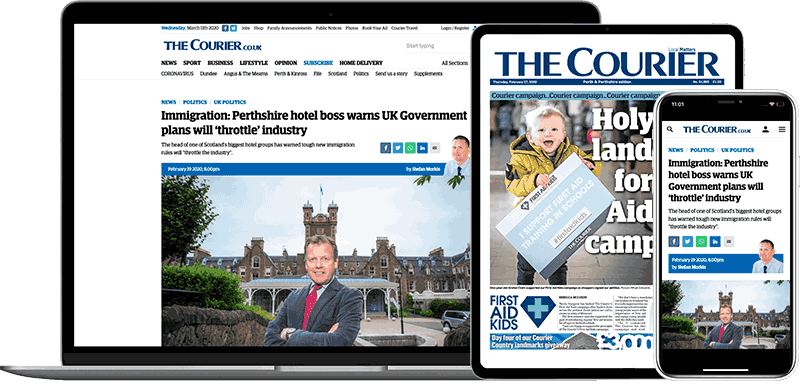 Help support quality local journalism … become a digital subscriber to The Courier
For as little as £5.99 a month you can access all of our content, including Premium articles.
Subscribe