Hill of Wirren occupies the high ground between Glen Lethnot and Glen Esk and is most commonly tackled from the former, either from the hamlet of Bridgend or from further up the single-track road that runs through the sparsely populated valley.
However, the peak can also be approached from the Esk side, a strenuous upland circuit taking in a handful of other tops along the way, all lying deep within the grouse shooting country of Millden Estate.
However, with the start of the season (August 12 to December 10) some months off, this is a good time to explore a less well walked area of the Angus glens.
Setting off from a small parking area just west of Millden Lodge, I tramped up the glen road, branching left on to a track leading to Keenie. The way drops through woodland to cross the River North Esk by a sturdy bridge spanning rocky pools before looping up to an information board extolling the virtues of land management.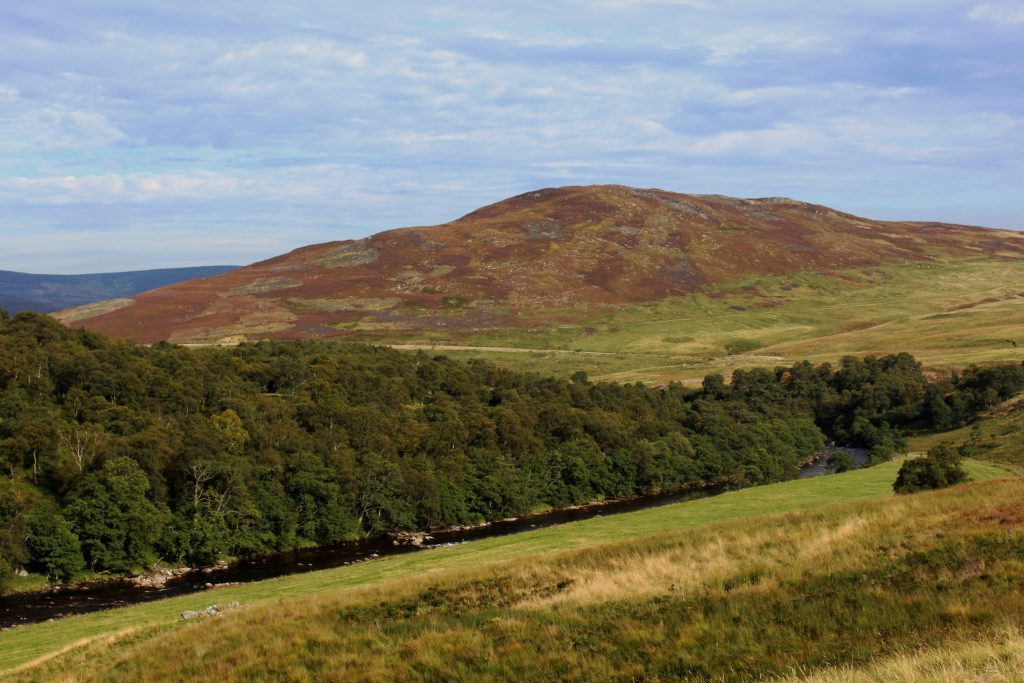 Extending to almost 20,000 acres, the estate has a long history of grouse shooting, breaking records back in the 1930s for the numbers of birds bagged. In common with many Scottish moors it witnessed a decline in grouse numbers in the 1980s and 90s, a trend that has since been reversed.
Forking left, the track rises through a cleft below Craig of Dalhastnie on to the heather-clad northern flank of Bulg, my first top of the day.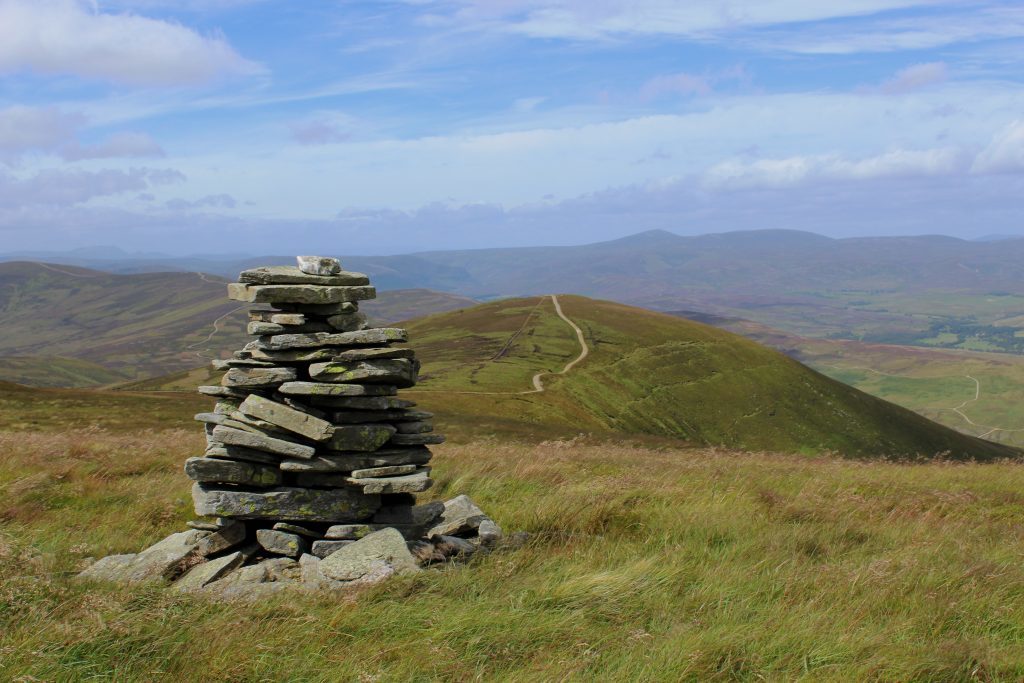 A rougher road running parallel with a fence and a line of grouse butts presents a strenuous if direct route to the summit, a substantial cairn and stone windbreak capping the shapely dome.
Hunkering down to escape a stiff breeze, I enjoyed an extensive vista over the Angus lowlands towards the distant waters of the North Sea from this elevated viewpoint. To the west, the blue ribbon of the River North Esk drew my eyes up Glen Esk towards the prominent cone of Mount Keen, the most easterly of Scotland's Munros.
Progressing on to neighbouring Craigangower, I took an equally direct line, staying with the fence as I descended into the Slack of Forbie col, picking my way down through rocky outcrops and strands of abandoned fence wire, before embarking upon another leg-sapping climb.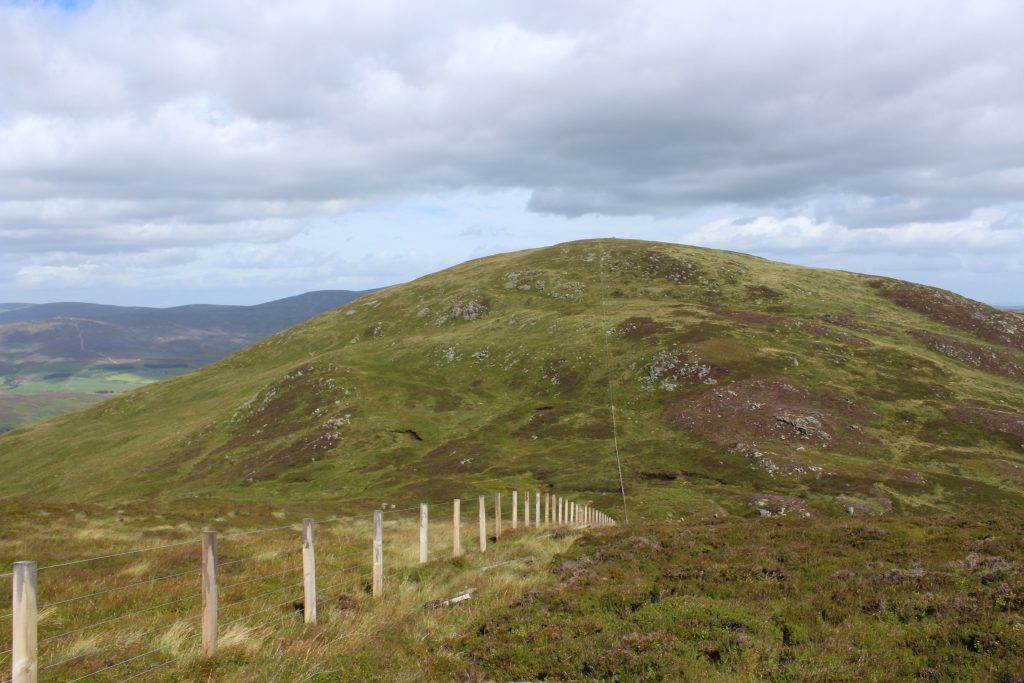 Thankfully, once atop Craigangower, the hike becomes less demanding, a high-level track (dual carriageway at one point) scaling the eastern shoulder of Hill of Wirren, the occasional noisy eruption of grouse from the flanking moorland keeping me on my toes.
The trig point atop Hill of Wirren sits off the gravel road, mired in a maze of springy black peat hags and fences which, with the ground relatively dry, proved straight-forward enough to negotiate.
Back on the track, I followed it on to neighbouring West Wirren, a well-defined outlier and the point from which I began my drop through grass and heather into the valley below.
There is no path here but a line of grouse butts met part way down the slope guided me on to a track below.
After fording Burn of Keenie by an old wooden hut, this continued over rough pasture, passing through the ruins of an old settlement, and then by woodland to Keenie Farm from where, with the river below me, I hiked track then road back to Millden Lodge.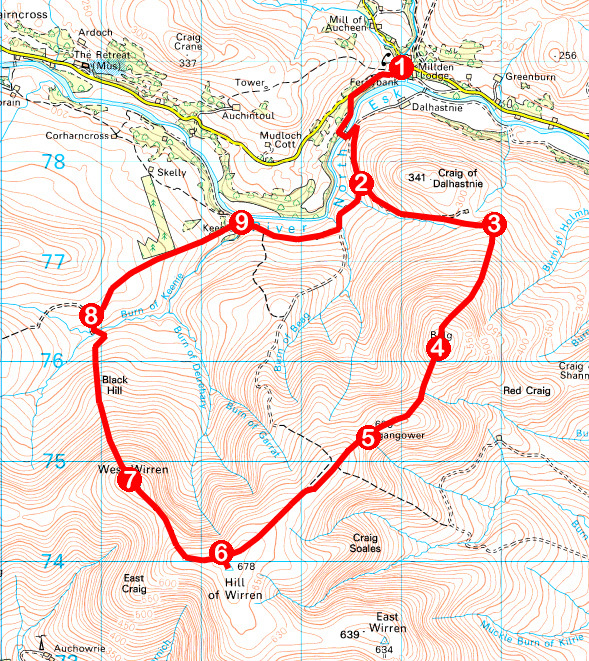 ROUTE
1. Walk 500m up road then go left, descending track to cross bridge. Turn left, then go right, ascending to fork.
2. Bear left, ascending track through gate to junction. Continue ahead, through gate, to highest point of track.
3. Branch right on rough track rising steeply by fence to summit of Bulg.
4. Descend south along fence line into col then climb by fence line to summit of Craigangower.
5. Join track and follow it south-west along ridge to a pair of gates. Go through gates and continue ahead, towards Hill of Wirren summit.
6. Detour left along fence line to trig point then return to track and follow it to summit of West Wirren.
7. Descend north to top of grouse butt line, continue down by butts then track to base of glen. Cross Burn of Keenie and ascend to track junction.
8. Turn right on track to Keenie Farm.
9. Below Keenie Farm, turn right to re-join outward route.
INFORMATION
Distance: 16km/10 miles
Ascent: 780m/2570ft
Time: 5-6 hours
Grading: Challenging upland hike with strenuous ascent, suitable for fit, experienced hillwalkers. Go equipped for all conditions and keep dogs under close control to protect sheep and game birds
Start/finish: Small car park by BT phone box at Millden Bridge, Glen Esk (Grid ref: NO 540789)
Map: Ordnance Survey 1:50,000 Landranger sheet 44; Ordnance Survey 1:25,000 Explorer sheet 395
Tourist Information: Gateway to the Glens Museum, 32 High Street, Kirriemuir DD8 4BB (Tel 01575 575479)
Public transport: Term time weekday school bus services from Edzell are available to the public