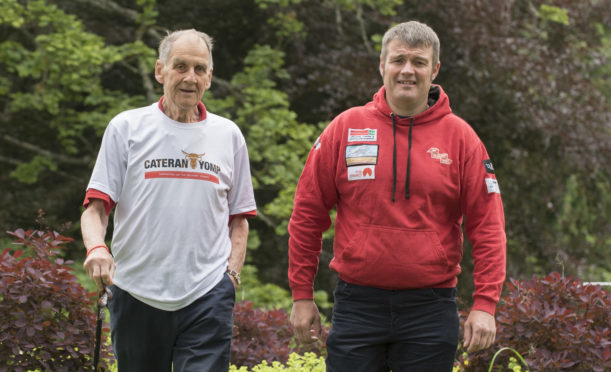 An octogenatrian army veteran who has battled prostate cancer and is recovering from heart surgery is the oldest person tackling today's gruelling Cateran Yomp.
Major Andrew Wedderburn, 84, will join sons Dominic and Patrick, for 22 miles of the endurance challenge across the foothills of the Cairngorms.
Ahead of the event, Andrew and his seven-strong team – which features Yomp 2018 ambassador Les Binns – visited Balhousie Castle in Perth, home of The Black Watch, to reminisce about his time served with the regiment.
Born in St Andrews, Andrew returned to Scotland from France where he now lives, to take part in the Yomp.
He decided to sign up after reading about the event in The Courier.
"After heart surgery, I was advised to walk, and so I walk for two to three hours a day," he said.
"While my sons tried to convince me to act as support for Yompers, I was determined to walk myself.
"I'm pretty sure I'll manage it. I'm doing the 22 mile route and while I may be tempted to go further, I promised my wife I'd limit it to that. It's a magical part of the country so I'm really looking forward to it."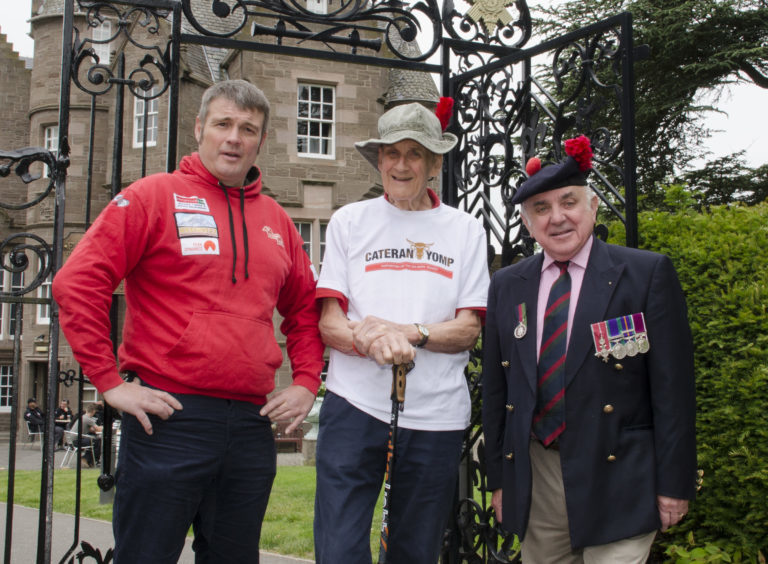 The Yomp raises funds for ABF The Soldiers' Charity – a charity important to Andrew and his family, with both his father and son also serving in The Black Watch.
Andrew's son Dominic, 44, said: "It's a privilege to be doing this walk with dad
"He's in great shape and really focused. My priority is to make sure he finishes safely."
There are 1,019 people signed up for this year's Yomp and ambassador Les, who completed the 54-mile route in 2017, is doing the 22-mile route before going on to spur on those continuing to the gold finish line.
Les joined the Army in 1997 and served on many operational tours in Bosnia, Iraq and Afghanistan. After being medically discharged, Les turned to ABF The Soldiers' Charity for help to retrain and start civilian life.
He then attempted to conquer Mount Everest in May 2016 but just before reaching the summit, he selflessly turned around to save a climber who was sliding towards almost certain death.
Les said: "I've taken up many challenges, but the Cateran Yomp is up there with the best.
"However, I learned my lesson last year. It was 10 days after my second Everest attempt and I went off like a bullet.
"I got to about 30 miles and I was completely done. It was immense getting my gold medal at the end, but I was too exhausted to enjoy my glass of prosecco.
"Everyone is doing this for a great cause, so my advice would be to take it steady and enjoy the scenery and the banter.
Tom Cuff-Burnett of the Soldiers' Charity, added: "It's great to see 1,1019 people signed up for this year's Yomp.
"It's fantastic to see Major Wedderburn, at 84, among them. It shows the Yomp is for anyone and everyone…if you think you're tough enough."