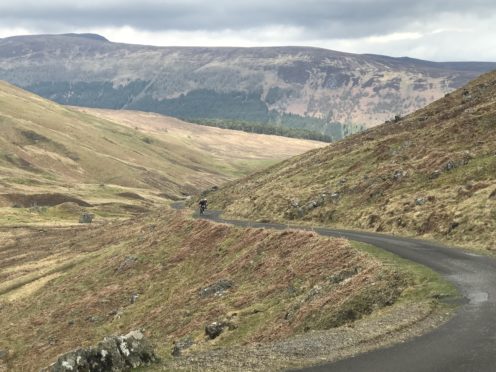 The wide and scenic A827 runs along the northern shore of Loch Tay. A glance at an OS map reveals that humans have been in this area for a very long time.
Dotted along the loch and shoreline are points of historical interest from crannogs, and castles to churches.
Cycling from Kenmore there is an undulating 16km of pedalling to be done, mostly with an uphill bias, and often into a headwind, but the views make up for the effort you are expending.
Out in the west, the twin peaks of Ben More and Stop Binnein pose an unmistakable profile and all around vast slopes rise upwards. Nearing the end of the loch a sign, slightly obscured by trees, points to the right – Bridge of Balgie 9, Ben Lawers 2.
And as soon as you make the turn the road kicks up and you might find yourself changing down your gears quickly.
In years gone by the initial slopes of this climb were covered by forestry plantation and the first two kilometres, to my tied legs anyway, always felt steep.
Now the plantation has been felled and strangely the climb never seems as bad, although the steepest section of the climb, at 9% gradient, is in this first kilometre.
At just under six kilometres the ascent is nothing compared to the giants of continental Europe, but it is on this climb I decided I wanted to become a cycling guide.
I had recently returned from riding in the Alps with friends and the following Sunday we took a 160km ride from Perth, looping around Ben Lawers before heading home.
I found the scenery overwhelming and the riding incredible and I wanted to share that with others. The climb itself quickly turns into a single track road and on weekends you may find yourself occasionally pulling up to the edge of the road to let vehicles squeeze through.
This Monty Python team used this area to film many of the scenes in Monty Python and the Holy Grail and as you make your way upwards the views back down to Loch Tay will be recognisable in scenes in the film. The gradient kicks up one last time before squeezing through a gap in the rocks and before you lies the Hydro dam and Loch na Lairge.
The weather can often be wild up here with the summits of Ben Lawers on your right and Meall nan Tarmachan on your left and in such conditions it is not somewhere you want to hang around for too long.
Another drag will lead you to the end of the pass before you drop steeply towards Bridge of Balgie. Great care should be taken on this descent – the road is narrow and often there are large stones that have rolled onto the road from cuttings at the side. There is always the constant possibility of a vehicle approaching you around one of the many blind corners – it is an amazing descent, but not one for speeding down.
Arriving at Bridge of Balgie the cyclist friendly café awaits you with soup and sandwiches and by the banks of the River Lyon it's the perfect place to stop to refuel. After lunch Glen Lyon, the longest glen in Scotland, awaits you.
From Bridge of Balgie to Fortingall the bias is downhill and that dogged headwind you had along Loch Tay now powers you along. Passing the historic Yew Tree in Fortingall and onto Coshieville, all that is left to do is turn right and then right again at Comrie Castle to cross the River Lyon and then head back to Kenmore to complete the route.
We are spoilt for choice in courier country for on and off-road routes to cycle. When friends visit me and we go out for a pedal, it can be difficult to choose where to go from the smorgasbord of delights, but the Ben Lawers loop is often a fail-safe option.
No matter how many times I ride it I never tire of it.
Where to ride: Ben Lawers loop
Distance: 64km
Ascent: 772m of ascent
Description: Starting in Kenmore I find this ride is best ridden clockwise, along Loch Tay and over Ben Lawers before returning back to Kenmore.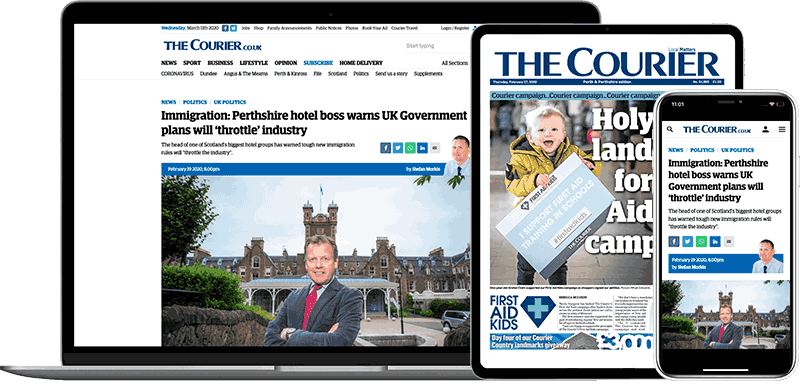 Help support quality local journalism … become a digital subscriber to The Courier
For as little as £5.99 a month you can access all of our content, including Premium articles.
Subscribe