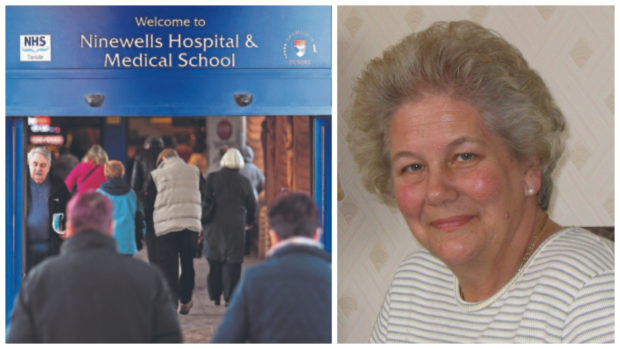 A family has been left searching for answers following the death of a St Andrews woman who was subjected to "exceptionally high risk" cancer surgery and a litany of failures in her care at the hands of NHS Tayside.
Kathleen Ritchie, 79, was referred for surgery in August 2017 to treat renal cell carcinoma, a type of kidney cancer, and died around a month later after developing excess fluid around her lungs and an infection.
A report from the Scottish Public Services Ombudsman (SPSO) released on Wednesday stated her referral was "unreasonable" because she was at a low risk from the slow-growing tumour compared to the high risks associated with an operation.
It found NHS Tayside failed to provide reasonable nursing care, had not properly discussed treatment options, and did not give Mrs Ritchie adequate pain relief medication when she was sent home for end of life care.
Mrs Ritchie's daughter Karen Millar praised the ombudsman for its investigation, which upheld all aspects of her complaint, but said she feared her family might never get all the answers they need.
She said: "Mum had a heart attack the year before and had come through it really well. She was having a normal appointment with the specialist and he was really impressed with how well she was doing.
"She had a routine scan and he noticed something on her kidney, so he passed it on to his colleague. The urologist really stressed the urgency to have the operation and said she had to have it within four weeks.
"Mum and dad came back from the appointment and just said there was no other option. They were insistent this was the only way forward, that it was a life and death situation, but we now know it wasn't."
Ms Millar, who is from Strathkinnes, said she found out a number of "shocking" details for the first time during the process of the SPSO investigation.
There was no biopsy of the tumour prior to the operation at Ninewells Hospital in Dundee and she only learned later it was a less aggressive type.
"They told us it was a success on the day of the operation but it took twice as long as they said it would," Ms Millar said.
"A junior doctor told us something happened but they just said, 'no, it was a success'.
"She was moved wards 10 times in the first 12 days. She got lost and we couldn't find her. Her name wasn't above her bed and neither was the person's looking after her.
"Her GP phoned the hospital and they said there was a nick in her artery but there was nothing about that in the notes. There was not enough evidence to say something went wrong during the operation."
Ms Millar said her mother was "concerned" over how quickly she began to fall ill following the procedure and "felt they weren't doing anything for her".
"She didn't know what had gone wrong and felt they weren't telling her – I think she was quite frightened really," Ms Millar said.
The family went through NHS Tayside's own complaints process before taking their concerns to the SPSO. The watchdog ruled it did not address all of the relevant issues.
"I felt it was an absolute sham," Ms Millar said.
"There was an apology but it was full of untruths. It felt like a cover-up. I feel that process needs to be reformed, you just have to hope things will change.
"If they'd been truthful, I would never have gone to the ombudsman. We went through all this to find out what happened but also so this doesn't happen again to someone else. We feel more questions have arisen.
"Who was responsible for making decisions outwith the treatment guidelines? The ombudsman hasn't been able to help us with that."
NHS Tayside said it was unable to comment on who had made key decisions relating to Mrs Ritchie's care "due to patient confidentiality".
A spokesman pointed to a statement issue by the health board on Wednesday, which stated: "We will be contacting the family again to apologise and offer the opportunity for a meeting with the clinical lead for urology."