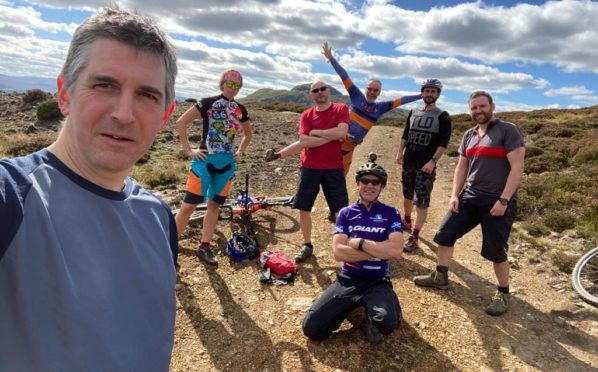 Faragon Hill, with its Tolkienesque name sits proudly overlooking Strathtummel to the north and Strathtay to the south.
For cyclists looking for a bit of off-road adventure it offers a fantastic day in the saddle with amazing views, climbs and best of all, descents.
Some friends had invited me to join them on the classic 26 mile loop of Faragon Hill. It was one of those routes I had always meant to do, but had never really got around to it.
Perhaps the reason was I had walked to the summit once and had seen how steep the tracks upwards were. But with the chance of meeting friends, some I hadn't seen for several years and a magnificent forecast, I couldn't say no.
We all caught up first at the Escape Route cafe in Pitlochry for a quick dose of caffeine and a croissant before heading up into the forest by Middleton of Fonab.
The last time I had ridden up here was several years ago with some of the same friends, but that time it was a dark winter's night, a full moon with snow on the ground and sub-zero temperatures.
As we pedalled upwards we reminisced about that evening – turning our lights off for the descent as the moon reflected brightly off the snow and the wind-formed sastrugi that we rode over like rutted concrete.
Today the sun was out and we were thankful for the shade of the trees as we sweated our way upwards. At the top we crossed over the new road, put in to access the new baryte mine near Being Eagagach, and followed the twisting and fast single track path that took us down to Strathtay.
There had been a few tumbles on the way and most of us had lacerations on our shins and arms from speeding through the overgrown gorse on either side of the path, but at the bottom we were all grinning from the adrenaline rush. A short road section took us to Edradynate and the base of the big climb.
As we climbed, we grasped onto any notion of horizontal we could find to get respite from the unrelenting upwards. I tried to ride within myself as I knew the worst was to come and when it did our tightly formed group was blasted across the hillside.
At times it felt like the gradient was reaching 30% as we fought for traction by keeping our weight over our back wheel, but not so much that we started to wheelie.
At one point I jumped off just in time as my front wheel lifted and pointing directly upward I fell backwards, catching the crotch of my shorts on the nose of the saddle as I went.
I untangled myself, just in time to land on my feet. The views around us were amazing and kept revealing more and more distant hills, but I could only just see them as sweat dripped and nipped my eyes.
We made it to the top and we all collapsed in a heap, opened our sandwiches and revelled in the beauty of Scotland laid out before us.
The next descent down to Loch Tummel I knew would be very fast, but very sketchy. It was on a dirt road with a lot of ruts and loose gravel, so I reminded myself to take it easy.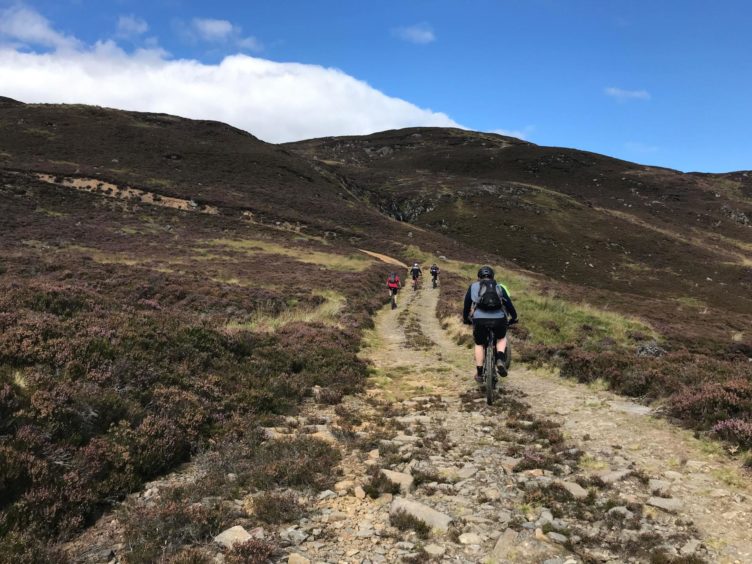 As soon as I set off that note of caution was thrown away as the joy of speeding down a mountainside, just on the right side of control of your bike took over. The views to the north were amazing, but I only gave them a cursory glance.
My focus was on surveying the track that was rapidly accelerating towards me.
We all made it down safely and all that was left to do was head through the woodlands around Killiecrankie and Faskally before returning to Pitlochry.
It had been a great day with friends and – not that I needed it – reminded me of why I love cycling so much.